In 2013, homeowners are craving creative, yet functional transitional-style kitchens that include spacious cabinetry and countertops, walk-in pantries and casual dining spaces. 
Times are changing, especially when it comes to home design. Gone are the days of the traditional, isolated kitchen, cut off from the rest of the house and crowded with appliances and cooking supplies.
According to the findings of a recent survey conducted by the National Kitchen and Bath Association, more and more consumers are trading traditional for transitional when it comes to kitchen floor plans.
Direct from the Designers House Plans, one of the internet's leading providers of high-quality stock home plans and home designs, is answering the call for functional and intelligently-designed kitchens that address the changing wishes of consumers. The company offers hundreds of homes with practical and palatial kitchen floor plans, conceptualized by some of the country's leading architects and designers, which make excellent use of some of the most popular transitional-style kitchen features:
• Smooth flow: Rather than cutting it off from other living areas, the transitional-style kitchen layout focuses on the room as a functional part of the house, flowing seamlessly into the dining and living rooms.
• A gathering place: Transitional-style kitchens offer community-oriented features such as breakfast nooks and kitchen islands, which turn this once closed-off room into a casual, comfortable place to eat, relax and spend time with family or friends.
• Wide-open spaces: Perhaps the most important features of the traditional-style kitchen, spacious countertops, accommodating cabinets and generous walk-in pantries provide a welcome relief from kitchen clutter.
"People are looking to do more than just cook in their kitchens," said Tammy Crosby, Chief Operating Officer of Direct from the Designers. "Our house plans feature beautiful kitchens that function as dining and living areas, while still leaving plenty of cabinet and counter space for preparing and storing food. These floor plans also offer unique, customizable designs that can be molded into a true dream kitchen, no matter what your needs are."
Direct from the Designers offers an array of house plans with stunningly spacious and functional kitchens, including: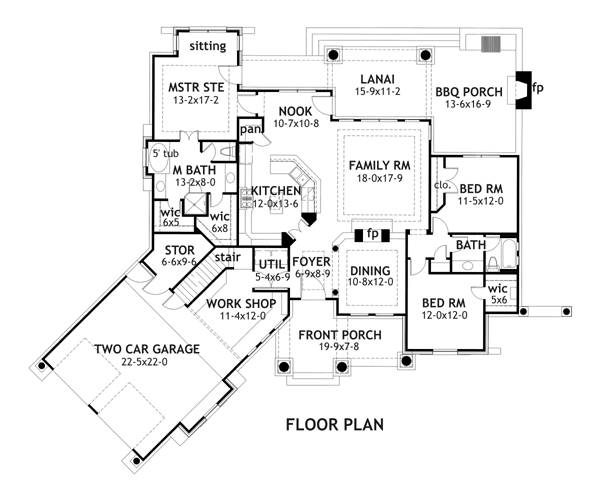 Vita Encantata House Plan: The most common kitchen complaint is too little space, especially in cabinets and on countertops. This house plan features an expansive walk-in pantry to store your family's favorite foods, as well as keep utensils, containers and other items out of sight. The kitchen's island feature offers extra counter space and a popular spot for family members to eat and converse, transforming your kitchen into the perfect meeting spot for meals and parties.
Taylor House Plan: Combining an impressive amount of coveted counter and cabinet space, this kitchen plan is a dream come true. A unique archway between suspended cabinets provides a pass-through to keep the kitchen open to the living area, while the spacious island provides plenty of room for cooking and serving. This plan also features a cozy breakfast nook with scenic bay windows, offering a tranquil escape and eating space all in one.
Harrisburg House Plan: A truly open and inviting space, this kitchen features expansive ceilings, an elevated, eat-in countertop and a plethora of room for preparing meals and storing foods, utensils and supplies. The warm lighting from under-cabinet and above-cabinet sources gives off a welcome glow to make both family members and guests feel right at home.
"For those who are building a home, deciding on the perfect, functional kitchen can seem like a daunting task; which is why we've hand-picked an array of high-quality house plans with fabulous kitchen floor plans featuring products from Whirlpool®, KraftMaid® and Delta®. We also offer wide range of resources, advice and tools to help you make the right decision," Crosby said.
On the Direct from the Designers website, consumers can browse the Fabulous Kitchens collection, which contains hundreds of homes with unique and functional kitchen layouts. The company also offers customization services to ensure your dream kitchen can become a reality.
Portland, Oregon (PRWEB) March 31, 2013