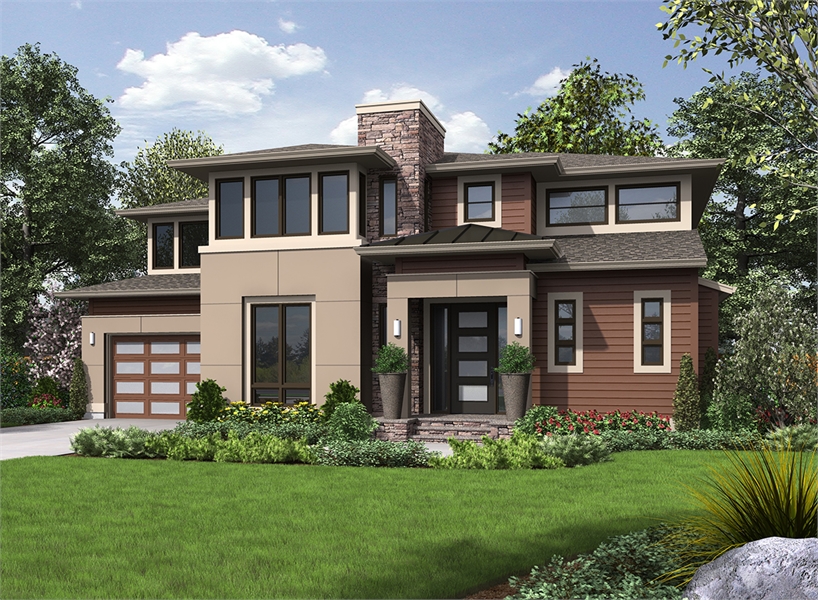 While they are getting increasingly popular across the country, many people still ask themselves… what exactly is a contemporary home design? Is it a sleek and artistic façade full of striking features? Does it need a sharp or sloping roofline and tons of large windows? Or is it simply a design on the forefront of residential architectural trends?
The answer to those questions is "Yes!" Contemporary houses are some of the most beautiful and flexible designs around. You will discover tons of options that you probably didn't know were out there! Whether you want a hint of contemporary style like in a simple modern farmhouse, or you want to go all-in with a unique, museum-worthy design, explore all that contemporary homes can offer. With so many different features and looks, this tell-all for contemporary home design can help make your search for the perfect contemporary home a little easier.
A Beginner's Guide to Contemporary Home Design
Uniqueness is one of the first things that comes to mind when you hear "modern" describe a house plan. Combining simple design elements together can actually make for an stunning work of art. And that's exactly what each of our contemporary home plans does.
You'll notice that many of these homes only feature a few key design elements, but they are joined in breathtaking fashion. These plans often showcase subtle metal or exposed wood details, contrasted with stone or brick nearby. You won't be able to take your eyes off of such a balanced design!
DFD-7766 is a great example of a contemporary home both inside and out. Note the defined lines and sharp corners that capture your eye and draw you toward the front door. Many contemporary home designs like this feature large windows that flood the interior with natural light. That makes them great for view lots!
Common Features in Contemporary Homes
Large/oversized windows for tons of natural light
Sharp lines that lead the eye to the focal point of the home
Contrasting design features to create unforgettable curb appeal
One-of-a-kind shapes from towering entryways to open-air porches
A Home for Any Lot
Not only are contemporary home designs some of the most unique options, but they're also extremely flexible! You don't have to worry about sloped, narrow, and even oddly-shaped lots because our designs are made to address them all.
While we have plans of all styles that can adapt to challenging lots, modern homes are some of the best. Use our comprehensive database to filter your search exactly to your needs. You'll see we have many diverse contemporary plans up to the task whether you need a home for a narrow lot, an urban build, or slopes of all directions!
Some of Our Favorite Contemporary Designs for Tricky Lots
So Many Designs to Explore
Did you know that elements of contemporary home design can be found in other home styles? That's right, you might find an amazing modern farmhouse or even a brilliant contemporary Craftsman. Whatever it is, chances are we have it!
While most people think of bold, striking designs when they think of contemporary homes, there's actually so much more to see! Our unique home plans can fit any lifestyle and preference. Don't let your preconceived notions about what is and isn't a contemporary home dissuade you from checking out all the amazing designs out there.
Modern Farmhouse Plans
One of our favorite farmhouse plans, DFD-8516 is a neat 3 bedroom, 2.1 bathroom home that joins the welcoming comfort of a traditional farmhouse with the appeal of modern design. Just imagine relaxing on that big front porch, or soaking away the stress in the master spa bath!
If you need a little more space, consider the sister plan of DFD-8516, the home shown below, DFD-8517. This design is very similar when you look at the floor plan, but it adds an additional 84 square feet of living space and a different façade. Both homes are great examples of family-centered farmhouse plans with a touch of modern flair!
If you like all that this plan features, take a look through some more of our best-selling modern farmhouses!
Edgy Craftsman Styles
Many homeowners love the characteristic worn-in charm of a Craftsman home. But what if you could combine that with some modern features?
Well, DFD-9720 does exactly that! You will love every inch of this 3 bed, 3.0 bath home. Check out the large windows, spacious great room, and contrasting lines, all hallmarks of a contemporary home design. Also notice how those features join perfectly with the cozy open floor plan and amazing Craftsman elements.
While often thought of as opposites, check out for yourself just how many modern Craftsman plans are available. You may be surprised!
Customer-Approved Tiny Homes
Increasingly popular, tiny homes have gained recognition for their affordability and comfort. As you'll notice, many of our tiny homes feature contemporary elements. This means that you could have some of the most fashionable home features at a price that doesn't break the bank!
Check out all of our tiny homes to see what suits your tastes!
Takeaways on Contemporary Homes
So, what should you take away from this guide on contemporary home design? The fact that these plans encompass so much more than you probably thought. And while there are a few commonalities to look for, just know that these plans are super diverse! The more you look, the more you'll discover that there is a contemporary home for just about everyone.
We are always happy to help answer any questions or point you in the right direction as you search for the perfect house plan. Our experienced team of designers and advisors can even customize your plan specifically for you!
We can't wait to see which design will become your dream home!