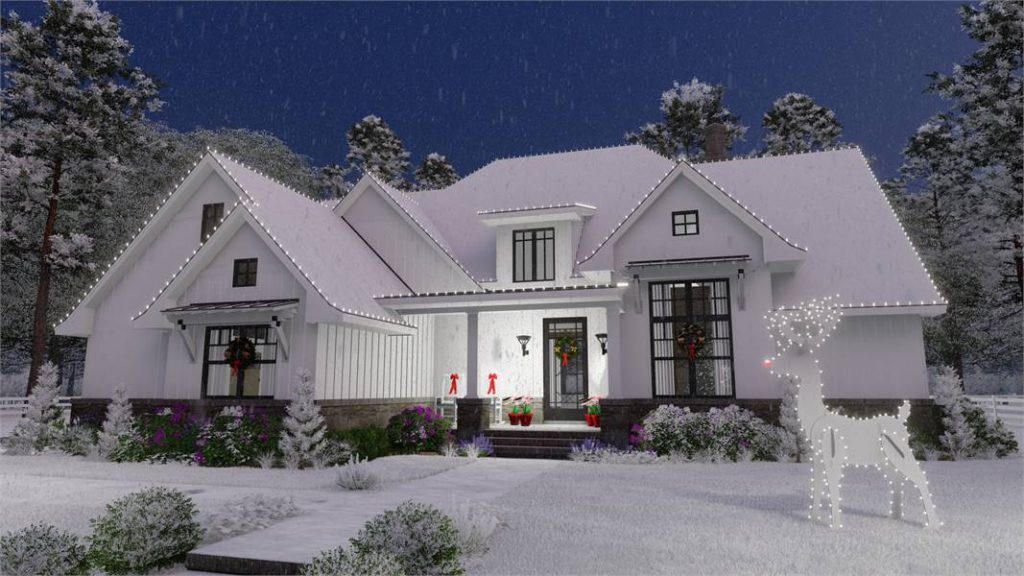 These adorable home plans dress up beautifully and will have you ready for the holiday season in no time! Read on and we'll show you the newest trends in holiday decorating this season with images provided by Direct From The Designers.
The holiday season is here and it is time for many of us to get our homes ready for Christmas! Have you decided on this year's décor? Will you do the same old same old, or will you let some of our favorite house plans inspire you to get creative? This year's hottest trends, and the perfect homes to dress up, are just waiting to be discovered.
Getting Inspired by Your Surroundings
Nature-inspired décor is at the top of everyone's decorative must-have list this year. Interior designers love to include plenty of natural elements to bring the outdoors in. Use some wood logs, pine cones, twigs, berries, pine needles, and even colorful leaves — anything you can get your hands on! The variety of textures and colors will bring warmth and a gentle at-home feel to you each day, as well as add a festive aesthetic to your holidays.
Consider this type of decoration for your home's entryway. Small pine trees are the perfect addition at Christmas. Adding a natural wreath and a garland to accent your front door looks great, too. And you can snow spray your trees and wreath for something a bit more wintery! Snow spray is often used when decorations are placed against a dark-colored entry or door to create contrast and really make them stand out.
How about bringing these natural elements into the house as well? It seems that the holidays cannot go by without enjoying a beautiful meal around the dining table. So, don't leave this space without a touch of spirit. If you can't or don't want to create a natural centerpiece by hand, there are plenty of companies online that offer them. Simple touches like this can make getting your home ready for Christmas that much easier.
Floor Plans Drenched in Light
Let the light shine this holiday season! Use candles, lamps, or classic string lights to brighten and set the tone for your home. Holiday celebrations brighten the darkness that is the winter season, so let your home be a light during these dark days. Lighting inside and out is sure to warm your home and the hearts of all those who pass by this holiday season.
Extra lights are perfect for getting your home ready for Christmas. For an elegant look, use white string lights to highlight the lines of the house. Be sure to line each peak and valley of the roofline for the most finished look. If you feel ambitious, line your garage door(s) and windows as well. Light up landscaping in the front yard for added effect!
Pro tip when lighting: keep the same color scheme throughout for a polished look. And if doing white lights, make sure they are all LED or standard to avoid a mismatched final picture.
Lighting the interior of your home is just as important as the outside. Candles are an affordable option and bring a unique ambiance that nothing else can. You'll find soft warm light from candles is perfect for cozy moments. If you want something larger, lanterns can hold additional candles, decorations, or small string lights. We love the way they can be decorated and used at a fireplace!
Interested in decorating for more than the holidays? Learn to design other spaces in your home with our New Home Resources page! You'll see we have tips and tricks for every part of the house.