As water features will accent your pool, fire features are the newest must-have craze for your outdoor living space. Water might cool you down and quench your thirst but fire is the hot ticket right now.  Fire features add ambiance and drama to the flames and give you another reason to go outside.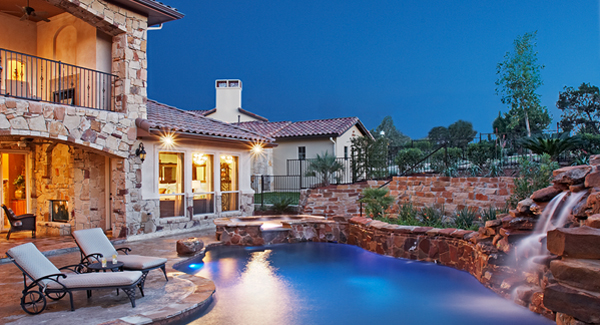 Fire and water have long gone together. Fire is a natural complement to water. The growth in fire features seems to simply parallel the growth in water features for pools.
Fire features are also going upscale. No longer is it just a simple fire pit anymore for the outdoor living space, they've been taken it up a notch so that they now match any patio furniture and have features such as automated ignition and propane tanks hidden in pull out drawers.  Fire features like these create an instant impact with the push of a button for your outdoor living space.
Fire pits have even morphed into 'fire furniture.' There are fire tables, fire bars, and fire banquettes where the flame area is surrounded by porcelain tile, decorative metal, natural stone, or slate.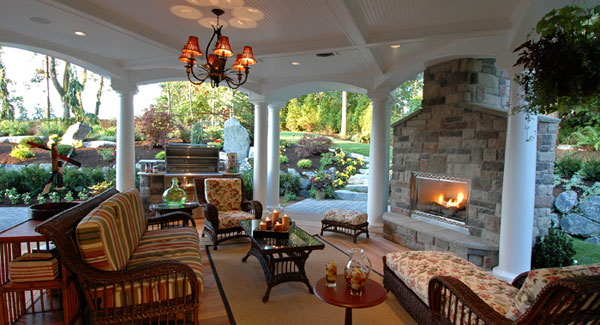 When shopping for a fire feature you'll need to choose what's more important for your outdoor living area—easy ambiance or real warmth. Wood-burning features offer more heat but of course require more maintenance.  You have to have a pit large enough to build a fire as well as fire tools and a spark screen. You also need to make sure the fire pit you buy is sturdy. It is a real fire after all, and cheap units will break down and crack easily under the heat. Propane fire pits are of course much easier to deal with, but they also produce less heat.
Much like a barbeque grill, fire features can start very simple and go all the way to really elaborate.  You can get fire furniture; a fireplace, a fire pit, or a firepot, there is something for every pocketbook and whim.  If you are a little nervous about a fire pit, then an outdoor fireplace might be the better option for you, particularly one with a screen for protection.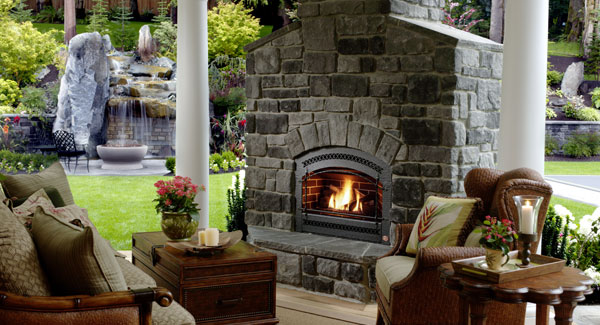 A fire feature might be on your wish list for a new home, but making sure you have ample outdoor entertainment space should be your first priority. If you have or are planning on an outdoor kitchen, you can also consider an outdoor living room where the fire feature will be complimented. Check out Direct from the Designer's collection of outdoor living house plans for some inspiration.