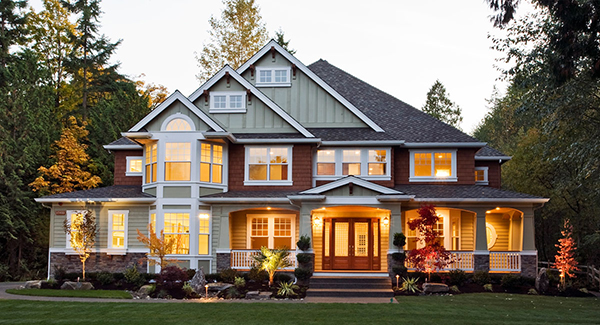 These 5 bedroom house plans won't let you down! With designs of every size and style, you're sure to find your dream home. From mid-sized cottages that provide the space you need without breaking the budget, to large and elaborate luxury homes, DFDHousePlans.com has it all.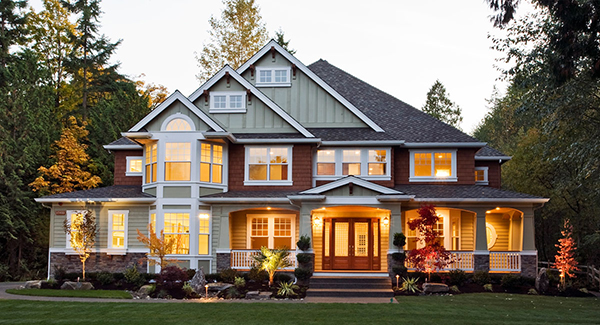 Let Your Home Work Hard for You
If you've found yourself at the head of a growing family, you're likely in need of a larger home. At the very least, the spaces in your home have to work harder for you.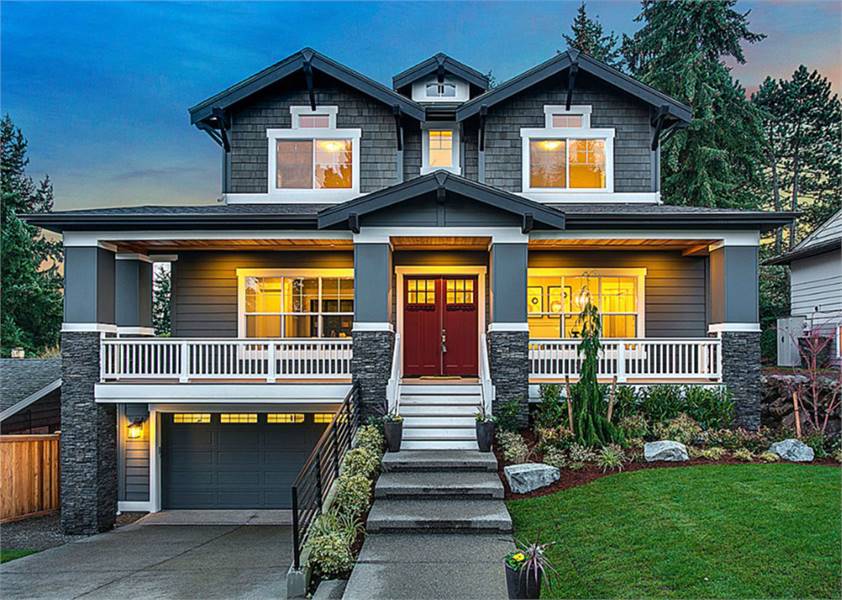 Your living spaces need to work harder for you, as well as for your family. Not sure how to make that happen in your new home? Take the living area of House Plan 7475 as an example of optimization. This ample open-concept living room serves as an awesome multi-functional family space. There is plenty of room for large holiday gatherings and parties here. And with its fireplace and a cozy seating arrangement, it could just as easily befit an intimate gathering of close friends.
Everyday Life Deserves a Bit of Luxury
Many customers looking through our collection of 5 bedroom house plans want to find a luxury home. Our architects love creating these uniquely high-end designs. Browse our full list of Luxury House Plans now!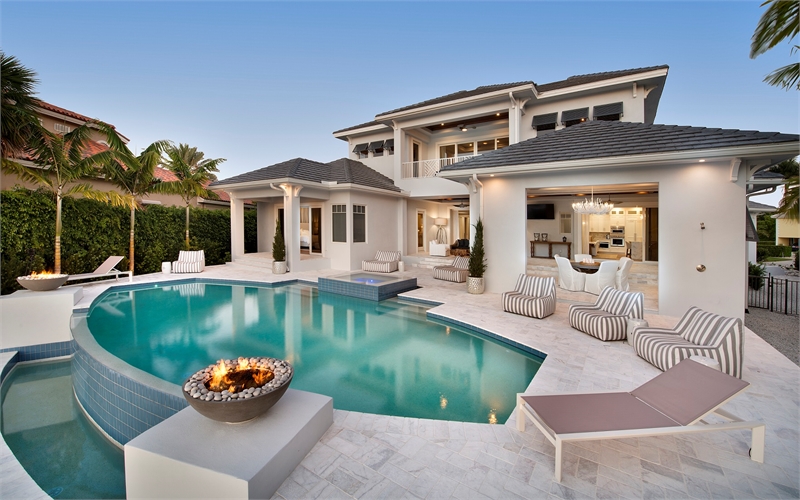 House Plan 1817 is one of our favorite and most luxurious 5 bedroom homes. This tropical design will become a bright spot in any beach-side community! With a spacious main floor master and 4 upstairs guest suites, each with its own walk-in closet, this home won't ever lack for space. Other noteworthy and luxurious features include the large open-concept main living space with plenty of seating and storage throughout. Plus, a utility room on each floor makes cleanup easy throughout this Mediterranean House Plan.
Modern Style 5 Bedroom House Plans
Modern house plans are for those who like bold and brave aesthetics. Sleek and stylish homes like these offer a unique look all their own, with eye-catching elevations and rooflines. DFDHousePlans.com has Modern & Contemporary Home Plans in every size, so check them out for yourself!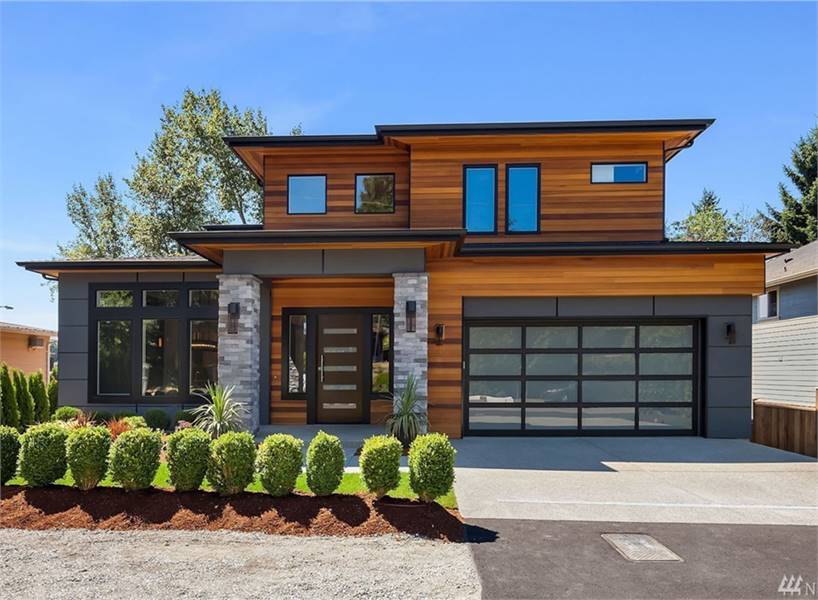 This modern home provides everything your growing family needs in a stylish package. The kitchen has a nook, perfect for a quick or intimate meal, and also boasts a pantry and butler's pantry to the formal dining room. An office/spare bedroom rounds out the first floor. Upstairs, the master suite and 2 additional family bedrooms are found, both with their own private bathrooms.
Rustic Log Cabin with Modern Features
Log Cabin Home Plans are a staple in mountainous and wooded areas of the United States. These grand creations become one with their beautiful landscapes, allowing their owners to enjoy their land and great views, even from inside the house.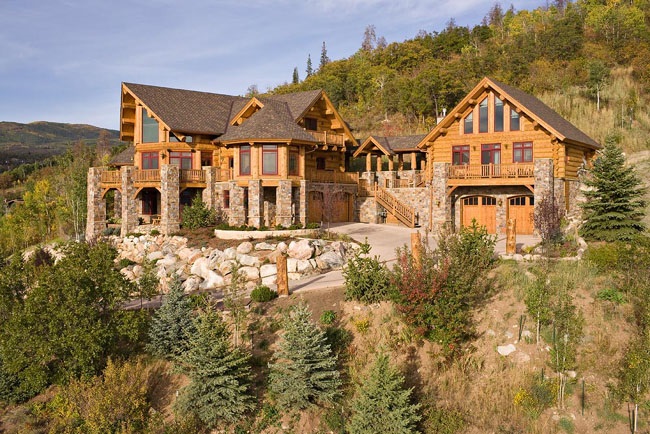 Perfectly designed to fit snugly on a mountainside or at the edge of land with a stunning view, House Plan 9436 is a truly grand creation. Huge floor-to-ceiling windows allow you take in the view anytime from the rustic great room. Large beams, stonework, and log columns give breathtaking quality and elegance to every inch of this home. The master suite enjoys its own sun room while an additional suite is found upstairs. A guest quarters, including a full kitchen, was designed as a sort of "east-wing" and could serve as an in-law suite as well.
No Need for a Mansion
If you're the head of a large family, or have frequent long-term guests, you may feel the pressure to build an oversized home – or a home too large for what your family truly needs. If so, there's no need to worry or overspend. Our 5 bedroom house plans vary greatly in size. Let us help you find the home that fits your family perfectly.
This helpful article, "How to Choose the Right House Plan" can help you determine the right size, dimension, style, and location-appropriate home for you and your family!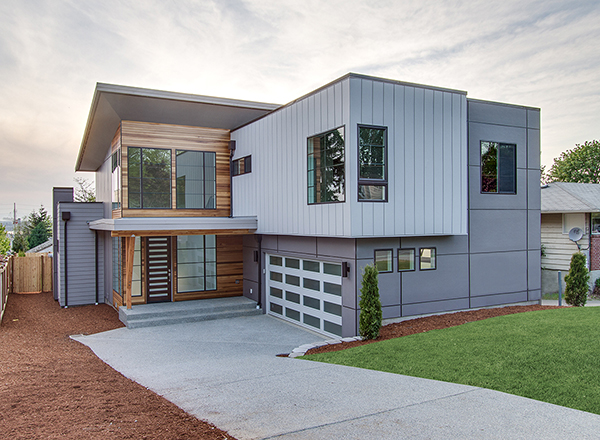 Check out that unique and stylish front elevation – WOW! Generous deck space is found at the rear of the home's main floor, as well as a small deck off of the upstairs master. Inside, we find that same sleek style, but also incredible functionality. This home provides its owners with a fully equipped master bedroom and 3 family bedrooms upstairs, plus one downstairs. The full family bathroom upstairs is designed with a divided layout specifically for multi-person use, because one less argument between siblings is always appreciated.