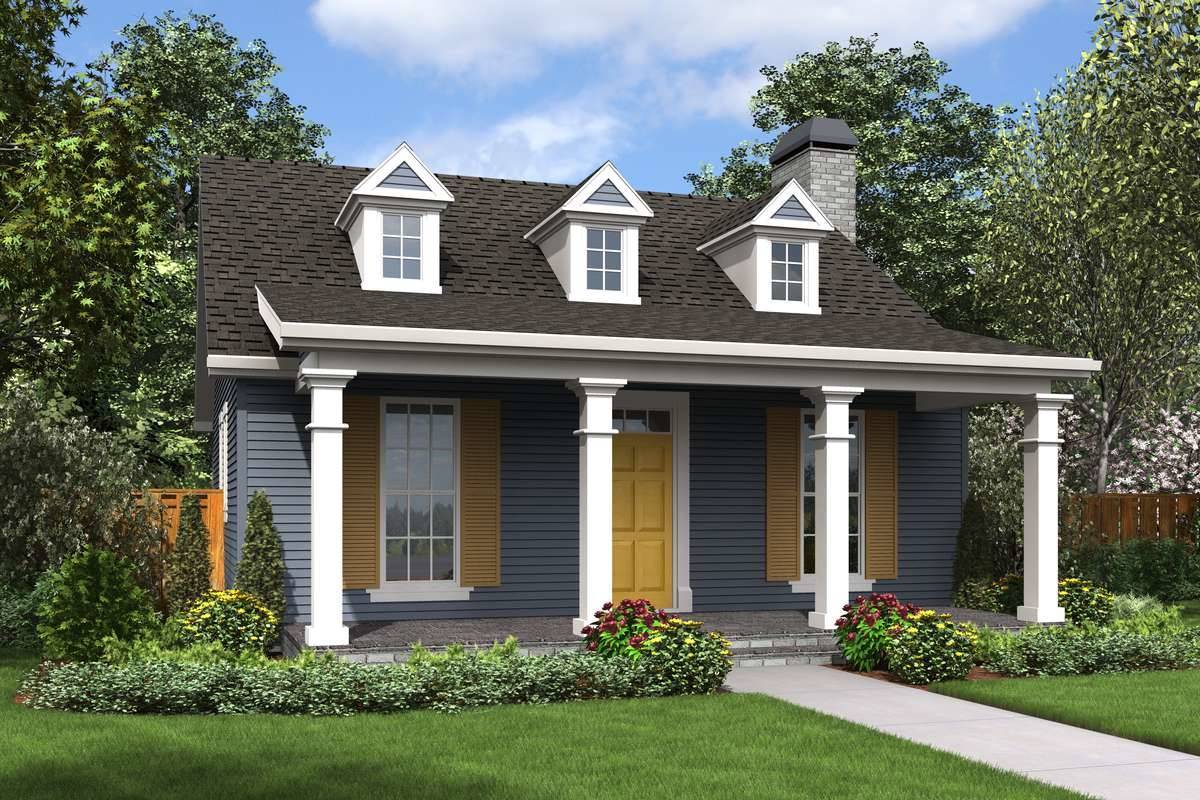 There's something especially charming, warm, and inviting about traditional Cape Cod style house plans. These homes have remained at the forefront of the market for decades. We love traditional options, but they have been beautifully modernized as well!
Cape Cod designs are most often one and a half stories, with some or all bedrooms upstairs. However, one-story options with attic or bonus spaces above are becoming more prevalent. Cape Cod style home plans got their start in late 17th century New England, where they had to withstand the harsh coastal conditions in Cape Cod, Massachusetts. The symmetrical exterior incorporated a steep roof, shuttered windows, and optional dormers. Although the original Cape Cod design had no front porch, it has become a frequent addition to these homes, and to our collection.
Check out our full collection of Cape Cod House Plans from Direct From the Designers House Plans!
Classic Cape Cod Designs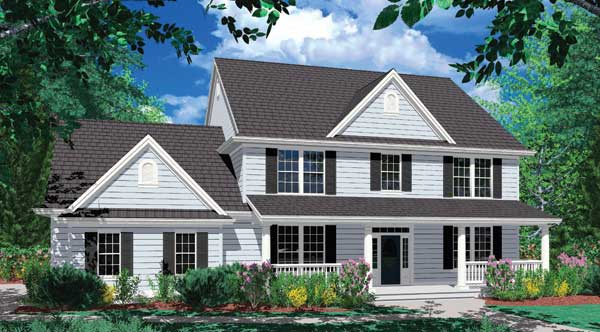 This Cape Cod is a must-see because of its entertainment-ready design! With just over 3,000 square feet, you'll love the extra space that this home provides. Guests can spend their time on the cozy front porch and first floor where multiple entertainment areas are ready to be enjoyed. Two living spaces, one formal and one casual, mean you'll be ready for any type of gathering. The formal dining room shares sightlines with the formal living room, great for a dinner party and drinks with friends. Meanwhile, the open concept family room and kitchen are perfect for daily family living and casual get-togethers. All four bedrooms are found upstairs, along with a spacious bonus room.
Small & Tiny Cape Cod Style House Plans
This is possibly the cutest, and most tiny, Cape Cod house plan in our collection. It may be the perfect time to get on board with the tiny home trend! Because homeowners can save big, the demand for small and functional designs has skyrocketed in recent years. Find out more about saving big by going small with this quick and helpful guide to small home plans, "Best Small House Plans with Big Features".
This new addition to our collection of tiny homes is catching customer attention for all the right reasons. You'll add a spark of style to your new neighborhood with this home's elegant front porch and three adorable gable dormers. And the large great room makes the design feel anything but small. Enjoy the cozy fireplace, large windows, and French doors to the back yard! The corner kitchen is also smartly laid out to allow for maximum space. There's a full-size bedroom for the owner(s) and smaller quarters for guests, so feel free to host, too!
Symmetrical Designs to Feel at Home In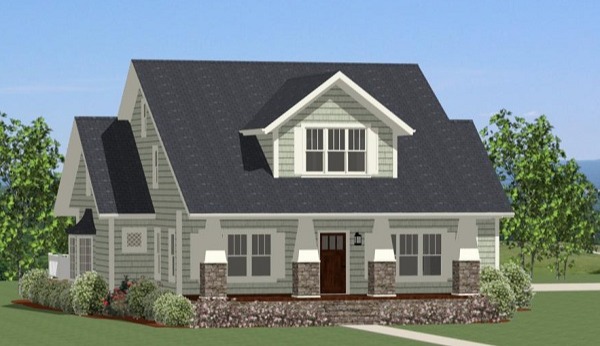 In traditional Cap Cod style, the symmetry of this home design offers the warm welcome we crave. The human eye cannot help but be drawn to a Cape Cod style home like this! Plus, a large front porch adds a nice touch to embellish traditional Cape Cod house plans. An incredibly spacious rear porch is also found on this family home. Find more homes with front porches, or homes with wraparound porches at DFDHousePlans.com.
From that welcoming from porch, guests enter the family room to find large windows and a fireplace feature. Large windows like these are found in most every room of this home, so warm light finds its way into your home all day! A closed kitchen keeps the mess of daily meals away from guests prying eyes and a formal dining area is perfect for a formal meal. The master bedroom boasts vaulted ceilings, a walk-in-closet, and en-suite. Plus, the laundry room is found just outside which is incredibly convenient. Two family bedrooms and a full bathroom are found upstairs for children or guest space.
Embrace This Modern Twist on a Classic
This large customer favorite marries traditional Cape Cod style with modern craftsmanship. Three stories of ample living space mean this home has it all! Incredible spaces for family fun are a key feature, with multiple gaming areas on its lowest level. The main floor was created with entertainment in mind. Guests enter to find an easily accessed powder room and coat closet. The open concept kitchen and living room create natural flow during any gathering. Finally, climb the grand staircase to find four bedrooms, each with access to a full bathroom. Check out that luxurious owner's suite!
If a Cape Cod isn't exactly the style you're hoping to find, we'd suggest browsing our Cottage House Plans or Bungalow Style Home Plans.