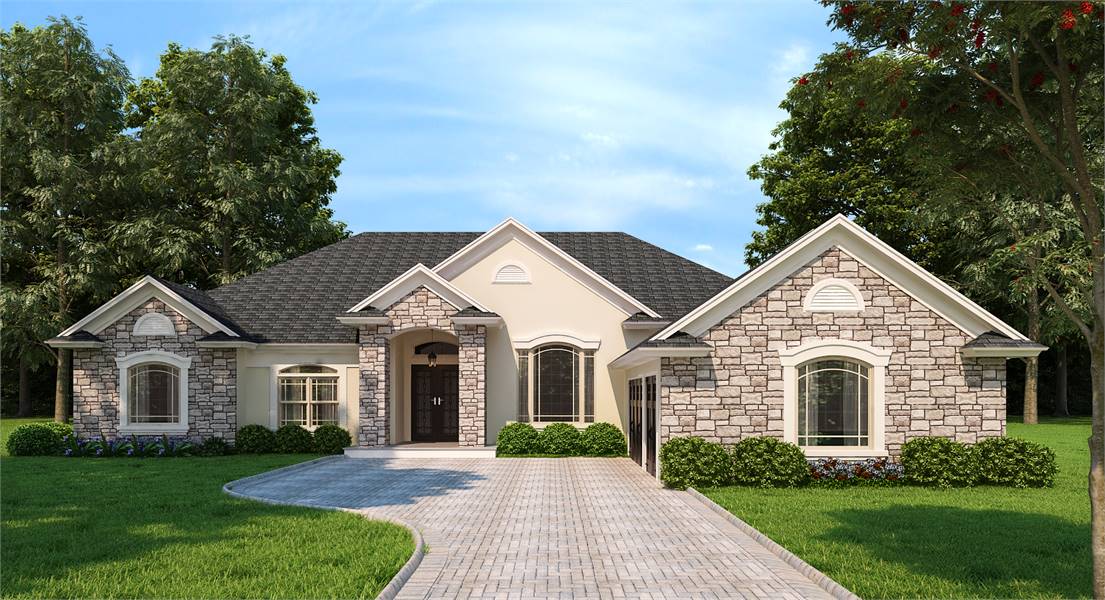 For many, building a house in Florida is a lifelong dream. From snowbirds to sand and surf lovers, Florida is the place to be. It's the endless beaches, unique cuisine, relaxing retirement communities, and the sunshine… we can't forget the sunshine. With all of these things at your doorstep, it's no wonder why the dream of building a house in Florida is shared by so many!
Too excited to wait? Check out our full collection of Florida House Plans. You're sure to find the perfect vacation, family, or retirement home plan that will make your Florida dream a reality!
The Cost of Building a House in Florida
The best and most accurate way to get an estimated cost to build any home is by talking directly with a builder. This conversation should be done while looking over your new/potential home's blueprints.
To prepare for this important conversation, you may want to purchase a "study set" or "bid set". These sets provide a nearly complete blueprint, emailed to you directly. This file is great for getting estimates from potential builders, because it can be sent to as many builders as you'd like! When you're comfortable, upgrading to the full buildable blueprint is easy. Just pay the price difference and you're ready to build – not a penny lost!
If you haven't quite settled on a home plan yet, DFDHousePlans.com offers a useful cost estimation tool from each plan page. This estimation tool uses square footage, your zip code, and the U.S. census to determine an estimated cost to build. While using this tool, you'll be able to change the foundation type or modify the home's square footage to get an even more accurate estimate!
Use this cost estimation demo to get a better idea of what it can do!
You can also speak to a local builder without a blueprint. Simply ask what the average cost, per square foot, is to build a home in your area. Remember to ask if they include non-heated square footage in their estimated numbers. Features like garage space and outdoor living spaces can have a huge impact on the cost to build a home.
The Process – How to Build a Home in Florida
Each state, county, and city has a list of specific rules to follow when building a new home. It is incredibly important to be aware of these rules and codes before you build, and especially in Florida, where codes are very strict.
Step 1: Finding Land
Step one to building any new home is finding that perfect piece of land. This step can be challenging for many reasons, but this is especially true when building on Florida's southern coast. According to Paul Owners from Southern Florida's SunSentinal, "a shortage of lots is by far the biggest problem." In other words, finding your perfect piece of paradise may take longer and be more difficult than you anticipate. But stick with it and complete this first step and you'll be well on your way to your dream home!
Step 2: Choose a Home Plan!
Step two when building a home is our favorite here at Direct from the Designers. Start by browsing our collection of Top Selling House Plans, or create a comprehensive advanced search to find EXACTLY what you're looking for. Better yet, get help from a real person in real time! Our home plan specialists are available to talk by phone at 877-895-5299 or on LiveChat throughout the day and evening!
Direct from the Designers prides itself on having an extensive and varied collection of home plans – over 6,000 to choose from! Because we value your time, we've created a variety of collections based on Architectural Styles. Similarly, our team created Our House Plan Collections to sort homes that suit a wide array of needs and lifestyles.
For more on this fun and exciting step toward building your home, read our helpful article, "How to Choose the Right House Plan."
Step 3: Connecting with a Builder
The search for the proper builder takes time, thoughtfulness, and probably a few phone calls. Finding the right builder for your home is incredibly important, because it sets the tone for your project! It is important to remember that not all builders, even great builders, are created equal. Each contractor typically has size and style of home that they build, so take the time to ask.
Our Preferred Builders list and Houzz's local professional finder are perfect places to start your builder search! Try searching by location, size, and price to see who you find. Never be afraid to speak with multiple builders about estimates, local codes, expectations, or even your specific blueprint. You will not regret taking the time to think through this step carefully.
Your builder will guide you through the rest of the building process, but here are a few key things to keep in mind going forward.
Keep in Mind…
Stay budget conscious: The products with the largest price tags aren't always your best or only option. Do your research. Read up on the products, supplies, and finishes available before purchasing.
Engineering: The state of Florida requires all blueprints to be examined, modified, and stamped by a local engineer. This can be a bit costly, but it ensures your home is prepared to face the extreme weather and geological challenges the state is known for.
Relax: Take a deep breath and try to take in the beauty around you. You're not just building a house – you're building a home!
Loving That Florida Style
The newly redesigned House Plan 7383 is a great example of what's popular in Florida – a Southern mix of sunny Mediterranean and classic European charm. This home is one of the newest additions to our ever-growing collection of customer-inspired home plans. See more at Customer Preferred House Plans.
By marrying traditional spaces with the needs of a modern family, this mid-sized floor plan has been made truly unique and incredibly functional. The open-concept kitchen and family room are wonderful for entertaining family and close friends, while the dining room and living room create an air of sophistication for your more formal gatherings. Two great living spaces mean there's no limit on creative entertaining in your new home!
Looking for an upgrade from your current master suite? Our customers have fallen in love with this generous master bedroom and en-suite, the likes of which are more typically found in larger homes. You'll enjoy his and hers closets, separate and spacious vanities, and a soaking tub that will give you the feeling of having a spa in your own home. Check out the home plan that inspired it – House Plan 4093, a true customer favorite.
Looking for something small, but special for your next build? Check out a few of our favorite "Unique Small House Plans – Builder & Budget Friendly."