Two-story homes are as popular as ever. Why? They are more cost-efficient to build because building up will add square footage to your space without the added expense of expanding the foundation and roof. Like most things, there are pros and cons to every kind of house layout. You'll need to think about your specific needs before deciding which route to go. If a two-story house plan makes sense for your needs, here are some of our favorite two-story homes in 2023 to consider!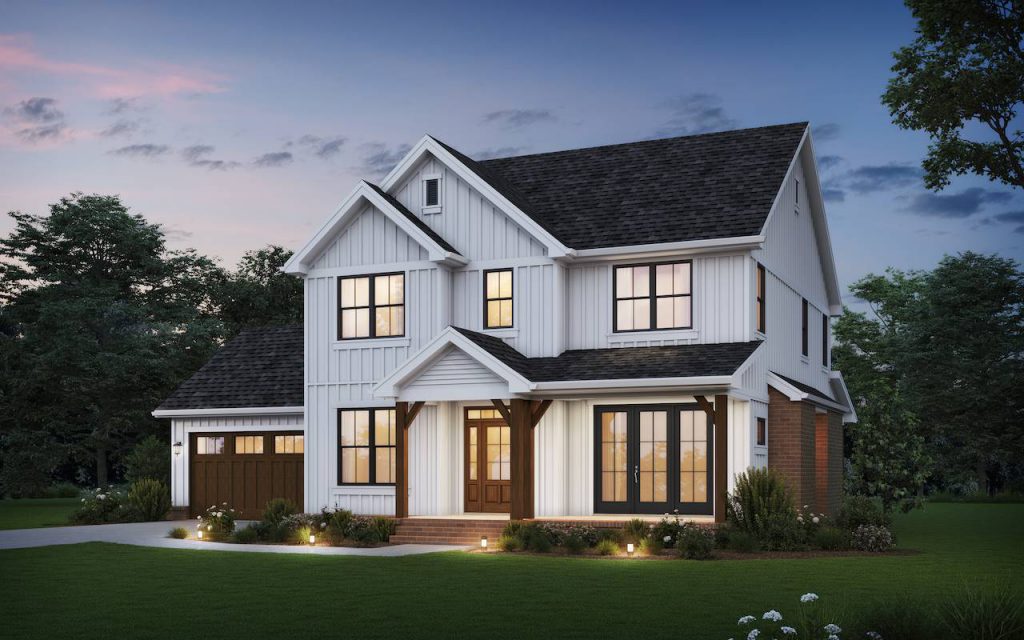 Cost to Build
No one wants to think about spending large amounts of money, but cost is an inevitable part of deciding whether to build a one- or two-story home. Many people don't realize that two-story homes are less costly to build, and by how much. Just imagine two houses of the same size, but one has half the foundation and roof coverage. And since the rooms are stacked rather than spread out, the plumbing and electrical can be more convenient to install and access. A compact layout allows things to be centralized and accessible. That not only saves money when you build—15-20%, in fact—but it also increases efficiency and makes maintenance and repairs easier.
On the other side of the coin, mechanical and HVAC are occasionally more expensive because a second HVAC system may be required for the second story in some cases. Also, in the long run, single-story homes often sell more quickly due to the lack of stairs. It's a personal preference for most, but also mandatory for many with accessibility concerns. This difference in demand is often determined by the location and subdivision of the build.
Expansion Possibilities
Although a single-story home may seem easier to expand with an addition as your family grows, don't count out the two-story home. You can add on into the backyard, transform attic space, or add a third level. With some grading, a standard basement could be made into a walk-out basement and built out for the in-laws or renting. You can do so much to make the home work for your family! And with more people adding elevators or stair lifts these days, the stairs no longer have to present a problem.
If you need a multi-generational two-story home, check out this beautiful design with a private casita. DFD-1747 has tons of potential with a main-level master suite, another bedroom suite upstairs along with a third bedroom near a hall bath, and that nifty casita in front, across the courtyard!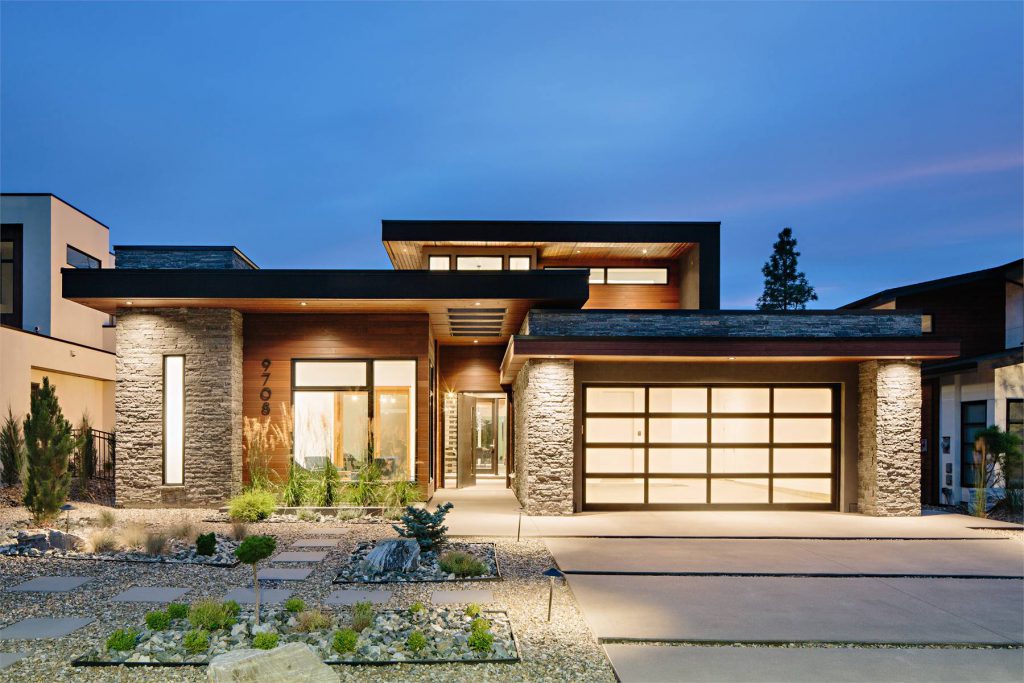 Need something bigger? Take a peek at DFD-1006. This beautiful home includes two stories and a large walk-out basement. Make sure to really appreciate the floor plans! You can only access the isolated master suite through a long connecting hallway, so if you want privacy, look no further. Upstairs, you'll find another smaller suite and two more bedrooms in a Jack-and-Jill arrangement. The basement offers a great one-bedroom apartment with an office in the isolated section. All the outdoor living space provides even more room to spread out! DFD-1006 makes the perfect choice for a large family who likes to entertain.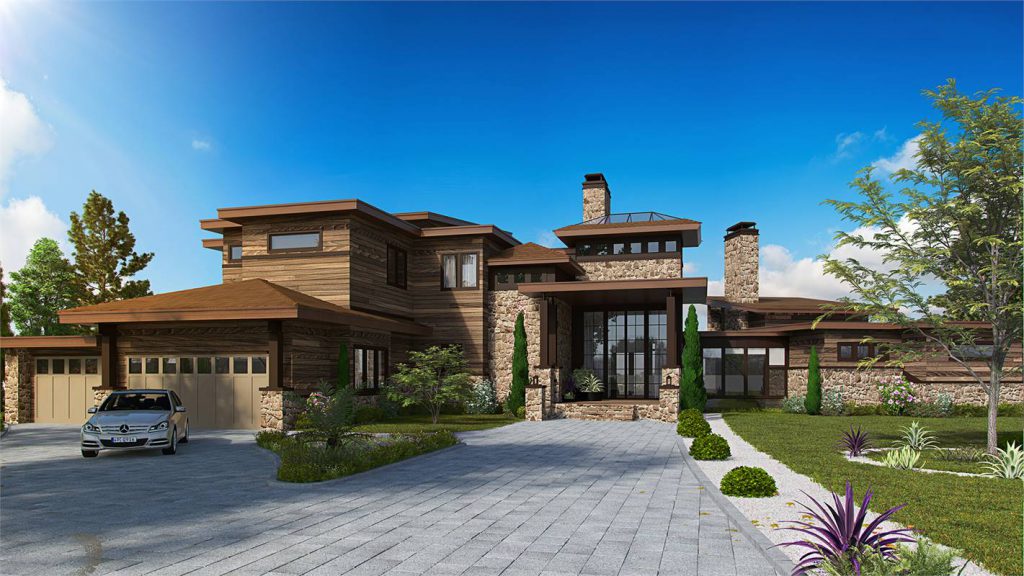 Two-Story Multi-Family
Multi-family or duplex designs are also some of our favorite two-story homes in 2023. This type of home is great for when you want to live on one side and rent out the other. Or live on one side and use the other for Mom and Dad. It allows you to keep family close while still preserving your own space. Multi-generational living is easy with a duplex! And once again, with the inclusion of stair lifts and elevators, a two-story home is not as problematic as it may have once been, allowing grandparents to safely stay close and help raise children during their golden years!
Take a look at DFD-9230, one of our most popular two-story duplex homes. It features 2 bedrooms and 2.5 bathrooms per unit.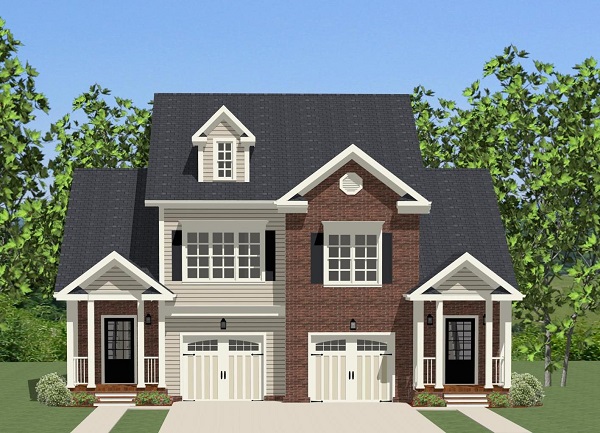 House Plan 9230 – Duplex with Open Living, a U-Shaped Kitchen, and 2 Bedroom Suites Per Unit
After everything is said and done, a two-story layout is ultimately a great way to provide you with the square footage you need without a huge cost increase. You'll also get more use of your outdoor space thanks to the smaller footprint!
If you are interested in two-story house plans, you can find hundreds in our collection. Come visit us at www.dfdhouseplans.com for help finding the best blueprints for your new home!