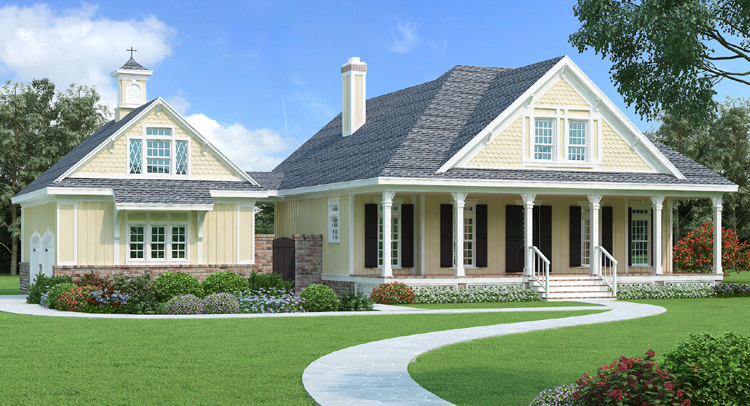 Want to get the most productivity out of your new house? Build one of our home plans with a workshop! No matter your favorite hobby or personal pastime, a dedicated place for it will be a major asset. And if your chosen plan doesn't have a workshop space just yet, no worries! We can easily add and customize one just for you.
Your house should meet all of your needs, so don't overlook what a workshop space could offer. They provide useful room and prolonged value well into the future. And whether it's an addition to the garage or a standalone building, we have a variety of options. There is a workshop plan to fit practically any budget and size or style requirements! See for yourself just how many home plans with a workshop there are to choose from.
Budget-Conscious Workshop Areas
Choosing to have a workshop shouldn't break the bank. It doesn't even have to stretch the wallet! You'll find them in homes of all shapes, sizes, and prices. And in any case, you can always customize the space to work for your needs; prioritize the house first and then let us know if you need any help with the workshop. Of course, we'll share some favorites for inspiration!
DFD-1993 (above) is a neat little standalone design. This simple Craftsman garage matches many homes. Plus, it offers parking for 2 and bright interior space that can fit just about anything. Just imagine your workbench or tools waiting for you in the roomy nook that lies beyond the parking area. Open areas such as this are perfect for big equipment that might not fit in a regular attached garage.
Our customers attest that workshop plans like this also make relaxing retreats! Perhaps you need a man cave or another dedicated space of your own? Maybe you'd like to supplement your income with rent, or always have room to welcome guests? Imagine what you could do with the included apartment!
Finding the right workshop space is all about knowing what you have and what else you might want. Measure any equipment/furniture/etc. to make sure that it will fit in your chosen plan. Also consider what you might want to get in the future and if the space has the flexibility to accommodate. When you have this information, you can focus on finding the perfect plan for you and your wallet.
There's no need to break the bank to get your dream workshop. Browse through some of our garage plans and see the wide variety of options!
Home Plans with a Workshop… Great for Any Use
Extra storage, hobby spaces, even a pool house―we've seen workshops do it all! Because of this great flexibility, home plans with a workshop actually end up being favorites for our customers.
Some of the best workshop spaces even embrace the most unique lots. Take DFD-4122 (below), for example. This design comes with a basement-level workshop in the rear-entry, drive-under garage. With so much room for storage, you could easily organize tools and drive in a riding lawn mower or other large equipment. If you have a lot that slopes down from the street, this would be a great choice!
Superior Storage Potential
You don't have to be a diehard hobbyist or a master woodworker to enjoy a workshop. Many homeowners choose these plans simply for their added storage for everyday items.
Lots of these homes come with built-in storage and space to add custom solutions! For example, a home like DFD-1163 (below) can help you lead a clutter-free life. Notice how its garage has a workshop space including a workbench. Plus, there's a large walk-in storage closet behind it. You won't need to climb up to the attic to get decorations when you can store them in the garage. This space could also organize outdoor gear or serve as an extended pantry. It's up to you!
We encourage you to get creative with your storage solutions! From unique shelving to custom cabinetry, there's so much you can do with a little imagination. Research storage ideas tailored to your belongings and see our homes with great storage spaces. They might inspire you to add some specific features to your dream design.
As always, if you ever have any questions or need help finding that perfect plan, we are happy to help!