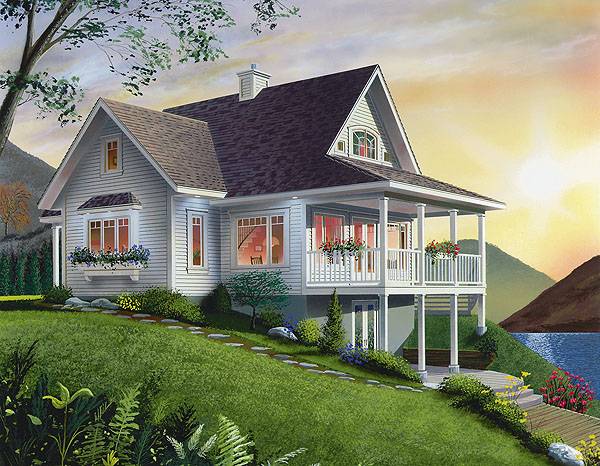 Embrace the unique benefits of house plans for a sloped lot! While many homeowners might be afraid to build on such lots, let us show you what they can offer. Get ready to unlock a whole new world of possibilities!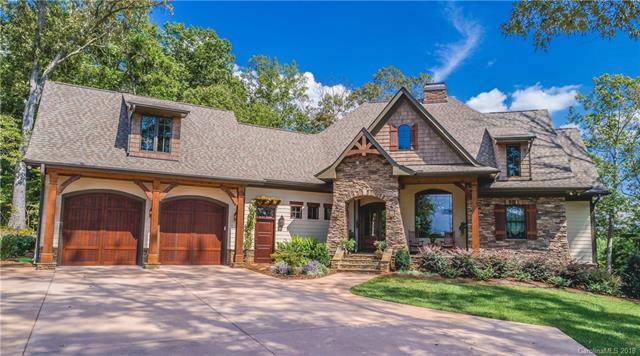 From finished basements and added storage, to extra bedrooms or even a drive-under garage, these homes can have so much to offer. Plus, sloped or recessed lots often cost less than level ones, so you can use more of your budget to build that perfect dream home in the exact location of your choosing.
And did you know that these homes can increase your resale value, too? That's right! In a neighborhood full of flat-lot homes, if you have a walkout basement or an extra level of living space, your home will be the gem that everyone envies.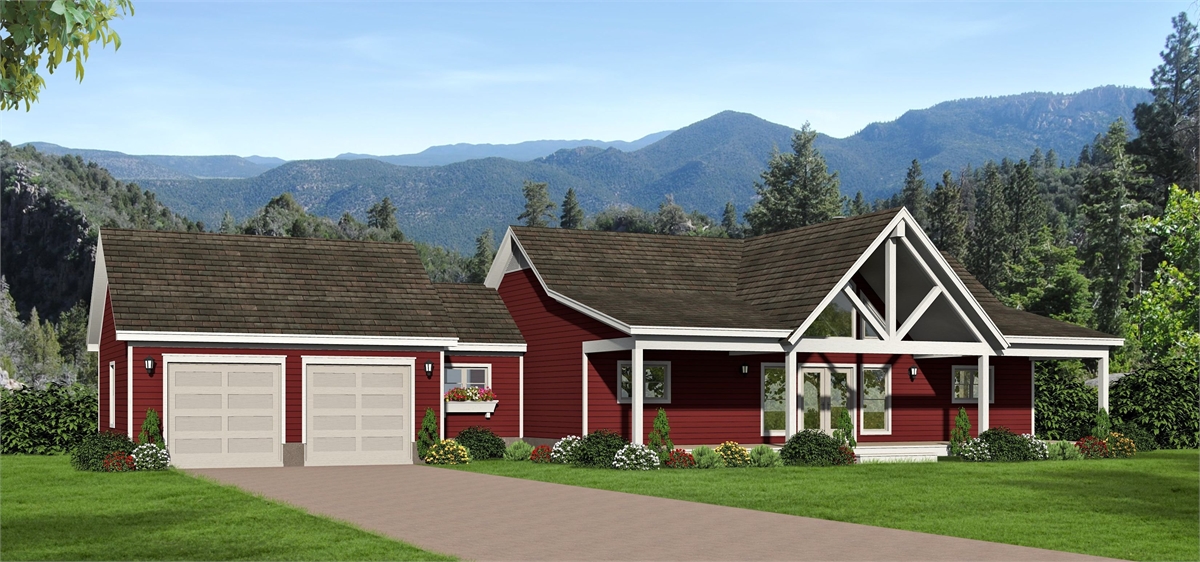 We have so many house plans for a sloped lot to choose from. And if you use our Detailed Search function, you can narrow them down to your exact needs. Whether you want a specific style, number of bedrooms, or even a certain feature or room, our comprehensive algorithms can find the designs that have it all. And if you have any questions at any point, feel free to let us know. We can't wait to help you and see what you choose!
Here are a few of our favorite sloped lot home plans to inspire you.
A Charming Craftsman with a Walkout Basement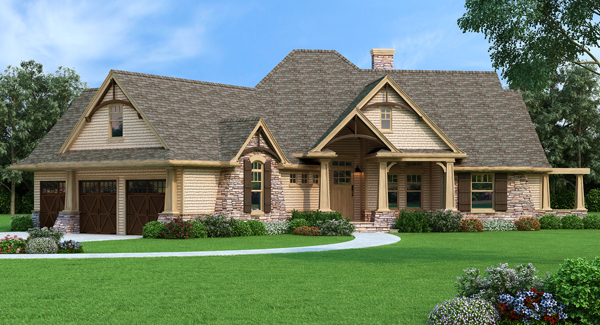 DFD-7878 is one of our and our customers' favorite plans. Its classic Craftsman styling is so detailed and ornate. Plus, its 2,091 square feet provide plenty of room for the whole family. And beneath all of this, check out the suggested fully finished walkout basement, courtesy of its sloped lot design.
Just think of all that you could do with this space. We've included a guest apartment, game room, media room, and storage in the plans, but you can do with it what you want. Maybe you need a gym or playroom? Whatever you think up, we can help you modify to make this special home into a one-of-a-kind masterpiece.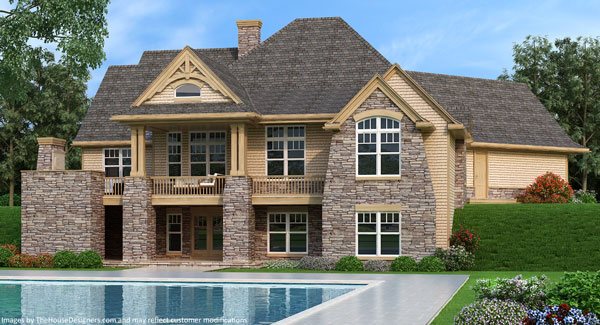 Lakefront Luxury with a Traditional Home
It's common to see house plans for a sloped lot in lakefront and mountainside locations. These homes embrace the natural terrain and the results can be stunning. They have everything from large porches with plenty of views to picturesque windows that flood the interior with natural light. We love each of these designs, and so do so many of our customers.
DFD-1143 (above) is a top-selling traditional design perfect for a lakefront lot. With its walkout basement, fun in the sun and sand is only steps away. And when it's time for dinner and everyone needs to quickly clean up, the large hall bath on the main level will make it a breeze. If this isn't what you're looking for, here are some more lakefront and beachfront-ready home plans for you to explore.
And if colder weather and colorful leaves are more your style, check out some of our favorite mountain homes like DFD-1497 (below). Just like the lakefront plans, each of these designs is ready for a sloped lot build, too.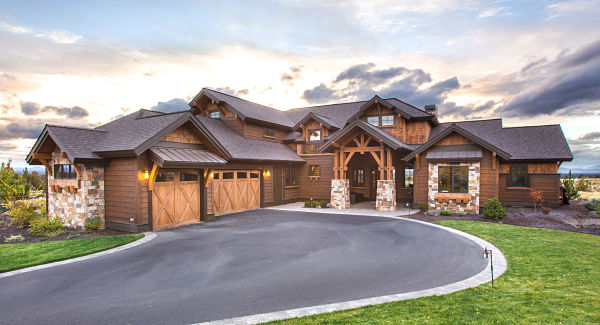 An Urban Build with a Drive-Under Garage
It's also great to have a drive-under garage when you have a sloped lot. Especially in a bustling suburb or a city where parking is rare and expensive, these plans prove to be invaluable.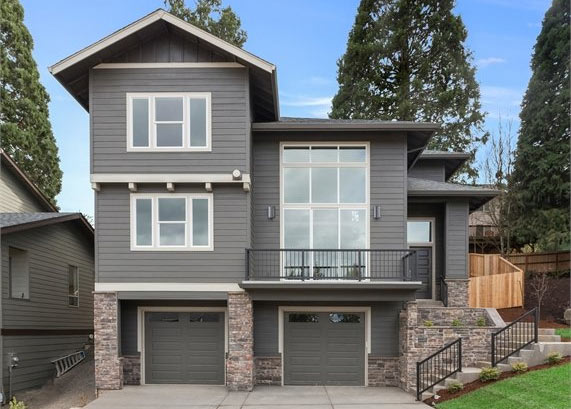 Something like DFD-2571 (above) is a smart option for such a build. While embracing a forward-sloping lot, this contemporary design is both attractive and affordable, with plenty of space for a family. This practical mix of style and functionality makes an all-around great build for a wide array of urban settings.
And in more traditional areas, many house plans for a sloped lot still have drive-under garages. And they could be front, side, or even rear entry. House plans such as DFD-4185 (below) are great examples of traditional designs with sloped lots in mind. Be sure to check out the rear elevation to see what it looks like from behind!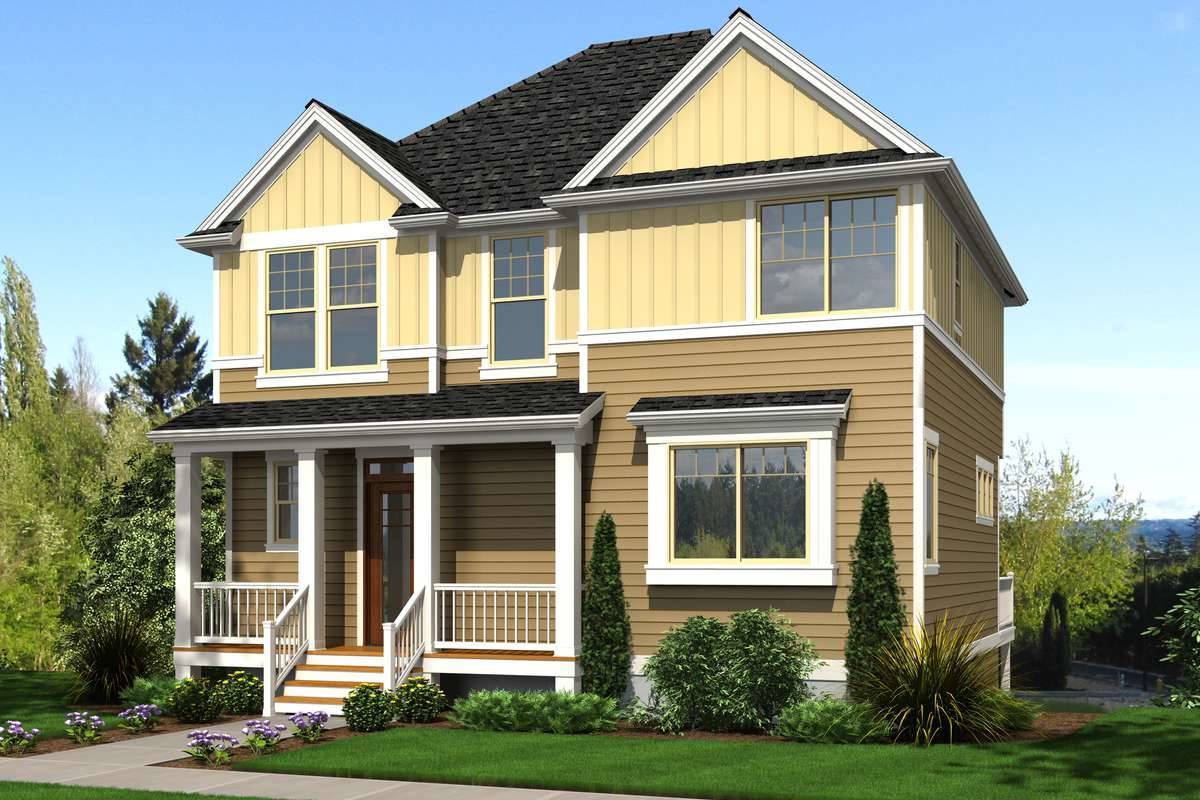 An Unfinished Basement to Design Your Own Space
While many homeowners love plans with finished basements, some specifically seek out those with unfinished ones. Generally speaking, those who prefer an unfinished basement are thinking about customization/expansion now or in the future.

The budget might be too tight to fully finish the basement to your dream vision now. Or maybe you want to hold off and wait to see the family's needs going forward. Whatever your goals, an unfinished basement is the perfect blank slate to work with. While DFD-5517 (below) is a classic favorite, be sure to explore all of the options to see the possibilities for yourself.