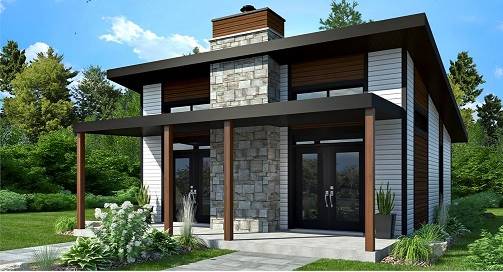 When friends and family come to visit, there's no better way to make sure that they're comfortable than with a guest home that offers convenience and top-notch amenities, guaranteeing that your visitors feel right at home. Everyone will love the privacy, but you'll also enjoy a setup that allows for plenty of time together. And with plans in all shapes and sizes, there is a guest house plan out there for everyone and every style.
Guest homes aren't just for extravagant estates. With designs for any taste, you can easily add a guest house to practically any existing property. Many of our customers even build them alongside their main homes from the start!
Guest houses are typically engineered to take up little space while maximizing enjoyment for everyone. From larger ones that come with full amenities such as a kitchen and living room, to smaller plans with just a simple bedroom and bathroom, we have them all. Consider the ease and comfort that a guest house plan will bring, and at an affordable price!
So Much Convenience
Guest homes are great for visitors regardless of how long they stay. College roommate coming for the weekend? In-laws staying for a while? They'll love how convenient your guest house is! When choosing your guest house, consider one of our larger options. Your guests will love having their own private tiny home, you'll love the extra living space and storage that it gives you at other times.
Many homeowners build their guest house plans close to their existing homes. This way, you can spend as much time as possible catching up and making memories, then part ways at the end of the night. Guest house plans can also be styled to match any home to ensure they fit in aesthetically and keep your property looking coherent.
House Plan 5348 is a great example of a simple guest home with a lot to offer. Guests will love the convenience of a full kitchen as well as a full bath. They'll enjoy the ease of making a cup of coffee early in the morning and greeting the day from the comfort of the screened porch. When looking for guest plans, search for ones with spaces that will help make visits that much more relaxing for everyone.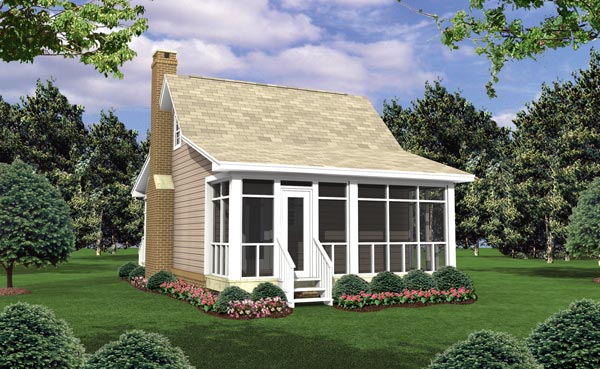 Comfort All Around
With a wide array of guest house plans to choose from, you're bound to find one that fits your style and your guests' needs. The days of stressful visits and entertaining for long periods can be over! Guest houses don't only have to be for temporary visitors, either. Many homeowners look for in-law suites/apartments to accommodate aging parents who may move in full-time. Consider the the flexibility a guest house plan offers in any case.
If planning for elderly guests, a single floor plan with large open spaces is ideal. If you're searching for a plan that can accommodate many visitors, look for guest house plans with multiple bedrooms or bunkrooms. Put yourself in your guests' shoes and think about what you would value somewhere you were staying.
Perfect for long-term or short-term stays, House Plan 7424 can do it all. You'll find Craftsman-style design throughout this cottage, while a full kitchen, bedroom suite, and a living room with a fireplace make it extremely comfortable. Guest house plans such as this are a great option if you are building for an elderly family member to live with you.
Affordable Prices
Another wonderful thing about guest home plans is just how affordable they are. Many homeowners assume that a guest house is a thing of extravagance. The reality is that they can be a touch of luxury without a large price tag. The size and simplicity of many guest home plans makes them affordable and sensible.
Before building a guest home plan, check your local building codes and with your homeowners association. Some places have regulations about building a second structure or home on a property, so make sure you're alright to proceed on the legal front. After that, take some time to find your perfect guest home plan. Remember to consider the needs of your guests and to explore the different amenities that each plan offers!
If you have any questions or need help finding the perfect guest house plan, feel free to contact us. Our experienced team is ready to help make your dream a reality at a price you can afford.