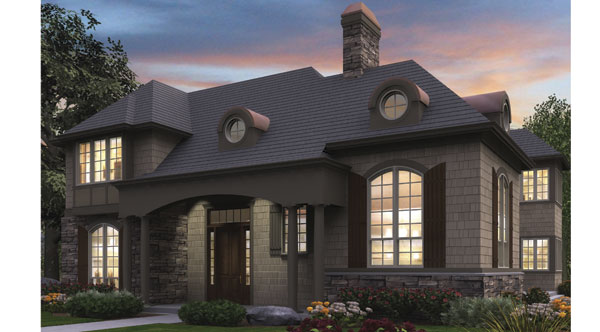 If you love the finer things and entertaining crowds of all sizes, then you'll certainly love these homes with a wine cellar. A wine cellar adds so much value to a design by creating a dedicated space for your collection. With a feature such as this, you can easily store wine for any occasion!
Homes with a wine cellar come in all shapes and sizes. From European-inspired estates to Craftsman cottages, wine cellars come in more house plans than you might think. Use our Detailed Search Function to sift through thousands of unique home plans—you can filter them down by even the most minute features!
If you see a home that you love but it doesn't have the special feature you need, let us know! Each one of our plans is customizable and we can easily add just about anything to make your dream home a reality.
The Benefits of a Wine Cellar
To many folks, having a wine cellar in their home sounds like a luxury beyond their means. What was previously reserved for only the wealthiest few is now available for every buyer! If you haven't previously considered a wine cellar, just know that it's attainable and offers many potential benefits.
Wine cellars come in all sorts, just like the homes they are found in. Some are a whole room or even in their own level dropped underground. Others look more like a small closet or space off the dining room or kitchen. We've seen and helped design them all. Once you decide what is right for you and your budget, we can help narrow the search.
But one thing is for sure… gone are the days of bulky wine coolers shoved in the corner of the kitchen to create an awkward bar when guests come over. It's way better to invest in the added convenience, value, and style of one of these homes with a wine cellar!
Most homeowners find themselves only needing a small room or built-in space for wine, which you'll often see near the formal dining area. This makes for great dinner parties with less time spent searching for a bottle of wine and more time making memories with friends and family.
These areas can also be showpieces. Some homeowners choose to add a glass door or even glass paneling to show off their collection. Talk about a great conversation starter! Viewable cellars are very chic and modern, and they still keep all of your wine ready at the perfect temperature.
Other Unique Uses for Wine Cellars
A great thing about having a home with a wine cellar is that it can serve a number of unique other uses. You don't have to be a Master Sommelier to appreciate the potential of these spaces!
If wine isn't your thing or you don't feel the need to have a whole room dedicated to it, consider sectioning off a smaller portion for wine and maybe another area for liquors or other drinks. Even putting non-alcoholic beverages in there will free up valuable fridge space and make for easy access for the kids and guests.
You can also transform a cellar into a cigar humidor or add a humidor beside your wine storage. Whatever you like, we can help design a home that includes your every desire!
The Benefits of a Home Bar
Another popular feature, many of our customers ask for a home bar. These entertaining must-haves can take the fun times to a whole new level. Whether you want a classy bar theme or to outfit yours with all of the memorabilia of your favorite teams, the choice is yours.
Homes with a wine cellar can help take your bar to the next level by keeping storage and serving separate. This allows you to bring out the drinks you need when you need them! With a setup like this, you'll be the best host around!
Having a wine cellar in your home is both attainable and valuable. No matter the use, size, or style, this functional space is just one of the many features that we can help add to make your dream home one of a kind!