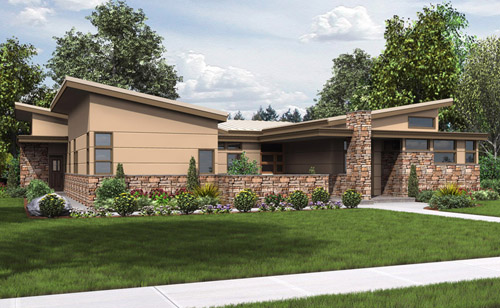 Our homes are judged by their first impressions―that's what curb appeal is all about. The exterior is first thing people see when they pull up and the last they see as they drive away. If you want a home that sticks in their memories for all the right reasons, choosing one of our homes with a courtyard is a great start. This relatively uncommon exterior feature can really increase your home's value!
We are here to help you explore some favorite homes available from our site, Direct From The Designers! All of them happen to have courtyards, of course. If you want this feature, we have blueprints with them in front, back, on the side, and sometimes even in the center of the home. We can design an outdoor space to feature a motor court, a relaxing patio, or an intimate gardenscape. So, think about what you want to do here!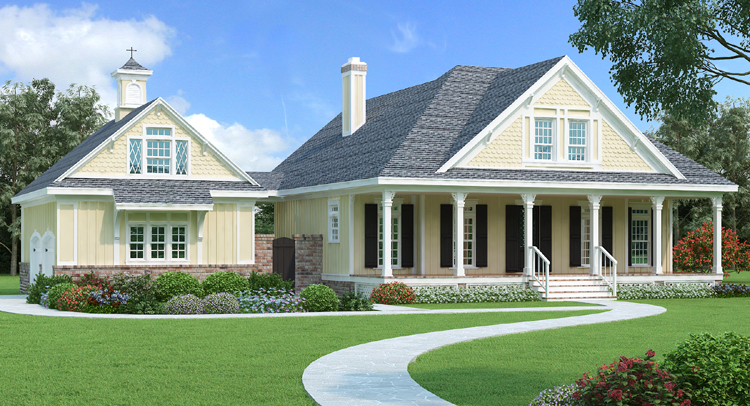 Direct From The Designers is a collection of the best home plans and resources available. We have everything you need to make your dream home a reality. Our team is here to help every step of the way, so you don't have to scour multiple sites to find what you want. Just let us know how we can assist you on your dream home journey.
Tons of Variety Makes for Unique Courtyard Areas
Not every plan needs a massive front entry or courtyard space. Not every budget can afford one, either. That's totally fine! Sometimes less is more, and many of these designs prove that. Even basic homes can be enhanced with a simple courtyard or enclosed front entry. And while large and stately versions are magnificent (more on those later), we encourage you to think about which options fit your dream plan the best. Here are a few ideas to get you started.
A Lovely Gardenscape
DFD-1140 is a great example of a midsized family home that offers a welcoming courtyard. The contemporary ranch design is fresh, modern, and stands out in all the right ways. Its semi-enclosed front entryway creates a cozy and welcoming space. You can make all sorts of memories in a courtyard like this! Plus, it even includes built-in planters, which would be great for growing flowers or even vegetables!
Homes with a courtyard are designed to put focus on their outdoor living areas. So, give your green thumb some practice and plant a beautiful garden. Or consider manicured landscaping with a water feature like shown on DFD-3445 (below). Features like these create outstanding entries that people remember. So, what kind of first impression do you want your home to make?
Different Uses for Courtyards in Larger Homes
As a home plan gets larger, so does its features. This is true with courtyards and other entry areas in addition to interior living spaces. Perhaps you'd like an upgraded garden or a refined patio with pavers and a fountain? How about a motor court or sweeping front drive? We encourage you to get creative with your courtyard. For instance, check out DFD-9725 (below). This Mediterranean-style home is enhanced by a courtyard beyond the motor court (between the front door and garage on the right), which sits behind walls of privacy hedges. This arrangement adds tons of elegance and sophistication to an already stunning home.
Think Outside the Box with Your Courtyard Design
Not all home plans come with specifically designed courtyard areas, but you can create a unique space with a few simple tips and tricks. Consider these ideas to give any home the appeal of a courtyard.
Use Functional Landscaping – Large bushes and ornamental trees create plenty of privacy. They can even create a natural "courtyard" if placed properly.
Choose the Best Driveway – A circle drive helps draw guests toward the front door. It can also direct them to your courtyard, making sure you use it to the fullest.
Design to Enhance Your Layout – Front- and side-entry garages create natural flow into the house. Focus on these areas to make a courtyard or motor court. Consider adding a parking pad with a half-wall for a unique and relatively inexpensive touch with big impact
DFD-7526 (below) uses some of these design elements to create a welcoming façade. And while it's not a traditional courtyard, this driveway still provides a private and inclusive feel for you and guests. No matter the size or style, dedicated and manicured welcoming spaces make an amazing first impression.
Motor Courts and Other Unique Spaces
Most folks think that a courtyard is just an enclosed area before a front door. While it can be, there's more to it. Many of our homes with a courtyard have other special features and unique ways of using their space.
A motor court is one popular way to enhance a home. It could be as simple as a rear space with tons of parking, or you might want a parking pad leading to the front door. No matter the specific design, these arrangements have a private and exclusive feel about them. You could even add some gates and a keypad if you want!
DFD-7306 (above) features one of our larger motor courts with garage parking for 6 cars. Just head through the porte cochere and you'll find yourself surrounded by three 2-car garages―two attached to the house and one detached. Even if you have an average-sized house, you can create your own motor court by adding an extra garage to create an enclosed space like this!
Make sure to explore all of our courtyard designs to find the perfect fit for your needs. If the idea of a motor court piques your interest, check out some of our garage plans. Not looking for a big building project? Ask a local landscaper for some advice. There are so many ways to dress up your home with the look or feel of a courtyard!