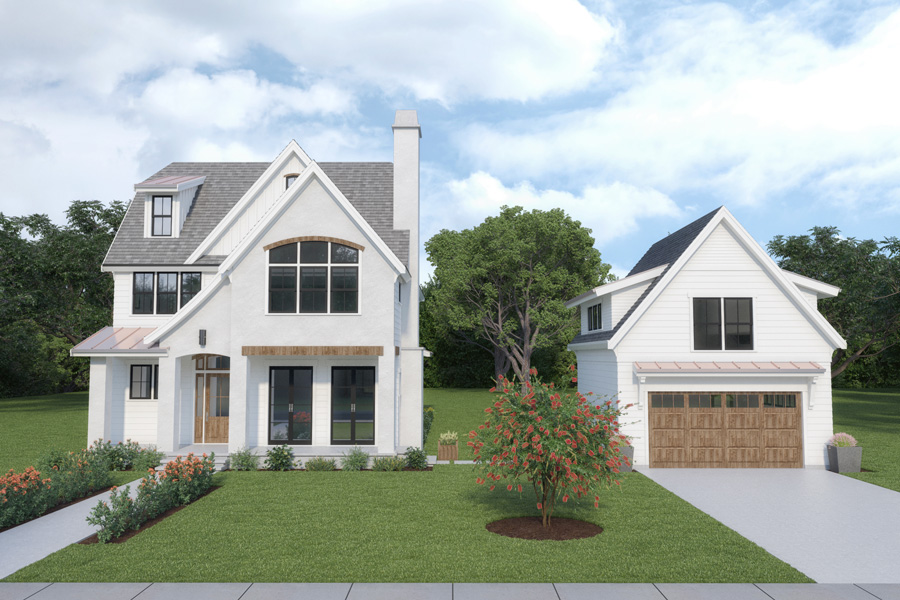 Wouldn't you love having some extra cash in your pocket? Well, we'll show you how to earn extra income with your home with these special house plans! Once you have a rentable property, you can earn money without hardly having to lift a finger. Attaining this dream is easier than you might think. Direct From The Designers is ready to explain how.
A lot of folks are afraid of the challenges of becoming a landlord or owning rental property. Isn't that only for the extremely wealthy? Won't it take a lot of time, effort, and cash? What about the cost of building and owning multiple residences? No worries! If you consider these simple steps and facts about choosing house plans, you will know exactly how to earn extra income with your home.
Owning rental property is not just for the über wealthy. We offer home plans to fit all budgets, styles, and locations. In fact, with thousands of home plans to choose from, we have designs for everyone's needs. Whether you need a primary dwelling with an added guest house, a vacation retreat to rent when you aren't there, or even a duplex or a small apartment building to rent out multiple units, we offer it all! Just let us know how we can help make this dream a reality for you and your family.
Adding Extra Suites and Spaces
Mother-in-Law Suites
Sometimes the easiest way to get extra money is from within your own residence. Many homes include areas for potential rental income in the form of guest suites. If that sounds good to you, consider starting your search with our plans with in-law suites. They come in houses of all sizes and are the perfect place to start when figuring out how to earn extra income with your home.
Often fully private and sometimes complete with all the amenities of an apartment, these designs are perfect for all sorts of inhabitants. Some of our options, such as DFD-8706 (below), include space completely set apart from the main home. In this case, it's over the detached garage. A studio like this is perfect for keeping family close or bringing in a renter to help pay for the mortgage!
It's common to see homes with separate apartment suites in areas around colleges and universities. Graduate and professional students often look for affordable places to live by themselves, without the cost and hassle associated with a regular apartment. Having a guest suite ready to go is a win-win for both parties. They get housing, and you get extra cash!
Extra Guest Houses
You can also add a guest house to any plan. They make economical sense for many who want to use any extra land they already have. We highly recommend exploring our collection of detached garage plans. A lot of these include full apartments up top or on one side. You may also benefit from a tiny home if your lot allows for it. These are some great ways to earn extra income with your property.
Using Your Basement's Potential
The basement is another option to explore when considering how to earn extra income with your home. A home like DFD-1974 (below) is a perfect example because it already has a bedroom, bathroom, and living space with a wet bar. Just install a door to close off these spaces from the mudroom entrance and you have a fully private apartment! You could even add an exterior door if you want to appeal to more renters.

Remember to always find a home that meets your needs first. A plain basement allows you to customize it with whatever kind of rental suite you'd like. Whether that addition is done now or later doesn't matter, so don't get hung up trying to find a house design that checks all of your very specific boxes off the bat. We can help customize any of our plans to meet your exact desires and budget!
Earn Extra Income Year Round
If you have a favorite vacation spot, go for it and build a home there! Vacation homes are in high demand, and for good reason. You'll find gorgeous homes with us whether you want a beachfront oasis or a mountainside retreat. And did you know that a vacation house can actually help pay for itself?
That's right! By building a home in a desirable location, you can benefit from your property even when you aren't there. Just think about that constant stream of income from people who also want to enjoy vacationing in the area! For many, this is the perfect answer to the question of how to earn extra income with your home.
Take a look at these favorite vacation home plans. Each one offers something unique. For example, DFD-8835 (below) has three master suites, so everybody gets plenty of privacy!
Big Potential in a Tiny Package
Be sure to consider tiny homes for rental income, too. What these plans lack in extra space, they make up for with big personalities and unmatched flexibility! Plus, they can easily generate tons of money from people looking to enjoy a simple getaway.
Our tiny home designs have many of the same amenities that larger plans do—they're just downsized with an emphasis on efficiency, so they're affordable to build and easy to upkeep! Consider the earning potential of including a tiny home or two on a lot, especially if you have extra acreage. This could serve as anything from a weekend vacation getaway to a home for long-term renters who want some space of their own. Whatever the case, it's extra cash in your wallet!
House Plan 3134 (above) is a super flexible tiny home that we absolutely love. Simple and easy to build, you can have a cabin that earns rental income in no time!
We're always happy to help you find the perfect house plan for your needs, so please don't hesitate to reach out if you need any assistance!