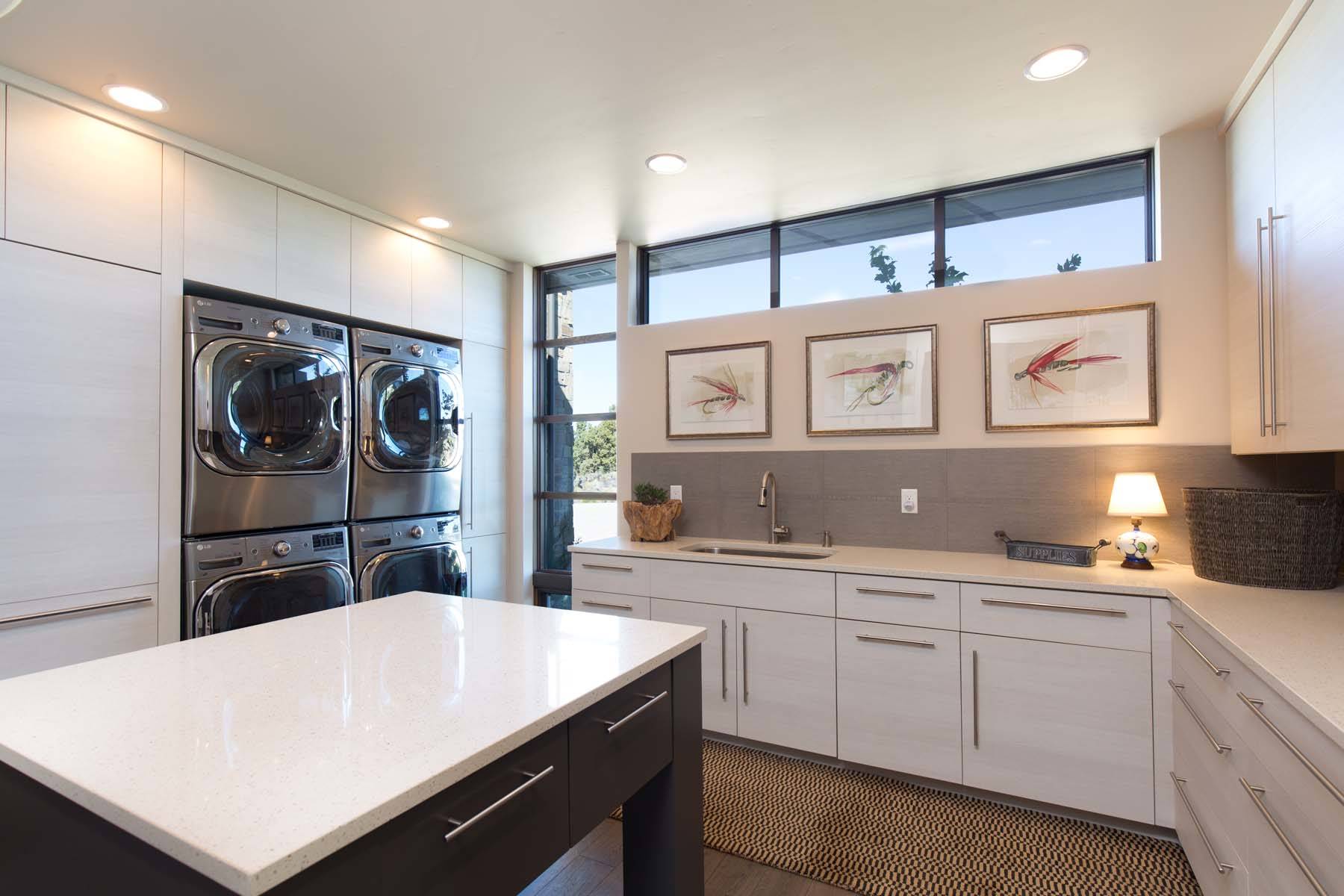 Laundry! Likely one of your most hated words. Laundry is an inevitable and tedious chore that never ends. Load after load, washing, drying, folding, hanging up, and putting away clothing over and over—you'll spend a lot of time doing this throughout your life! But, since it must be done, you may as well do it in an inviting and beautiful space. Making your laundry room fresh and functional will help you enjoy the experience more. Attractive cabinetry, storage baskets, hardware, and wall décor are just a few ways to create an Insta-worthy design. If gorgeous and inviting laundry rooms inspire you, invest in one you can make your own!

We have all kinds of laundry rooms in our collection of house plans, so explore some blueprints and find the perfect home with all the features you desire!
Some Inviting Laundry Rooms for Inspiration
Check out DFD-3423. This laundry room, complete with beautiful cabinetry and tons of storage, is easily accessible from the garage and from the mudroom through the back door. And it even has a full bath—perfect for family members who'd like to get cleaned up before entering the main house!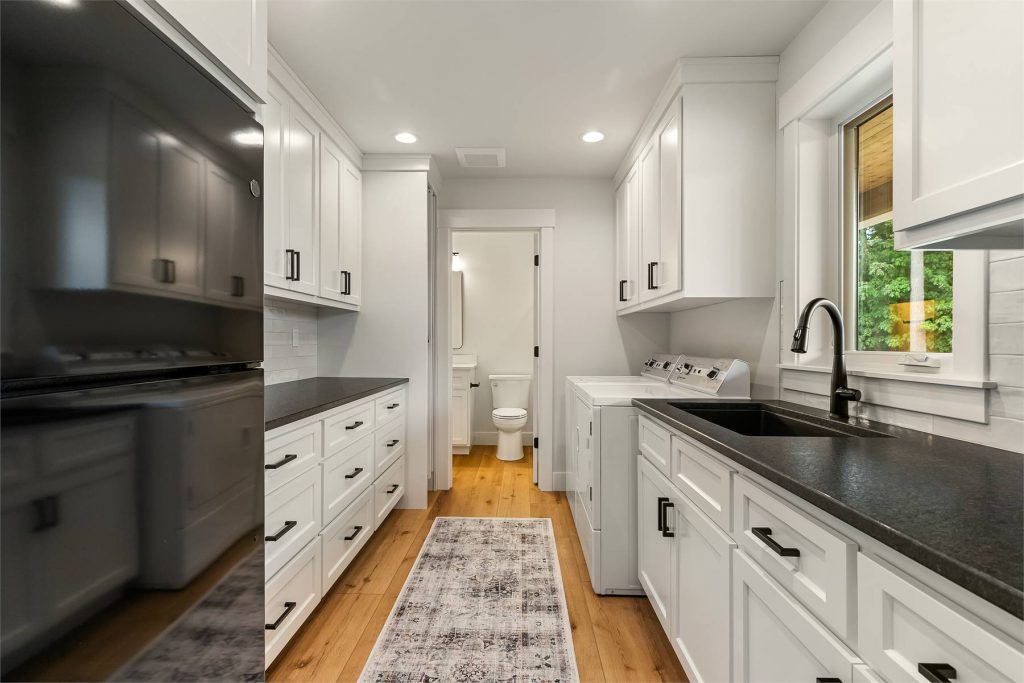 Whatever your goals, you need to start with the right equipment in your laundry room. Today, washers and dryers can be smart. Controls are accessible and with new technology, often can be operated remotely via an app. That will ameliorate some of the laundry struggle! Make sure to shop around and find the right fit.
And perhaps you'd like to give yourself a view? Windows allow natural light to flood the room, so you won't feel like you are stuck in a closet. If you have an interior laundry room, you can use beautiful wallpaper or wall décor and appropriate lighting to brighten up the space. Add shelving, drying racks, and baskets so everything has a place—don't let clutter muddy up the visual.
Have a lot of space to work with? Doubling up on equipment will certainly help speed things along. Check out DFD-2369 for an impressive laundry room twice the size of most. It has two sets of stacked appliances, plenty of cabinetry, and countertops along the wall and on the island.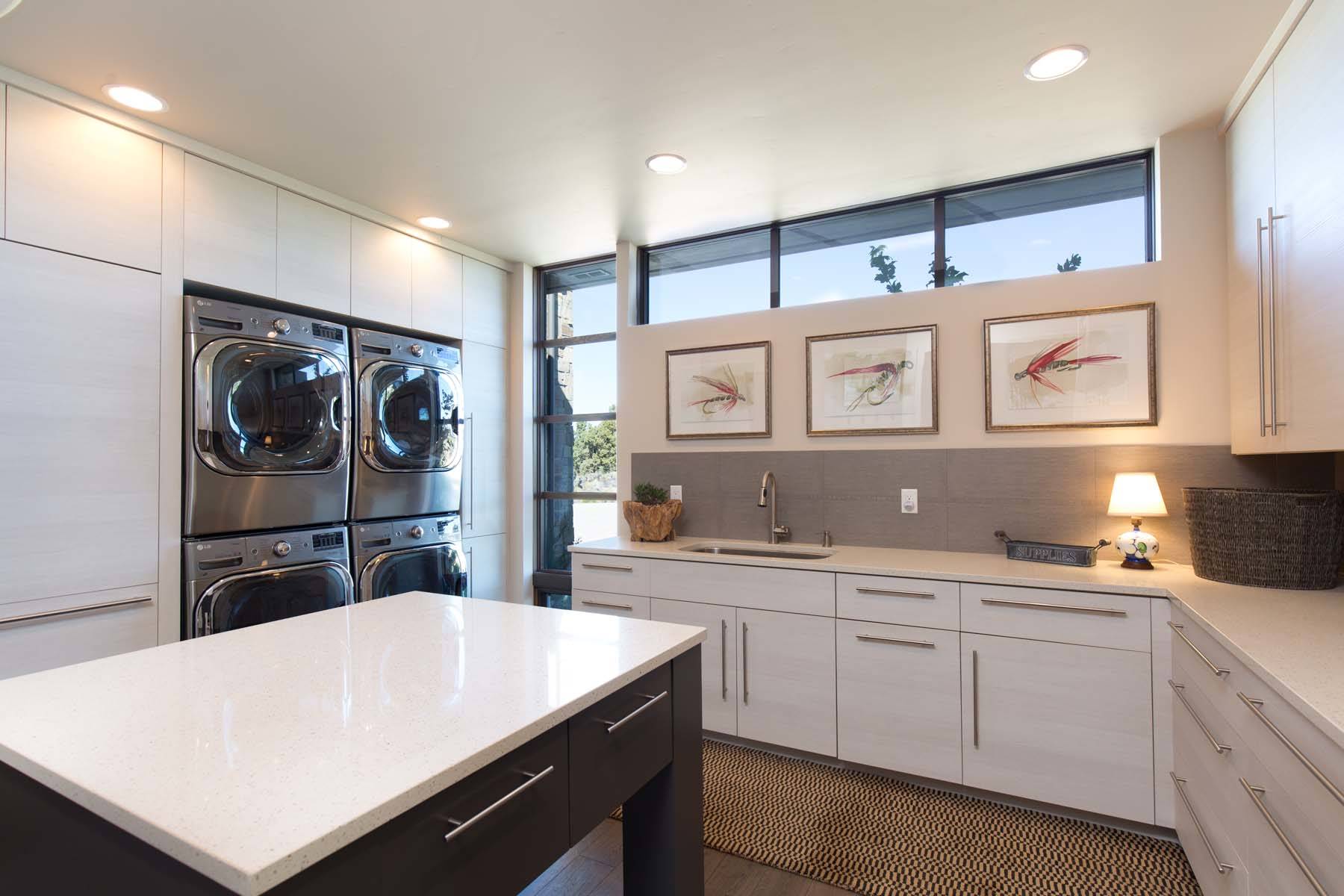 Need something simpler? Take a look at DFD-9920. This comfortable laundry room has a nice window and connects the garage to the interior. Talk about the perfect placement to take off muddy shoes and wet clothing before entering the home.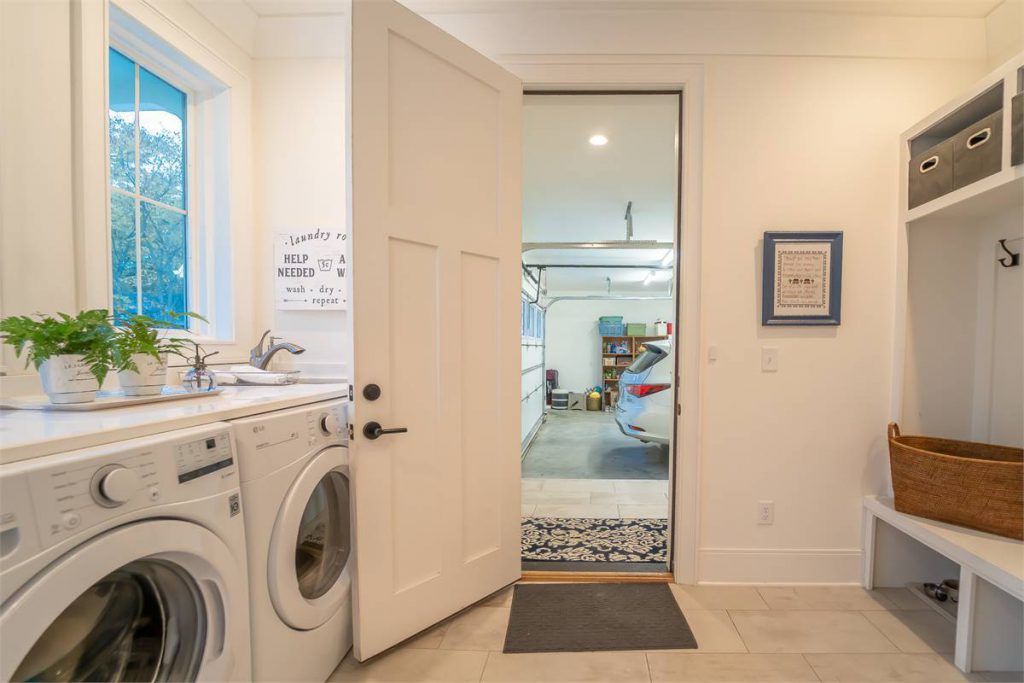 Another cool idea is to add a spot for Fido. The laundry room is the perfect place for a dog wash, especially if you have larger dogs. And/or for Fluffy, you can make a kitty litter station with everything at hand and out of the way inside. Add in a nook where pets can be cozy and contained when you leave the house. You can make the area feel special, both for you and your pets!
There is no limit to what you can do to beautify your laundry room. Combining it with a mudroom or craft room is not out of the question. Since we spend so much time in the laundry room, why not make it a place for everyone to enjoy and make it a featured part of your home?
Check out all the beautiful homes at Direct from the Designers House Plans. Our home plan specialists are available by email, live chat, or phone (877-895-5299) to answer all your questions and help you order blueprints. We've helped thousands of people already, so don't hesitate to reach out for anything. We look forward to hearing from you!