Whether you are buying your first home or planning to age in place, one story homes have plenty of value. But, have you considered choosing from our incredible collection of one story house plans with porches? Whether you're looking for a front porch, rear porch, or a wraparound – we've got it all!
A porch is a great and versatile addition to any home, sure to add both value and function. It could be a summer's evening, sitting on the front porch with a glass of lemonade. Or you could enjoy a warm cup of coffee on your back porch on a cool spring morning… the options are endless!
When designing your perfect single story home, don't forget to consider adding a porch. Our wide collection of one story house plans with porches offers all shapes and sizes. From quaint Cottage Style Homes to the more ornate Craftsman Style, the benefit of a porch is universal. And even better yet, porches offer a wide range of functions too!
Your decision to build the perfect home is one that you don't take lightly. So throughout the searching or design process, remember the enjoyment that adding the perfect porch will bring.
If you're looking for a home with outdoor living spaces, or even just a small place to relax with a good book in the fresh air, we surely have something for you. Take a look through our many one story house plans with porches to find your dream home today.
The Value of One Story House Plans with Porches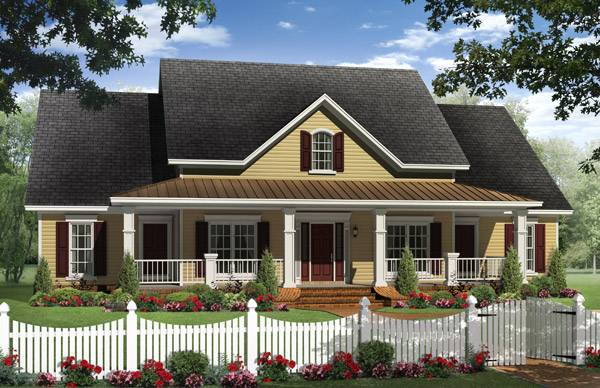 Porches come in all shapes and sizes. From grand wraparound renditions, to convenient screened in options, they all have one thing in common… they add value. The value of a porch comes from your own enjoyment and the higher price it can yield when it comes time to sell.
Our one story house plans with porches feature some of the best value engineering, both inside and out. Your friends and family will definitely love sitting outside, making memories together. And the inviting nature of a thoughtfully designed porch will certainly make everyone feel welcome.
The simple country design of DFD-1028 (shown above) makes for a practical home with a large front and back porch. It's a welcome and accessible option for people of all ages, and it's a great seller to boot!
Beyond enjoyment, selecting from our collection of one story house plans with porches means that you are getting a home with value throughout. Prospective buyers will love the thoughtfully designed porch. The perfect porch can sometimes even be a major selling point! Your porch will be the envy of the neighborhood and one that buyers can't pass up.
The Wide Variety of Porches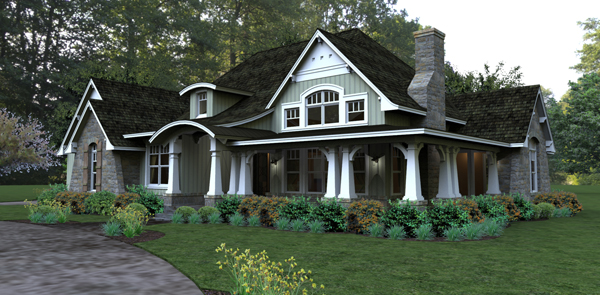 One of the best parts about one story house plans with porches is the variety of lifestyles they can accommodate. Backyard grill masters will love our porch plans that feature outdoor kitchens, sure to take barbecues to another level. And bookworms and lovers of the outdoors will enjoy a cozy screened in porch, perfect for curling up with a great read or just watching nature without getting attacked by bugs.
DFD-4838 (above) provides a variety of porches, all under one roof! From the covered front porch to the lanai and outdoor kitchen in the back, and even a private covered porch off of the master suite, this home has it all.
No other room or part of your home can provide the same kind of great enjoyment as a porch. And the thing that you will notice the most is how the porch brings everyone together.
When looking at the different one story house plans with porches, notice the homes that have multiple porches. After all, the front porch welcomes guests in, and the back porch can get them to stay.
A Porch for Every Lifestyle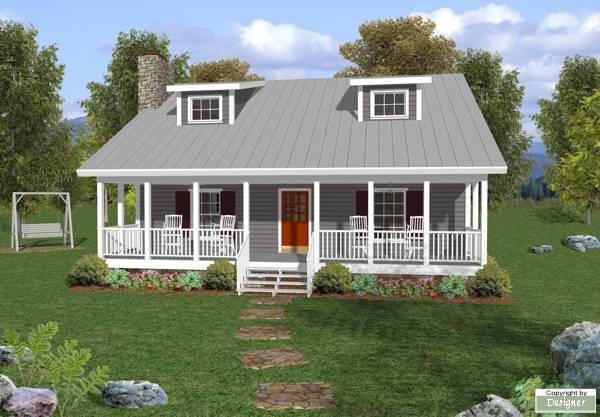 People choose single story homes for a wide variety of reasons. When searching through the many one story house plans with porches, keep in mind that porches serve many reasons as well.
For homeowners who have limited mobility, many porches have few or no steps, and most can be outfitted with a ramp. Homeowners who like the outdoors but may get overheated quickly will love our collection of covered porches. Many of these porches have ceiling fans to help cool off and extend your enjoyment, such as those seen in DFD-6619 (above).
No matter the reason, choose your home design specifically to fit your needs and lifestyle. Make sure that lifestyle can continue and that the enjoyment of things such as your porch are tailor-made for you.
A home is not complete without the perfect porch to match. The perfect dream home with an amazing porch is only a few clicks away. Search through our diverse collection of one story house plans with porch and find yours today, or bring it up with our modifying team!
If you ever have any questions or would like to talk with us, feel free to reach out. We can't wait to help you find the home that you've always dreamed of.