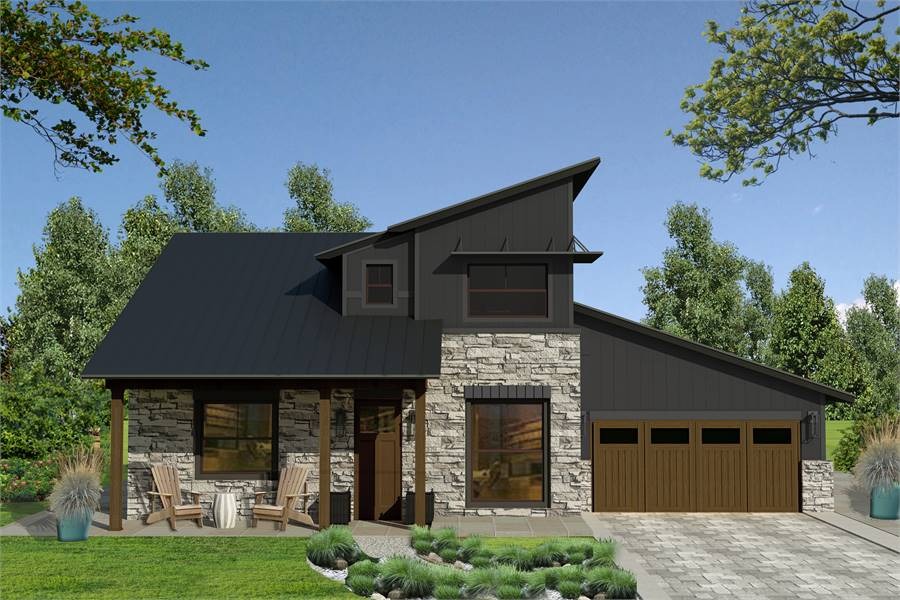 Homebuyers who love straightforward 3 bedroom house plans can't get enough of these designs! It doesn't matter if you want an affordable ranch plan or a tranquil vacation oasis, because we have them all and more. Every single design is overflowing with comfort and style, so check out why these plans are some of the most popular around!
Affordable & Convenient Ranch Layouts
Great for people of all ages and abilities, ranch layouts produce some of the best straightforward 3 bedroom house plans. Their accessibility means you'll have an easy time navigating the entire home. Plus, many provide the open concept floor plans that customers mark as a must-have nowadays.
For those who find themselves wondering what exactly a ranch-style layout is, it's simple: everything's on a single level. Talk about convenience! That convenience can be yours when you choose from our selection of ranch homes. Accessible, comfortable, and affordable, a straightforward 3 bedroom house plan has something for everyone to love!
DFD-2432 combines an open concept ranch floor plan with three bedrooms, making it a very in-demand design. Explore all 1,580 square feet, and don't forget that you can also relax on that covered porch!
Views No Matter Where You Are
Straightforward 3 bedroom house plans are often used as vacation retreats. These plans can help you make a little slice of paradise your own! From the mountains to the sea, we have plans for every sort of landscape. Our designs provide affordable yet stunning options for everyday enjoyment, and just think of the potential for rental income when you're away!
Explore our huge selection of homes that are great for different vacation spots. And consider DFD-1195, a super popular and affordable beach house option. With 3 large bedrooms and a cozy, connected living space, this plan is great for everywhere from hidden to beachfront lots.
A Year-Round Home for Everyone to Enjoy
Many potential buyers seek these plans out to use as permanent residences. It doesn't matter if you're focused on saving money or just want the basic necessities–we can help you find the right fit!
Our Favorite Straightforward 3 Bedroom House Plans
If you are struggling to narrow your options or just want to see what we offer, explore some of our favorite 3 bedroom plans. These beauties fit a wide range of styles and desires. Additionally, they all have some sort of unique personality and unmistakable charm that our homes are known for. Take a look for yourself and see!
If you have any questions or comments, or if you need help finding your dream plan, feel free to contact us. Our collections include thousands of market-leading home plans, and we're sure that you will find something to love. Our team of skilled designers and architects is waiting to make your dream home a reality, so begin your search today!