Find your dream home with a stock house plan from DFDhouseplans.com
If you're planning on building a new home, the first step in this exciting project is to find the perfect house plan that fits your family's lifestyle, budget, personal taste and lot. Stock house plans from companies like Direct from the Designers, allow homeowners the opportunity to build and customize their dream home at a fraction of the cost of commissioning a local architect and designer to draw your plans from scratch.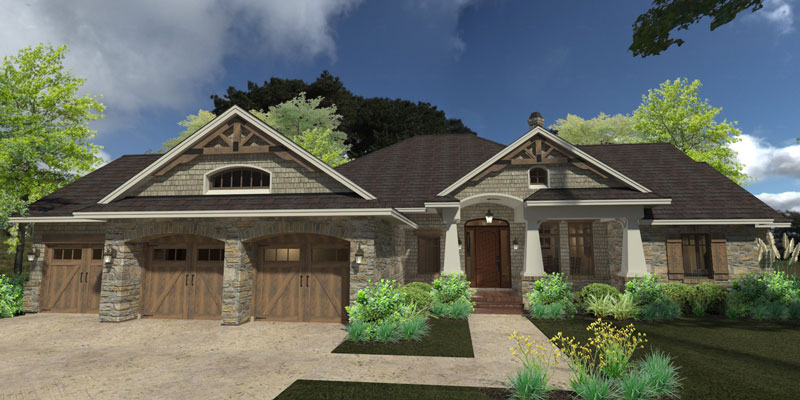 House Plan 9167 was inspired by Direct from the Designers' best-selling luxury craftsman House Plan 2297 to create a more affordable floor plan. Plan packages start at $995 for this 2,905 square foot home.

Free modification estimates are available on all of the house plans on DFDHouseplans.com. After purchase, consumers and builders are set up with the designer, architect or modification team for a one-on-one phone consultation to review the changes and costs. During the modification process, clients will be emailed PDF drawings of their changes to review before the final blueprints are drawn.
Before you begin shopping online for house plans, start with these helpful tips to ensure that the home you choose requires minimal changes:
Find your land. Finding your land first is key in selecting a home plan that will fit your lot and require minimal changes. Ask about property setbacks and other limitations to ensure you select the right garage placement and foundation. For example, if you have a sloping lot, you will most likely need a walkout or daylight basement. Depending on where you live and extent of the slope you may be able to utilize a crawlspace.
Think about the future. Carefully consider functionality. You want to choose a floor plan that accommodates your families needs and lifestyle, not just for today but years down the road. Choosing an open floor plan with options to expand is a definite plus. Take note of the location of bedrooms. Having all the bedrooms grouped together when the children are small may sound like a good idea until they are teenagers and you wished you selected a home with split bedrooms (meaning the master is separate from the additional bedrooms).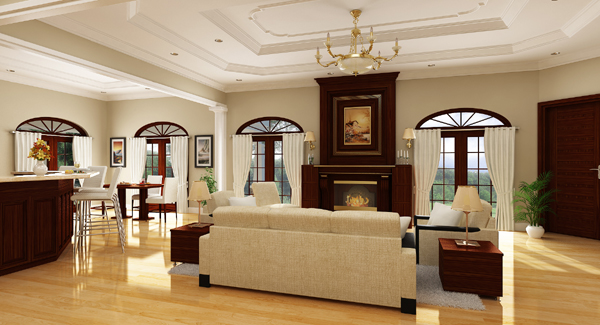 This stylish ranch House Plan 4937 features a spacious interior with volume ceilings. The large kitchen can be made even larger by grabbing some space from the breakfast room. Like all house plans from Direct from the Designers, you can customize these design for an additional fee. The estimate however is free.
Write a "Wish List." Put together a "wish list" of all the features and amenities you would like so when you're looking through house plans you can see if they're already included. Little touches like re-designing the kitchen or master bath or adding more built-ins and windows are easy changes that can be facilitated on-site by your builder.
Have a budget. It's always a good idea to find out what your home building budget is by utilizing a free mortgage calculator and getting pre-approved for a construction loan. Another helpful tool when searching house plans is using a cost estimator that is based on the house plan and your building zip code. Research some local builders to see what they are currently charging per square footage for new home construction.
Find out local building requirements. Before you purchase your house plans obtain a list of required items from your local building department. Some areas like Florida, California, North and South Carolina and Nevada require an engineer seal where a local licensed engineer will analyze the design and provide additional structural detailing required by your local building department. Stock house plans do not come with a professional engineer stamp. CAD packages are available for most stock house plans which make it quicker and more affordable to have them engineered. They are also great for major modifications.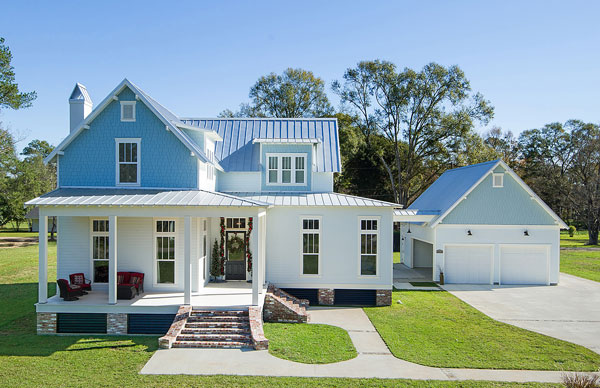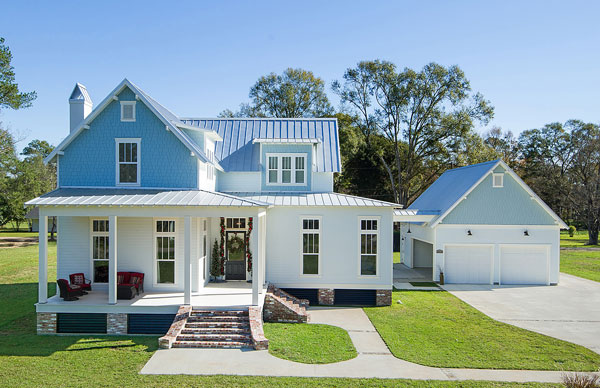 A great place to get inspired is by viewing our New House Plan Collection, where new home designs are being added weekly. Shown above is a the classic Farmhouse 9772.
Start searching house plans. As you start to browse for house plans, look for companies that offer advanced search options, high quality renderings and floor plans so you can quickly find and review house plans that fit your criteria. Make sure you create a free account so you can save your favorite house plans.
Consult with a builder. It's a good idea to consult with a few builders in your area about the current cost to build. Once you've selected a house plan, have a builder review the home prior to purchasing to ensure you order the right plan and options, that it will fit on your lot and meet your local building requirements.
Purchasing house plans. You can expect to pay from $750 to $1,200 for a full set of constructions drawings. The price can vary depending on the size of the home, additional plan options selected and the plan package. If you're not sure what plan package you need, ask a home plan advisor. You cannot make copies of printed sets so be sure you have enough sets – packages are typically available in 5 or 8 sets. Other options include a PDF Plan Package, reproducibles and CAD files.
If you need help finding a house plan, please call 877-895-5299 or email Direct from the Designers and a home plan specialist will be happy to assist you.