At first glance it might sound a bit foreign, an outdoor kitchen, who would want that? After all a kitchen is normally on the inside of a house plan. It is where meals are prepared, the kid's homework is done, and where stories of the day are swapped.
Well, this important room is getting a makeover and designers are taking it outside. Outdoor kitchens are an exciting trend, particularly during grill season, because not only do they offer function but also convenience. Today, most outdoor kitchens are just as functional as a regular, indoor kitchen. They might include a grill but they may also be equipped with a stove, oven, a fridge, sinks, wet bars and even special ventilation.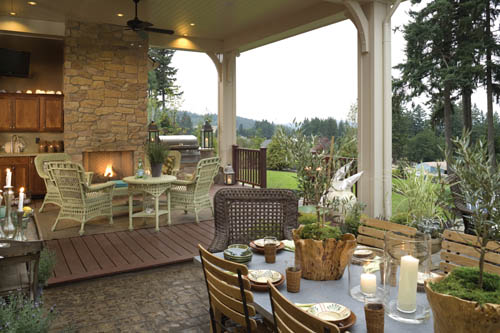 You can get as elaborate with your outdoor kitchen as you'd like, and the best part is that if you take the right steps you should be able to enjoy your outdoor kitchen 365 days a year in most parts of the country. Steps like weatherproofing and making sure that your kitchen is covered means that you will also have the option of dining al fresco.
What benefits will you realize when you invest in an outdoor kitchen?  Hosting a barbeque with a regular kitchen means that you have to go in and out of the house constantly, distracting you from your friends and family but with an outdoor kitchen you can set up your gathering and let everyone be involved with the cooking. An outdoor kitchen means more time to enjoy the warm weather and more interaction with your guests. On any typical day, you can use it to grill and prepare a meal outside for you and your family.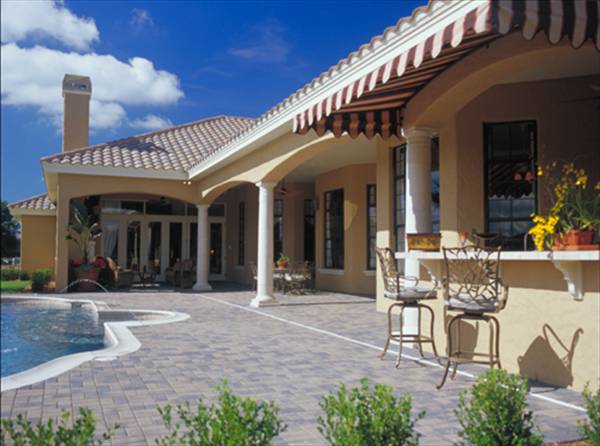 An outdoor kitchen is a perfect luxury for the winter months. With many styles to choose from and the availability of modern outdoor appliances, you will be able to make good use of your outdoor space and enjoy the fresh air and sun as you cook your favorite dishes.
Visit Direct from the Designers to read more about outdoor kitchens and to browse the collection of outdoor living house plans.