Creating An Eco-Friendly Kitchen
By Christine Cooney, Direct from the Designers Staff Writer
Homeowners who are building a new home or remodeling their kitchens are actively looking for environmentally friendly design ideas and products to create their dream kitchen. Since kitchens are responsible for approximately 40 percent of a home's energy consumption, a 'green' design can help reduce your electrical bill.
Our architects and designers have come up with a number of kitchen design ideas that include a recycling center, induction cooking, track lighting, bamboo flooring, eco-friendly cabinetry and countertops and much more to help you create a functional, stylish kitchen space that will reduce your carbon footprint for years to come.
This
gorgeous green kitchen design
allows for plenty of room for cooking, prepping and snacking. The rich marble countertops complement the multi-toned cabinets and gold hues throughout the dining room.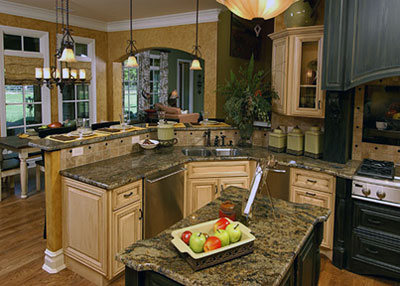 A key ingredient to saving energy is purchasing energy-efficient kitchen appliances, which thanks to advanced technology can use 10 to 50 percent less energy and water than standard models. Look for appliances that are ENERGY STAR
®
approved, particularly your refrigerator since it is always in use.
When it comes to cooking, the most efficient product available is an induction stove. Induction cooking uses electricity to produce a magnetic field that reacts with the cookware and produces heat. The cookware (and therefore the food) gets hot, but the stovetop doesn't which means less heat is wasted and your food cooks faster. In fact, induction cooking is about 90 percent more energy efficient than gas or electric.
Make sure you do your homework when it comes to selecting your new dishwasher and washing machine because they both run the longest and use the most water and energy. There are plenty of features to choose from like eco-friendly wash cycles, faster wash times, automatic water level adjustment and much more.
When it comes to washing machines, front-load models typically use less energy and water than their top-load counterparts and over time can pay for themselves through significant energy savings. Not to mention the savings to your wardrobe by using a higher quality model, which can reduce wear and tear to your clothes.
This open, airy
kitchen
will delight on many levels. It has a center island with dual sink prep areas and room for three stools for snacking and socializing. You can continue your cooking outside with a full outdoor kitchen and dining area.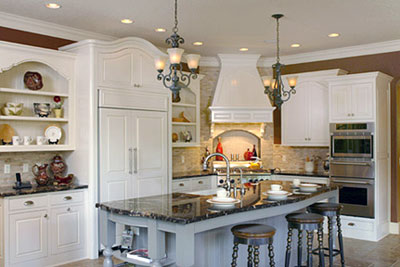 Your countertops and backsplashes should be made from durable and water resistant materials. Natural stones like granite, marble, limestone, slate and soapstone remain the most popular choice for countertops, because of their lasting beauty and durability. But today you can create a luxurious and custom design without the high cost by using alternative products like engineered stone, solid surfaces, laminate, ceramic, hardwood, stainless steel and concrete. You just have to be sure that your countertop matches the needs of your lifestyle and cooking habits by researching the pros and cons of each material.
When it comes to choosing your kitchen faucet, look for water saving models that have the following features: 1.5 gmp water-saving aerators, touch less operation and low flow options. There is a wide range of styles and fixtures to choose from to complement your countertop and sink. Spend some time picking out your sink, because you'll be surprised by the latest selection of styles and finishes available.
Your green flooring options are very similar to your countertop selections, but of course price is a major consideration given the amount of space you are trying to cover. Look for eco-friendly flooring products like hardwoods that are manufactured from renewable forests, bamboo and cork for a natural look and feel.
This gorgeous green kitchen features marble countertops and rich espresso bamboo flooring, which are accented by cream cabinets and pale yellow eco-friendly paints.
Well-designed windows and skylights can lighten the feel of a kitchen and save on energy bills as well. Ensure the products used have low heat emission glass with solar shading, which creates a comfortable space, protects furnishings from sun damage and reduces condensation on windows.
When shopping for lighting for your kitchen you need to find the right fixture for the size and complexity of your room and design. A small kitchen may only require one central ceiling fixture and some task lighting tucked under a cabinet. A more luxurious kitchen will demand a blend of general, task and accent lighting. But no matter the size of your kitchen, it's how you control and use your light that will save you money on energy costs. The simplest way to go green is to use CFL and LED lighting.
Whatever your living space, you should always consider adding dimmers to the various light sources. Not only does this allow you to easily set the mood in the kitchen and adjacent areas, it's also a great way to save electricity.