Building A Green Home
By Christine Cooney, Direct from the Designers Staff Writer
Once you have committed to building a green home you then have to choose what 'shade of green' you want to be. You can express your love of efficiency and respect for the environment in almost every aspect of building, designing and maintaining your new home. From home design and materials, insulation, and interior finishes, to HVAC and water efficiency — everything you'll need to build a green home is at your fingertips. You simply need to make the commitment to aspire to a greener lifestyle.
Before you begin your search for a
green house plan
you need to evaluate your family's habits, particularly when it comes to energy use. Do you leave a light or TV on when you go to sleep? Do you generally require air conditioning in the summer? Do you use lots of electronics?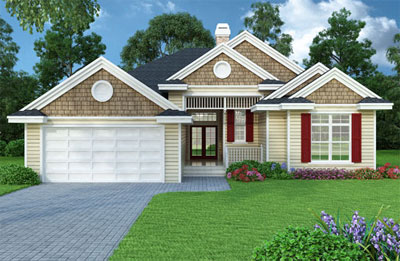 The amount of energy you use is tied to your in-home habits, so these need to be taken into consideration in order to maximize the benefits of building an energy-efficient home.
Once you've assessed your lifestyle and needs and have committed to building a green home, you'll need to find an energy-efficient house plan. Although other companies offer 'green' home plans, Direct from the Designers House Plans is the ONLY place you'll find genuine
ENERGY STAR

®

approved house plans
, which are designed with innovative materials and systems that promote efficient, comfortable and healthy living.
All of these wonderful green designs feature timeless architectural styles and practical/flexible layouts that you just can't get anywhere else.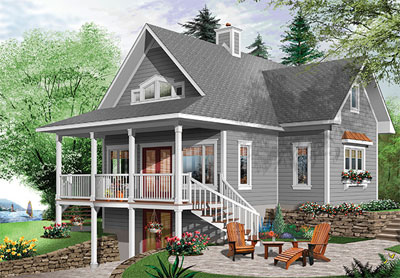 Energy use can be positively affected by simply building your home with a southern exposure. Adding window awnings and wrap-around porches into your home design will shelter windows from direct sunlight and lower temperatures in your home during warmer seasons.
Your home's orientation is also important if you plan on using solar heating. Solar energy systems may be as simple as adding a few solar panels to your roof or as extensive as a total solar home system, depending on how much you'd like to exploit the sun's endless energy to power your home's electricity and hot water.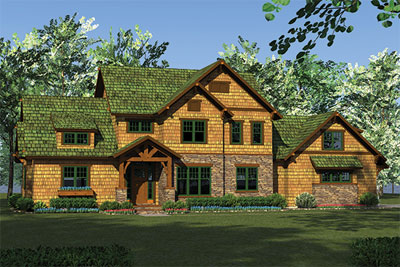 By using the sun's free energy you may easily be able to cut your hot water production costs in half depending on where you live, while helping the environment by cutting back on greenhouse gas emissions. Like all renewable energy products, a solar heating system qualifies for many tax incentives, rebates and discounts.
It's almost impossible to separate the notions of energy efficiency and airflow in a sustainable home, which is why it pays to be sure that your building envelope is well-insulated and tightly sealed. The key components of a building envelope are the foundation, flooring systems, interior and exterior walls and roofing system.
Insulation is a critical element in how efficiently your home will operate. It keeps your home warm in the winter, cool in the summer and prevents air from escaping through your walls, floors, ceilings, foundation and ductwork to ensure maximum efficiency, comfort and yearly savings. If your budget allows consider structural insulated panels (SIPs), which are high performance building panels used in floors, walls and roofs. SIP walls perform approximately 50 percent better than conventional construction, which will allow your builder to provide you with the most efficient building envelope. This is highly recommended for people who live in areas that experience extreme hot and cold climates.
Other elements such as ENERGY STAR
®
windows, appliances, lighting, HVAC systems and roofing are other key factors in a green home. There have been great strides toward simply conserving water (the average person uses over 70 gallons of water a day), so look for bath and kitchen fixtures that wear the EPA's WaterSense® label. Look for high efficiency toilets (HETS) and water conserving showerheads, which can save you up to 20-30% on water usage.
You may be concerned that you'll be asked to trade style for efficiency in order to build your green home. You needn't worry. Home products companies of all kinds have embraced sustainability and are pushing technological and design envelopes to create eco-friendly products that, while being beautiful, significantly outperform traditional home building products.