Gorgeous, Green Bathroom Products
A big trend in today's bathroom is creating a spa-like retreat, which is why special care is given to designing a more luxurious and pampering master bath. Even a small bathroom can be transformed into a relaxing spa retreat if it is designed properly and the appropriate products are selected.
One of the hottest trends to hit residential bathrooms is the vessel sink, which sits above the countertop and can be made from almost any material including bronze, stone and glass. Unlike most traditional sink designs, vessel sinks offer unlimited style and design possibilities. Because of their compact size, they can be used in any size bathroom. We have selected some of our favorite bathroom fixtures to help you create a pampering, yet functional bath space.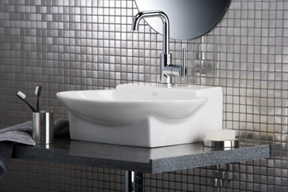 The
Parma Collection®
by Danze® offers an exciting range of designs, from their minimalist single handle lavatory models to wall mount options. Because of its traditional styling, this product line complements most architectural styles. It's shown with the
Ziga Zaga®
deck vessel sink and a unique stainless steel tile wall to give your bathroom space added pizzazz.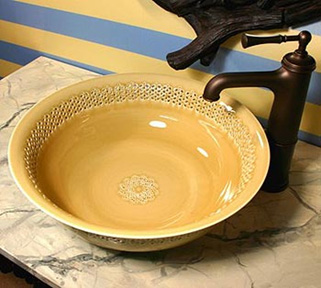 Made from 100% recycled materials, the Linkasink® line of patterned bronze sinks make a stunning design element to any bathroom. Well-known for crafting beautiful bronze and copper sinks, they also create sinks made from Venetian glass and stone mosaics, carved porcelain, cloisonne and onyx. Their newest line is the
Smithsonian Collection®
, which features seven handcrafted sinks with adaptations from their vast collection of treasured artifacts.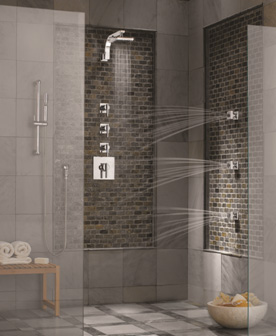 If size is not a consideration, but pampering is a necessity, then you'll want create a custom spa shower. Danze® custom spa shower systems let you create your own unique design with a wide range of choices — 16 collections, 10 finishes, 15 trim styles, 32 showerheads and plenty of shower accessories to complement their faucet collection.
When it comes to toilets, companies have actually come up with some new designs to make this traditionally unappealing, yet necessary item look stylish in your bathroom. Gone are the commercial looking toilets that we tried to hide with rugs, lid covers and trinkets. These new models and designs are actually a key design element to the overall appeal of your bathroom.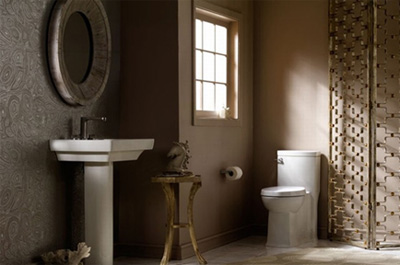 American Standard®
recently came out with two new luxury collections, the Boulevard and Town Square. Both lines feature its landmark FloWise flushing system, which plans on making the plunger extinct with a 1.0 gallon per flush — the lowest gpf on the market.
If you don't want to splurge on their luxury green line, be sure whatever line you choose features the H2Option, which has the industry's largest flush valve and EverClean Surface. It's virtually clog free and practically cleans itself. American Standard® has over 18 collections of high performance toilets to choose, which makes it easy to find the right toilet to complement your bathroom's decor.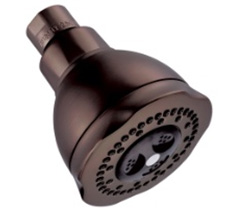 Danze®
, who has always been known for its fun innovations in the shower, has expanded their shower products to include three water-saving, multi-functional showerheads. They all feature their patented dual valve technology, which reduces pressure loss, optimizes water flow and spray performance even at low water pressures. These new green products are one of the first in their class to proudly display EPA's
WaterSense®
Label.