10 Commandments of Home Design
From space-saving designs to the latest in luxury accents these interior design tips are made with you and your dream home in mind.
1
DISCOVER WHAT INSPIRES YOU
We no longer need to restrict ourselves to a particular design style. Today's design is all about bringing together a variety of elements and colors that inspire you. Maybe you're traditional, but are inspired by a sleek-lined contemporary faucet for your kitchen or master bath. Don't be afraid to mix-and- match different styles to create a custom look that you'll enjoy.
Pamper yourself in this elegantly designed master suite from Direct from the Designers House Plans.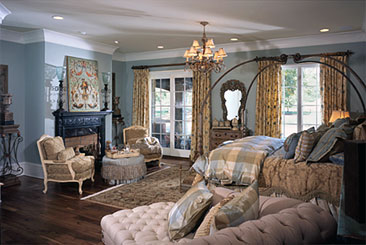 2
DON'T USE DECORATIVE ITEMS SIMPLY TO FILL SPACE
The decorative accents you select for your home should be functional and inspirational. When looking for these special items, don't select something that you don't truly love just because it suits your room or budget. If you can't afford to purchase the items that you really want right now, then be patient and wait until you have the money to spend. Leaving your walls bare or rooms sparse for a little while will be worth the wait to create the perfect room.
Stone floors, columns and walls give this contemporary gourmet kitchen a fresh, yet elegant look.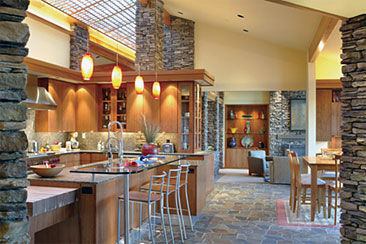 3
HAVE A WELL THOUGHT OUT PLAN
Be sure that you have a well thought out plan before you start designing any room. Put together a list of "must haves" and "would like to have" items so you will stay focused with your project. This will help to ensure that you design a thoroughly functional and enjoyable room.
4
DON'T SKIMP ON QUALITY PRODUCTS
That old saying "you get what you pay for" couldn't be truer when it comes to products for your home. With so many discount retailers available, you need to be a smart shopper. Good looks doesn't always guarantee quality product. Buy brands that you know and trust, especially when it comes to appliances. You may pay a little more initially, but you'll have a product that will last a long time.
The walls are done in American Clay
®
, which is an eco-friendly earth plaster. It's shown in the Loma collection, which captures the rich elegance of this Mediterranean home.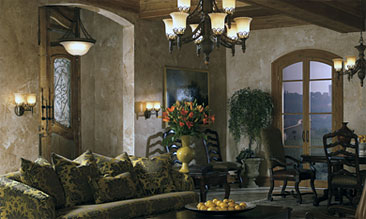 5
COLOR YOUR HOME BEAUTIFUL
Color is everywhere, which is why it is one of the most important decorating decisions you'll make in your home. Inside your home, your color scheme is as much a reflection of your personality as it's importance to the success of your decor.
6
DON'T FALL INTO DESIGN TRENDS
While the latest trends and styles are a great way to get new design inspirations, you don't want to find yourself dated in a few years. Borrow a few design ideas from these trends and then create a look that's unique to your own style and taste.
This bright, functional kitchen space features a gorgeous backsplash with natural stone tiles from Crossville
®
to accent the white cabinetry.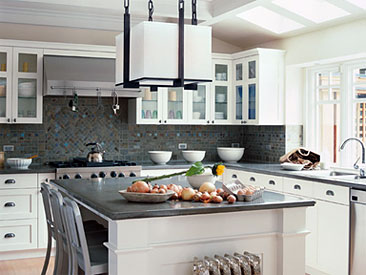 7
PAY ATTENTION TO LIGHTING
Interior lighting is a key element in successful decorating. When deciding what lighting to use in your new home think about how each room will be used. This will help you to select fixtures that enhance the archetecture of your home, while keeping with your style and budget. Today's fixtures are stylish and energy efficient.
8
ADD ARTWORK INTO YOUR HOME DECOR
Artwork doesn't have to have a high price tag to be priceless. Framing sentimental family photographs or scenic paintings of favorite vacation spots or special awards and mementos can add a beautiful touch to your home. Don't forget decorative pieces like vases, mirrors, clocks and shelving that are not only functional, but can really help develop your room's personality.
The great room in this two-story house plan is stunning with its custom ceilings, columns, rich hardwood floors and fireplace. The intricate detailing was made affordable by using Fypon
®
millwork products.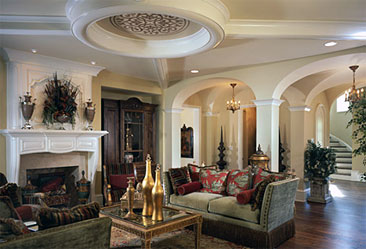 9
DON'T FORGET TO LOOK UP
While the main focus when decorating a room is the floor and four walls, it's important not to forget your ceiling, which can add dimension and character to your home. Thanks to new materials such as faux wood, urethane millwork and PVC trim, which are eco-friendly, affordable and versatile, you can dress up any room by adding faux beams and decorative moulding. For a more dramatic design try a dropped, coffered or tray ceilings. For a touch of elegance try a ceiling medallion with a chandelier. Don't forget about your lighting fixtures and ceilings fans, which make a great addition to any room.
10
MAKE SURE YOUR ROOMS COMPLEMENT EACH OTHER
With the popularity of open floor plans it is important that your living room, dining room and kitchen flow together. Color is key in an open living space, so make sure your color scheme is consistent. You can pull decorative elements from one room into another by matching your cabinetry or coordinating your fixtures (lamps, tables) with the same metal finishes used for your faucets and hardware. Have fun with your flooring by mixing textures like wood, tile and marble to create a unique design.