Insulation is Key Element to Your Home's Efficiency
Energy efficient homes are composed of a network of elements working together to reduce the overall amount of energy consumption. A key ingredient to making your home more energy efficient is insulation. It keeps your home warm in the winter, cool in the summer and prevents air from escaping through your walls, floors, ceilings, foundation and ductwork to ensure maximum efficiency and comfort.
You can greatly increase the energy efficiency and comfort of your new home by installing insulation with an R-value higher than the minimum requirements.
This ENERGY STAR
®
approved house plan comes with detailed drawings, wall and roof insulation and glazing specifications and information on cooling calculations for your specific area plus information on getting your home built and certified to ENERGY STAR
®
standards.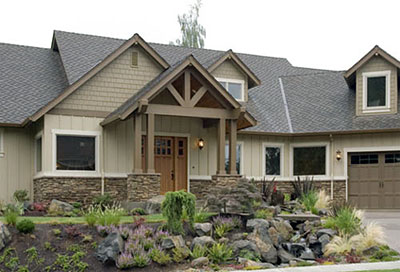 But to truly enjoy the benefits of insulation, it must be installed correctly. Compressing it or leaving gaps through which air can flow can cut insulation's effectiveness by as much as 50 percent.
When insulating your attic, it's important not to clog the attic vents under the eaves. Keep air circulating freely above the insulation by installing baffles, which is typically a piece of fiberglass batt placed several inches away from the vent.
For fire safety, keep insulation clear of heat producing devices such as doorbell transformers and recessed lights, flues or vents from furnaces, water heaters, fireplaces and exhaust fans.
This one-story, open house plan features all the warmth and comfort of a home you'll want to spend a lot of time in. It evens come with an optional second story bonus room.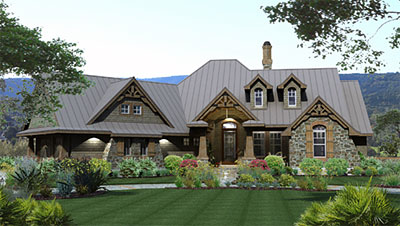 Home insulation tends to be most effective in terms of cost savings in climates that have a wide range of annual average temperatures like the Northeast. In other words, you'll see the most savings if you live somewhere with cold winters and hot summers as opposed to a climate with a minimal difference between average winter and summer temperatures.
Keep in mind that combining quality home insulation with energy efficient air conditioners and heaters is the best way to optimize your energy savings.
Thermal insulation is specially designed to trap heat inside your house and makes the best option if you live in an area that has long, cold winters. In terms of insulation materials, foam insulation and fiberglass insulation are among the most common, but you can also choose eco-friendly products made from recycled paper, plastics and natural oils.
Gorgeous curves and circles make this intriguing and well designed home plan a favorite among homeowners looking to enjoy life at home. It features all the latest amenities to enjoy entertaining and all the latest energy-efficient products.
Designing and building an energy-efficient home that conforms to all the considerations and codes faced by homebuilders can be challenging, however any house style can be made to require relatively minimal amounts of energy to heat and cool, and be comfortable and healthy.
By purchasing a green or ENERGY STAR
®
approved house plan (view the only exclusive collection of ENERGY STAR
®
designs) you can be assured that your home will be energy efficient and that your builder will have the tools and specific products to construct your home properly.
Even though there are many different design options available, they all have several things in common — a high R-value, tightly sealed thermal envelope, controlled ventilation and lower than usual heating, cooling and electric bills.
Some home designs are more expensive to build than others, but none of them need to be extremely expensive to construct. Recent improvements in building products and construction techniques allow most modern energy saving ideas to be seamlessly integrated into any type of house design without sacrificing comfort, health or aesthetics.