How To Find the Right Home Builder
There are many decisions that come along with buying a new home - some undoubtedly more stressful than others. But before you pick out the perfect rug for the living room floor, you must first determine who will pour the foundation and build the walls.
Choosing a home builder to create your dream home may seem like a daunting task, but it certainly doesn't have to be. To help you make this important decision, we've put together this handy guide, packed with all the tips, tools and resources you need to find the home builder that's right for you and your family.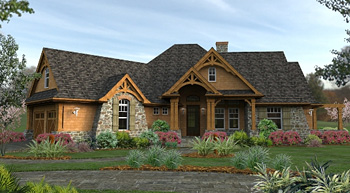 This one-story
ranch house plan
is DFDhouseplans.com best-selling home because of its gorgeous detailing and use of space.
Phase 1: Research, Research, Research
Before you hand over your ranch house plans to a builder, you'll need to do your homework. What exactly should you research?
Look for locals: Are there any builders who specialize in the specific area where you plan to live? Look online, peruse local real estate magazines or search for builder signs as you're driving around town. The National Association of Home Builders (NAHB) is also an excellent resource to find qualified builders - visit their website to find out more about your local chapter.
Turn to a referral: Word of mouth is a powerful thing. Do you have a friend, family member, or co-worker who recently worked with a home builder? Ask for referrals from people who were pleased with their builder's work. You can also search online for reviews and testimonials from other homeowners. Many stock house plans companies like The House Designers have a builder referral program where they can match you with competent builders in your area.
Take a tour: Many builders offer tours of model homes. Visit as many models as possible to get a sense of each builder's style and whether or not it matches your own. For example, if you're planning to build an expansive 5-bedroom home, you might not want to hire a builder who specializes in

small house plans

.
Compare prices: During the research phase, it's important to gather as much information as possible, including a builder's price range and the cost of any available upgrades. This will help you narrow down your list to home builders that fit within your budget.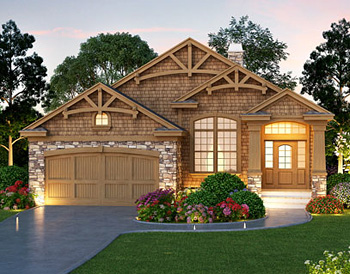 Phase 2: Ask Questions
If you don't have any questions, you haven't thought hard enough about the home building process! Here's a sampling of what you should be asking any prospective home builders:
Experience: Find out how long the company has been in business and how many homes the builder has completed.
License and registration, please: Request a copy of the builder's license, insurance and any other documents required to do business in your area.
Warranty: Ask what type of warranty the builder offers, what is covered and how the claims process works.
Building materials: You might not know the difference between a common nail and a casing nail, but it's important to ask the builder about the construction materials his or her company uses - and why those specific materials are used.
Energy efficiency: Don't forget to inquire about any energy-saving features the home builder offers, and whether or not there are any extra costs associated with implementing these features.
Floor plans: Are you required to use the builder's stock floor plans, or will the builder work from separate blueprints (such as craftsman house plans)? If you must use one of the builder's plans, can modifications be made?
Construction timeline: How long will the home building process take from start to finish? What happens if a construction delay occurs?
Code and permit procedures: Find out how the builder handles permits and what processes are in place to ensure all building codes are followed.
Subcontractors: Builders often hire other businesses or individuals (subcontractors) to handle smaller jobs. Does the builder always use the same subcontractors? Can the builder provide credentials or other information for preferred subcontractors?
Other Factors to Consider
Once you have done your research and asked more questions than you thought humanly possible, you may or may not have a clear-cut 'winner.' There are still other factors that may affect your decision. In addition to all the items listed above, think about how you felt when meeting with the builder's sales associates and other employees. After all, you will undoubtedly have even more questions as the construction process unfolds. It's important to know that your voice will be heard and any issues you have will be quickly resolved. As basic as it may sound, it's also a good idea to listen to your gut - if a certain builder matched many of your criteria but just didn't feel 'right', it's okay to exclude them.
Remember, the decision to hire a home builder is an extremely important one, and it will likely require plenty of time, effort, persistence and patience. Have confidence that the right builder is somewhere out there - in no time, you'll be watching as your brand new home is constructed right before your eyes!