Stronger, Stylish Green Home Products
Curb Appeal Made Easy
By Christine Cooney, Direct from the Designers Staff Writer
Protecting and dressing up your home's exterior has gotten a lot easier and more affordable thanks to new technology in home building products. Years ago you were limited to mostly wooden exterior products, which had relatively short life spans and required plenty of maintenance. Today, you can choose innovative, stylish, and affordable exterior products made of synthetic materials that come with great warranties and are constructed to withstand the elements.
Polymer slate and shake roofing tiles, fiberglass doors, vinyl and fiberglass windows, urethane millwork and fiber-cement siding are great examples of products designed for low-maintenance and lasting beauty.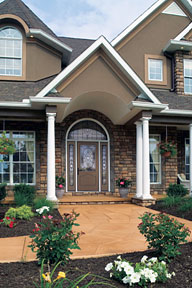 When it comes to choosing windows, homeowners are not only looking for energy efficiency (fiberglass and vinyl offer maximum efficiency and low maintenance), but they also want as many window options as they can find, such as custom glass, and custom configurations and sizes.
In order to set their homes apart from their neighbors', owners may accent their windows with accessories like grilles, blinds, shades or decorative panels between glass and decorative hardware to coordinate their home's interior design.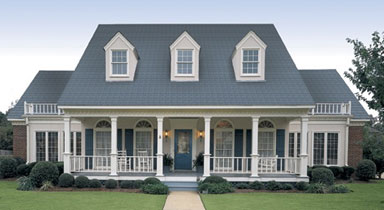 Since windows and doors are seen and enjoyed from both inside and outside your home, it is worth the time to choose your windows carefully so that you can create a stylish, functional and energy efficient living space.
Whether your front door is framed by a lovely porch, embellished with leaded glass or simply painted a striking color, it's a strong focal point of your new home. So you want it to be appealing to your guests and complement the architectural style of your home.
Therma-Tru
®
, the company that pioneered the fiberglass door in 1983 now offers an extension line of entry door systems featuring high-definition embossing, AccuGrain™ technology for the look of real wood, decorative glass and accents. Each door is constructed with a polyurethane foam core and can be ordered ENERGY STAR
®
qualified to provide four times the insulation of a wood door. Best of all they won't rot, split, crack, rust, dent or ding.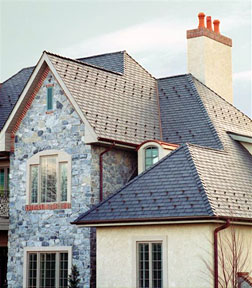 Using decorative trim and millwork around a window or door can really add curb appeal to your home's exterior. If you want attractive architectural detailing without the high cost and maintenance of real wood, look at urethane millwork, trim and columns from Fypon
®
. They have thousands of interior and exterior products to enhance the look of your home, made from high-performance materials for long-lasting beauty, minimal maintenance, and design flexibility.
While all areas of a home's exterior are subject to abuse from severe weather and harmful ultraviolet rays, your roof and facade take the brunt of Mother Nature's punishment. Products like polymer roofing tiles, steel shingles, concrete tile, and composite slate are environmentally friendly and guaranteed to last for decades. There are a wide array of siding choices to complement your home's architectural style. Composite siding is popular and can mimic the look of 'real' materials extremely well. Among the many 'green' finish options you'll find faux wood, stucco, stone, brick, vinyl siding and Western Red Cedar. Remember, doing the research up front to find the highest quality products for your budget will result in long-term savings and lasting curb appeal.