Designing A Cutting Edge Home
By Christine Cooney, Direct from the Designers Staff Writer
We tend to stereotype modern homes as being cold, stark and futuristic, when actually its style is rooted in the Modernist movement that came to prominence during the 1920s-1950s. It was a trend that started as a reaction against the handcrafted feel of the Arts & Crafts movement and the late Victorian homes. Today, architects and designers continue to challenge themselves to create bold, striking and innovative architectural designs.
The contemporary style of the
Brunswick house plan
features strong geometric shapes and large expanses of glass, which are key to the modern look.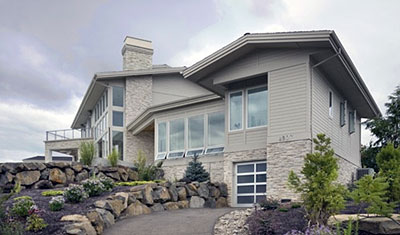 Another reason for its rise in popularity is that it allows homeowners to really make a unique statement with their home. Many of its key characteristics are those we see in dream homes featured all over the world in movies and on television and when we travel. We all want to capture a piece of that lifestyle where we can enjoy magnificent outdoor living spaces, luxury bedroom suites and spa bathrooms, informal entertaining rooms and the idea of simplicity and openness.
In order to do it right, you first need to find a house plan that has almost everything you want or need in the design. Then you can have the plan modified to add your personal touches. You will need to invest a considerable amount of money in glass, since frameless (or minimal frame) windows are critical to successfully achieving a modern design. If you're worried about overheating in the summer and high cooling costs, consider adding a sunshade, which is becoming a popular modern accent.
Large windows and natural hues make this a striking
contemporary living room
, which shares a fireplace with the dining room.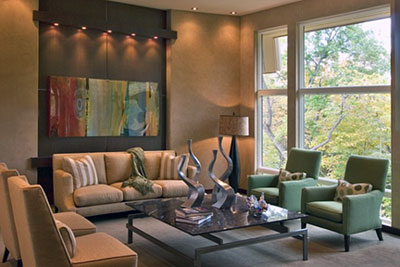 Their geometric form defines modern homes, with cubes playing a big part in the design philosophy. As a result, rooflines are typically non-existent and flat roofs are more common. The exterior is usually clad in white stucco, horizontal cedar and occasionally brick laid geometrically.
Ironically, the entrance to a modern home is typically discreet and almost hidden in the overall elevation. If done correctly you won't spot gutters or drainpipes, because they have also been hidden in the design.
When it comes to modern interior design, the key word is "simple." Your rooms should be functional, but also be fun and reflect your personality. An uncomplicated and uncluttered space should be your goal when designing your interior spaces. Simple doesn't have to mean cold, however, and uncluttered doesn't have to mean sterile.
An uncluttered room will use creative and attractive storage units, like modern cabinetry, built-ins and low furniture pieces. When it comes to colors and surfaces, consider really dark or light toned woods, neutral paints (select vivid decorative accents and bold furniture to spice up your rooms) and use metals like stainless steel, nickel and chrome for accents, faucets, light fixtures and kitchen appliances.