Step Outside! Creating an outdoor living area
You've been cooped up all winter. You're tired of watching TV and playing board games. So when the warmer months roll around, it's time to step out to the backyard and rediscover what Mother Nature has to offer.
You already have nice trees and grass, but perhaps you'd like to add a few special features. Then you'll be even more proud to host backyard barbecues.
Perhaps you already have a cement patio. If not, then think about adding nice tile flooring. Tile choices abound, so you can choose the look of ceramic tile, slate, stone, etc.
If your property slopes downward from front to back, think about attaching a deck to the back of the house. Traditional wood choices include cedar, pine and fir. A newer choice is bamboo, which grows back quickly in forests. Composite decking boards may combine wood fibers and recycled materials, such as plastic or rubber. Composite decking can resist twisting and fading from harsh weather.
This gorgeous outdoor living room is designed using Western Red Cedar
®
and Cultured Stone
®
. A built-in kitchen area and fireplace add to the functionality and appeal of this covered deck. View this
contemporary house plan
.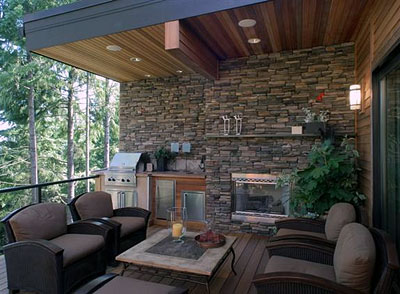 For the outdoor kitchen, a grill can be the centerpiece. Also think about a weatherproof counter with a couple of burners for cooking, and perhaps another counter for an inviting wet bar. A sink or two would be nice, and a medium-sized refrigerator, perhaps with a glass door. Cabinets are also useful for storage in the outdoor kitchen; a modern material choice is stainless steel.
Patio furniture has come a long way since plastic or vinyl. We now have beautiful, stylish choices such as wicker, teak, wrought iron, etc. How about a sleek aluminum dining set? Or a stone tabletop that's sure to be a conversation piece?
The
Tuscany Pergola
does much more than bring all your outdoor elements together, it brings families and friends together for long summer evenings. The classic column-and-beam arbor is made of glass fiber and is designed for long lasting outdoor use. Available from
The Outdoor Greatroom Company

®
it retails for $6,999.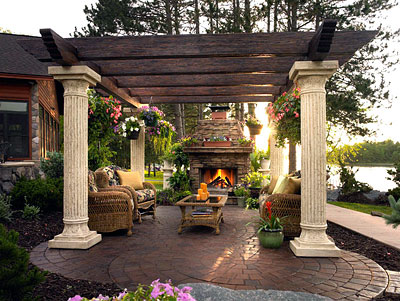 Shade is a necessary consideration, particularly if your yard faces south or west and you plan to use it around dinnertime. Pergolas can be good, whether covered in cloth panels, vines or wood lattice. Various styles of umbrellas are available, some that stand alone and others that are centered in tables. Or there are motorized awnings that come out only when you need them.
A fountain, waterfall, or pond with spray can add a soothing ambience. If you choose to install a swimming pool or a spa tub, remember that you'll want a nearby half-bath inside the home.
Lighting is also an important feature. You'll want enough light for evening events, with low-light options for romantic ventures. Strings of patio lights are great for creating a festive atmosphere.
A fire feature can be a must, especially as the sunsets and the air cools off. Options include a full fireplace, a propane fire pit, gas torches, and a small brazier for a log fire.
Is privacy an issue? Try building a stone or stucco wall that is perpendicular to the back wall of your house. This can be topped with arbor or lattice trim for extra height. Think about placing a gas fireplace and/or a hedge on the opposite side of the yard.
Storage should also be considered. Do you need a potting shed for gardening? Do you need a place for pool or spa materials? What about watertight storage for chair cushions when it rains?
Think about including environmentally friendly options in your planning. In addition to a few things already mentioned, how about purchasing furniture and cushions made from recycled materials? You may wish to incorporate rain barrels or cisterns, to capture rainwater for future use.
Considering birds and wildlife is good, too. What about bird houses, or bat houses (bats eat lots of pesky bugs)? Think about choosing plantings that attract butterflies, hummingbirds, and songbirds, but discourage squirrels.
What about adding a few finishing touches? There are so many great ones that will bring out the design flair in you! Think about certain plants for ground cover. How about outdoor rugs for a splash of color and/or coziness? Or freshen up old patio furniture with stylish new chair cushions!
We hope we've inspired you to add some new features to your backyard, with the goal of enhancing your interaction with fresh air and nature.