Tips for Maximizing Closet Space
by Lauren Busser Direct from the Designers' Editorial Director
It goes without saying that closet space is a valuable commodity in any home. And while most of our home plans are drawn with ample closet space, there's just no substitute for sufficient organization, even with a walk-in closet. Whether you are looking for a way to keep a kid's closet organized through the years, or you just want to make sure you organize your clothes more efficiently there are closet systems and tools out there for you. With everything from a new custom closet to organizational tools, you can be on your way to the closet of your dreams in your new home.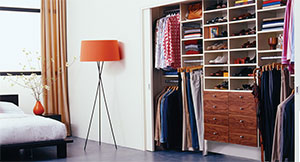 Go Up Instead of Out
When you organize your closet, think vertical. If you have empty wall space you have the opportunity to take advantage of it with hanging racks, pegs and hooks. Space near the ceiling can be used to house scarves, belts, and other pesky items. With some thought, you could even fit a couple of shallow wire shelves in your closet.
Use Adjustable Shelves
An adjustable shelving system is a great option because it allows you to set the height of your shelves to the sizes you need. You can set shallow shelves for small objects and larger shelves for bulky sweaters and purses. By carefully measuring the height of each shelf you can make more efficient use of your space.
Utilize Tiered Hangers
When you need a creative hanger solution you can make use of tiered hangers. Tiered hangers help you store your clothes conveniently and sometimes double or triple your storage space. It doesn't work with all garments but when it works, it works really well.
Separate Seasons
If you live in an area that requires summer/winter seasonal wardrobe changes, you could split your wardrobe and store off-season items in another location, such as a cedar closet. This solution means that you will have to switch things over a couple of times a year, but when you experience large weather changes it can really free up space used daily for everything from your biggest winter coat and bulky sweaters, to your favorite sundress and peasant top.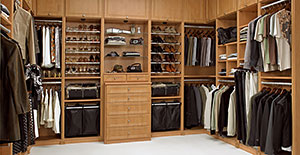 Shoe Racks
Make use of shoe storage solutions. Whether it is over the door, on hangers or under a bed, shoe organizers can be lifesavers. Not to mention, properly stored shoes will look better and last longer. Plus, keeping the pairs together can save you from looking for the mate to one orphan shoe in the morning.
Keep it Organized
Organization is essential to keeping a lid on closet clutter. Take everything out of your closet, and try to put your clothes in a logical order. As you are reassembling your closet you might start to see things that just don't fit: seasonal shoes that could be stored somewhere else, a pile of purses that might work better hanging on pegs, or clothes that you've simply moved on from which might be worth something to your local charity or reseller.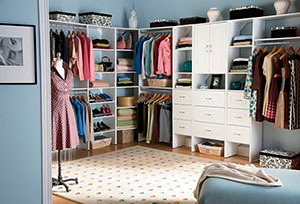 When it comes to organizing your closet, there is no one-size-fits-all solution. You may have to play around with different components and systems and adjust them accordingly. While tackling your closet organization, you'll quickly see what does and doesn't work for you and be able to make changes as needed.