Advantages of Single Story Living
By Christine Cooney, Direct from the Designers Staff Writer
Affordability and single-story design make the ranch style home one of the most prolific residential home designs in America. Today's ranch house plans are anything but simple and plain. The latest designs come in all shapes and sizes to meet your needs, budget and lifestyle. You can expect to find flexible rooms, open kitchen, living and dining areas, extended outdoor living spaces, tons of amenities and simple, yet elegant exterior features to reflect various architectural styles.

Below are some of the reasons why ranch house plans remain one of the most beloved styles of homes being built today.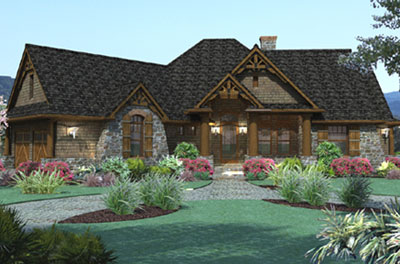 Single story homes offer more flexibility in the design of the interiors than multi-level homes, because a combined space can serve multiple functions. One-story living spaces allow for an interior design that has vaulted ceilings, dramatic windows and the use of skylights to add a spacious feel. Southern-style ranch homes almost always have an open living space that combines the dining room, living room and kitchen to create a comfortable and cozy place to gather.

Many single story house plans offer the ability to have a finished basement so you can entertain on a whole new level. Basements offer the ideal place to create a game room, entertainment or media space to kick back and have some fun.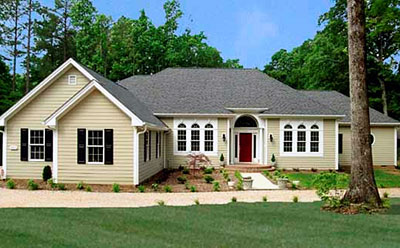 Rather than focus on the challenges of a sloping lot, consider what an awesome view you'll have from above and what a unique piece of property you can create with just a little imagination.

Typically, sloping lots offer the ideal spot to build an atrium ranch home. This popular style is built with a walk-out basement foundation featuring a rear wall of windows that connects the lower level and first floor offering plenty of warm, natural light. The extra light adds dimension and a sense of spaciousness to the interior while creating an impressive looking exterior and an incredible backyard view. All the living spaces of an atrium ranch are on the first floor, but the lower level is accessible from a staircase that is designed with an atrium to create the feel of a finished lower level.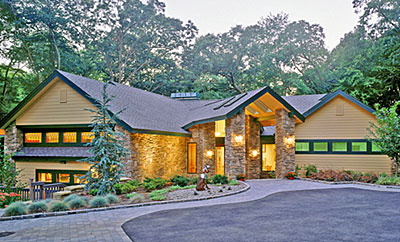 You can easily expand your one-story living to the outdoors with a large deck, sunroom or patio. Many of today's ranch house plans are designed with complete outdoor living spaces, including an outdoor kitchen, fireplace and a pool/spa area.

Because they are one-story and do not have staircases, they are a great design for first-time homeowners who have small children, people with mobility issues and anyone who wants to save money on maintenance and utilities.

Today's new house designs are packed with the latest amenities and designed to utilize all available space to create a gorgeous, yet functional home that you'll enjoy spending time in for years to come.

And if you need make changes down the road, having an open, flexible floor plan will make that an easy and affordable remodel.

View our extensive collection of Ranch House Plans, featuring a wide variety of size, styles and gorgeous interior photography to inspire the designer in all of us.