Get the Most Out of Your Exterior Paint
By Lauren Busser, Direct from the Designers' Editorial Director
As we close out the first National Curb Appeal Month sponsored by Fypon® we wanted to give you a couple of tips to help you paint your new or existing home. Nothing adds to a home's curb appeal like a fresh coat of paint. Regularly painting your home can help you detect problems that may otherwise go unnoticed. As we start to slide into autumn and the humidity starts to wane, now is the perfect time to start thinking about doing one last exterior project for your home. Here are a few tips to help you get started.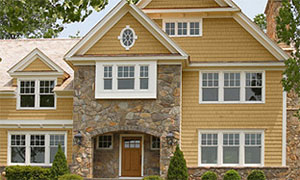 Selecting a Color
In the past, shades of white and off-white were the dominant colors for a home's exterior. Recently, people have been getting bolder with color and now there are a multitude of options when shopping for an exterior paint. Companies like Benjamin Moore® and Sherwin-Williams® offer thousands of options to help you select the right paint or combination of paints, perfect for your home.
Regardless of the color scheme you choose, the important thing to remember when selecting your exterior paint is that quality should always prevail over price. Paint is your first line of defense against weather and it is also one of the first things people see when driving by your home. Lower quality paint can't stand up to temperature and climate variations. On the other hand, higher quality paints that resist U/V rays will have reduced color fading over time.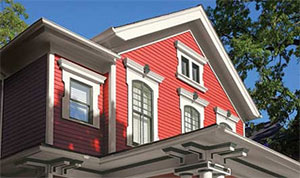 Before You Paint
When deciding when to paint your house, you must remember to work around Mother Nature. Since paint needs time to cure, rain can be one of your biggest enemies. Humidity may also work against you since high levels may get under the paint and cause it to bubble. For these reasons, Autumn is a great time to take on this project.
Like many other home maintenance jobs, painting your house is a process. Before applying color coats, you must wash and sand your siding in order to create a surface that promotes proper adhesion. Power washing is an important step because it removes dirt and mildew from your home's exterior and allows your paint to adhere properly. Even if you're building a new home, you'll want to wash it down first to remove dust and dirt that may have accumulated on your siding during construction. Remember, you always want to wash your home before you sand it.
After you have washed and sanded your house there is still one more critical step to perform before you start applying color, and that's applying a primer. Applying primer will result in better paint adhesion than paint alone. It is often recommended to use an oil primer and then top it off with latex or acrylic color coats for a better seal.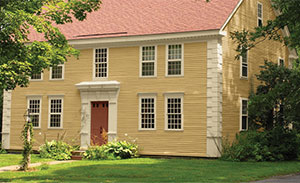 Tips on Applying Colors
Now that you have done all the power washing, sanding, priming and color selection, here are some tips on how to properly apply the new color to your home.
Whether spraying, rolling or brushing, always combine several gallons at a time into one larger container. Although they are meant to be the same shade, there may be small variations from batch to batch. Emptying all the cans into a large pail and mixing them will ensure uniform color. This is known as 'boxing' the paint. You can do this in a five gallon drum or a bigger bucket. It sounds like a chore but it's well worth it.
Once the paint is boxed, start from the top and work your way down. Painting from top to bottom will help you resolve streaks, drips, and splatters. When painting, be sure to follow this order: eaves and porch ceilings, walls, trim and finally, the deck and porch.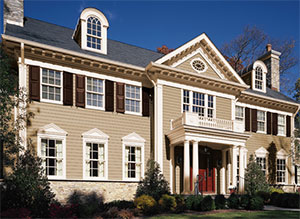 If you follow these simple steps diligently your house will be the envy of the neighborhood with its gorgeous new paint job. Although it might seem like a big job now, by placing one foot ahead of the other and tackling one step at a time you will have the job done before you know it. And the result will be a source of pride for years to come.