Find the Right Home Builder
By Lauren Busser, Direct from the Designers Contributing Writer
You've searched and searched and have finally found the perfect home plan for you — terrific!
One of the hardest decisions is settled, but now you have to find someone to build for you, and that task may seem daunting. Where to begin? Here are some suggestions to help the process.
When you start your search for a builder to construct your new home, the most useful tool in this adventure is the same used to find a doctor, a barber or a babysitter — start talking to people.
---
This new cottage house plan features a single story design with 2,267 square feet of living space and a 439 square foot bonus space above the two-car garage.
---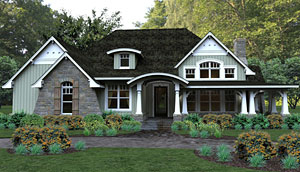 In many businesses, a referral is key to a successful experience. It's this way with builders. Whether you know someone personally or meet him or her in a professional capacity, you can get a lot of information from someone's first-hand experience.
You can begin by asking friends, family, or neighbors for their experiences with a certain builder or you could go to homes or showcases in the area to see the work of several builders and then speak with their clients to get their input. Mention that you are considering using the same builder, ask if they would work with that builder again, and what they value in that builder. If you don't happen to know anyone personally who has built a house or you are unable to attend a showcase then ask your potential builders if they'd supply addresses for homes they've recently built.
Once you have some recommendations, you should call the Better Business Bureau (BBB). If there are any complaints filed against that builder, the BBB should have a record of them. Be sure to examine them and avoid selecting a builder with multiple complaints. However, the BBB won't have a record of every complaint. This is simply because although most builders issue a home warranty and will honor it, when disputes do arise they are often resolved directly with the builder. For this reason it is important to check your builder's reputation and willingness to make repairs in the future.
---
This affordable new country ranch house plan is well-designed for its small footprint. It comes was a basement floor plan for added room to grow.
---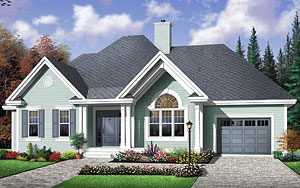 The BBB is not the only organization that handles home builders. The National Association of Home Builders can also tell you how reputable your builder is, and you can check for any awards they might have received for their work. Also, take a look into the company's history. If they have operated under the same name for a long period of time then you will probably have better luck than with a builder who operates under several entities.
While references and reputation are important, you also need to find the right fit. There are a number of variables to consider when choosing your builder and not all of them will be obvious up front. One good piece of advice is to make sure your builder specializes or has experience building the type of home you plan on constructing. For example, if you are planning to build a Victorian home with lots of detailing, a builder who works more in the realm of ranch homes might not be a good fit.
If at all possible, when obtaining your estimates it is important to make sure your builder sees the lot that you plan to build on. Being able to look at the canvas upon which your new home will stand gives the builder an opportunity to better estimate costs, including excavation and other site-specific items. This will help you avoid delays and allows your builder to help make sure the home you've chosen is suitable for your lot, lifestyle, and budget.
Finding a builder is just as challenging as picking out your house plan and requires a lot of research, but looking ahead you can see that carefully selecting the right person for the job will benefit you and your new home in countless ways. After all, their expertise is what will ultimately get your dream home constructed.
Useful Tip:
Since you will be interviewing several builders about your project, consider keeping multiple folders or a large binder with tabs on the subject. There will be a lot of research as you start searching for a builder and you will want to keep it all organized.