Selecting the Perfect Fireplace to Your Home
by Lauren Busser Direct from the Designers Contributing Writer
Winter is here and whether you live in a northern zone with really cold weather or you just get a little bit chilly now and then, let us show you some great new ways to keep snuggly warm with a modern, new fireplace. Fireplaces are perfect for zone heating and can add some real ambiance to your spaces. And today, fireplaces aren't just for the living room. A fireplace can be a centerpiece in an outdoor living space or a bedroom. As you you start the search for your perfect fireplace, consider all the options to find which type is best for you.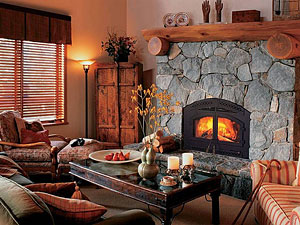 Wood Fireplaces
There is a lot of tradition that comes with wood fireplaces. You get the crackle of the fire and a nostalgic ambiance with a bit of smoky smell mixed in. Not to mention that wood fireplaces are fueled by a renewable resource. The one drawback to the traditional woodstove is that it can be a huge energy hog. Traditional wood stoves use room air for combustion and thus waste some of the heated air they've just created.
Today, manufacturers have raised the bar and have designed wood fireplaces and stoves that are more energy efficient. Modern sealed units have clever venting systems that use outside air for combustion, drastically reducing thermal losses and make an effective supplement your home's primary heating system.
Wood fireplaces do of course require that you consider where you will source and store wood. You will also have to do some maintenance since ashes will need to be periodically cleaned from the fireplace.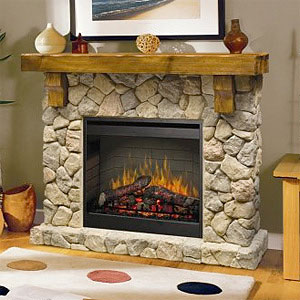 Gas Fireplaces
If you'd rather not deal with the wood deliveries and maintenance that a wood-burning fireplace entails, you may wish to consider one fueled by gas. You've got a myriad of attractive options with gas units. You can choose everything from exterior finishes and designs to how the flames are presented—from a traditional-looking 'log set' to an über-modern, infinity-mirrored 'flame blade.' With gas flame comes clean, simple operation. Units require nothing but a remote button press to start, adjust and extinguish. They also require little maintenance and eliminate the mess of traditional wood burning fireplaces, while providing a similar ambiance.
Gas fireplaces burn so cleanly that they often have the option to be installed as a completely ventless system. These units are equipped with catalyst 'logs' that burn very hot, resulting in near-zero carbon monoxide and soot emissions. With no chimney required, ventless gas systems can be safely installed almost anywhere.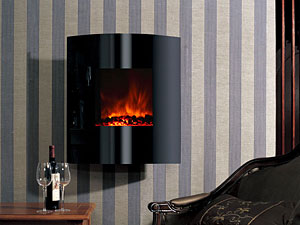 Electric Fireplaces
If you want the ultimate in maintenance-and-hassle-free living but want fireplace ambiance, a high-tech electric system might be the perfect option for you. A modern alternative to gas or wood fireplaces, electric fireplaces require no chimney and are actually often portable. Electric fireplaces can be rolled into a room, plugged into an ordinary 120v outlet and start heating immediately. Electric fireplaces are much less expensive than either wood or gas fireplaces, making them ideal for heating smaller rooms in a home. They consume roughly the same amount of electricity as a conventional, stand-alone electric room heater.
If you want a fireplace there's never been a better time to shop for one. With wood, gas or electric energy sources a new, energy-efficient fireplace will surprise you with its ability to transform any room in your home into one you'll enjoy spending more quality time in.