Keeping Your Home Safe and Secure
by Lauren Busser Direct from the Designers Editorial Director
Once you've built your new home you'll want to take steps to keep it, your family and your valuables safe. Your home should be a haven for you and your family and with today's technology you can guard the castle even while you are away. With the help of smart technology, keeping your home safe is always within arm's reach.
At the heart of home security is Z-Wave™ technology. Z-wave™ puts home control and monitoring in the palm of your hand. It's got a solid ten year history on the market and being wireless, it's easy to install. And if you should want to add to or change up your system down the road, any product with a Z-Wave™ box works with any other.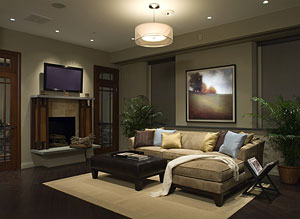 Its applications include lighting, door locks and thermostats, and lets you control it all from anywhere. There are over 1,000 Z-Wave™ products currently on the market and they all work together so you can choose the products that are perfect for your home as you see fit.
One of many products that uses Z-Wave™ technology is ADT Pulse®. ADT Pulse offers home security and automation at your fingertips through a smartphone app. All ADT Pulse® plans come with the ability to remotely access your system so you have 24/7 peace-of-mind that your home and family are safe, even when you can't be there.
You'll have the ability to remotely arm and disarm your home, get immediate notifications of water or carbon monoxide leaks, security alerts and other, custom notifications. ADT Pulse® also uses cameras to show you whatever's happening around your home.
Other home security products on the market include the Z-Wave™ enabled Schlage® Touchscreen Deadbolt. Products like this offer the highest grade residential security available according to the Builders Manufacturer's Association. While there are lots of Z-Wave™ compatible locks, this is the only lock that features a built-in alarm.
If you use the Schlage® Touchscreen Deadbolt in conjunction with a home automation system, the lock allows you to secure and manage home security from anywhere in the world with a web-enabled smartphone, tablet or computer. It'll sent text alerts to your cellphone to let you know when a door has been opened or the lock has been tampered with, and lets you program up to thirty unique codes that can be tailored to specific days or times of the week so the housekeeper, dog walker, kids or neighbors can access your home as needed.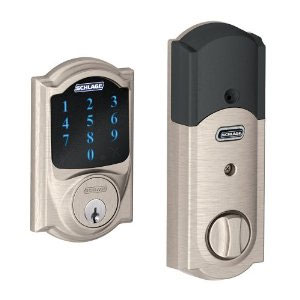 Not all home security has to be smart or automated. There are plenty of products designed to keep your home secure without the high-tech. Companies like Therma-Tru® have taken plenty of steps to keep your home safe. For starters their multi-point locking system is designed to keep you secure with three different bolts and the TruDefense® System helps protect your home from severe weather.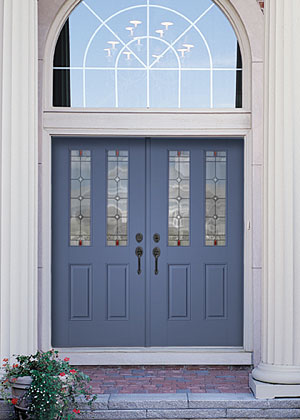 Whatever your security needs, there is definitely something for you. Whether you simply want to securely lock your doors and windows or you want the peace of mind that comes with electronic remote monitoring. If it's systematic lighting to deter burglars, or a smart lock to make sure you know everyone's comings and goings to a complete smart home system, these products can blend seamlessly into your home to enhance everyday living.