The Gift of Efficiency: Smart Technology for the Homeowner on Your List
By Lauren Busser, Direct from the Designers Contributing Writer
Attempting to find the perfect gift can be a daunting task. There are thousands of products and hundreds of sales, but for a homeowner or soon-to-be homeowner you might want to consider giving a gift that will keep on giving in the form of a 'smart' appliance or home accessory.
The tiny computers inside of smart appliances enable them to do everything from taking inventory of the items in your fridge to starting a cooking process to improving the energy efficiency of your home. Currently available are smart fridges, smart ovens and even smart dishwashers. You might be wondering how to fit one of these appliances under the Christmas tree. If a large appliance isn't in the cards, we've uncovered a few smaller gift ideas for the homeowners and builders on your Christmas list.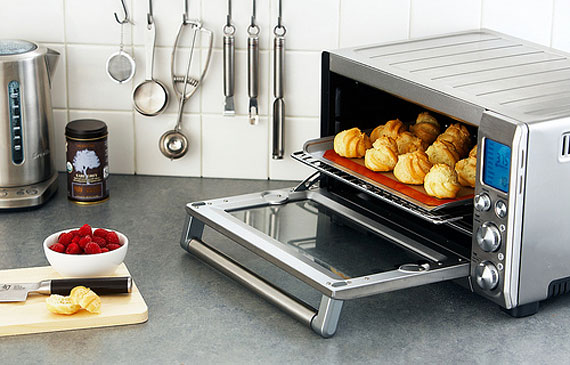 ---
The Breville® Smart Oven® is a kitchen tool that helps any chef whip up perfect cookies, pizza, even a roast. Its size makes it ideal for a countertop or set into an insert in the wall - makes a great gift for the Julia Child in your family.
---
Consider a gift like a smart microwave oven. This piece of essential kitchen technology can serve multiple functions. A model like the Smart Oven® with Element IQ™ from Breville® not only performs the functions of a microwave but it can also be used to make cookies, roast meats and pizza. With nine menu functions to select the ideal temperature and time, cooking with this oven is a breeze.
Heating and ventilation are equally important in your home. Consider Broan® and Nutone's® ULTRA™ fans. These fans come equipped with motion and humidity sensing technology. The ULTRA Sense™ H Humidity Sensing Technology reacts to rising humidity, turning single speeds on and multi-speed fans from low to high. Their multi-speed fans are also equipped with ULTRA Sense™ M Motion Sensing technology, which turns the fan to high when someone walks into the room. These fans are perfect for a new bathroom or for general climate control.
If you want to give the gift of lawn maintenance you might want to consider a Residential Controller from Cyber Rain. A Cyber Rain controller can reduce water waste by nearly 40% while still keeping your lawn green. The system works in any home with high-speed internet and is accessible from any computer or smart phone - from across the street to across the country.
The software features free weather updates, customizable water schedules and water savings reports. With its easy to use graphic interface, the controller is user-friendly. An optional rain sensor helps avoid over-watering and further improves water savings. The system isn't exactly cheap, with an eight-zone complete system running around $500, but will pay for itself over time and give you a well-manicured lawn without the high water bill.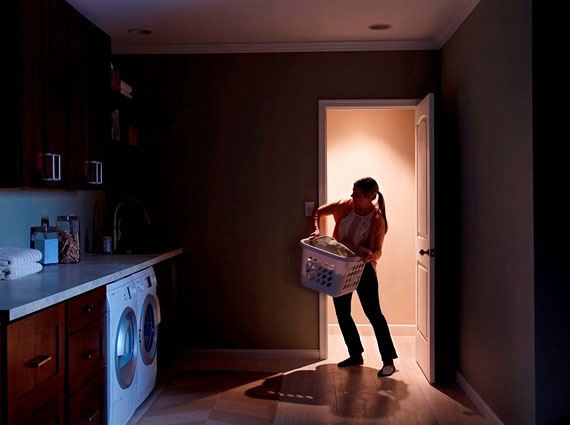 ---
The Lutron® Maestro® Occupancy Light Sensor Switch provides convenience while helping you save on your electric bill. These hands-free sensor switches are perfect for the laundry (shown above) bathroom, kitchen or main entryway of your home.
---
If electric bills are a concern, you may wish to consider a dimmer or a sensor from Lutron®. Lutron® dimmers alone automatically save up to 9% on electrical costs, but a dimmer and motion sensor by Lutron® is the perfect gift. Our pick is the Maestro® Occupancy Light Sensor Switch. This switch will shut off lights when someone leaves a room and switch them back on when they return. This is great for folks who are always rushing out the door leaving the lights on, or just someone who simply forgets to turn off the lights. Starting at $62 a switch, this light sensor and dimmer is sure to delight homeowners.
When it comes to home automation and smart technology, little things like a smart microwave or a few light sensors can make a real difference in the cost of running a home. With a little guidance, the products you select for your favorite homebuilder or homeowner will help them save time and money and will make you the world's greatest gift giver.