All About Blueprints
Although many still refer to home plans as Blueprints, technically, they are not. They're now bond paper prints made on a large format, digital printer. These are much better, clearer and easier to read house plans than the blueprints of old.
All of our blueprints are highly detailed so you can easily find the right house plan. Every set includes all the necessary information you will need to build your home.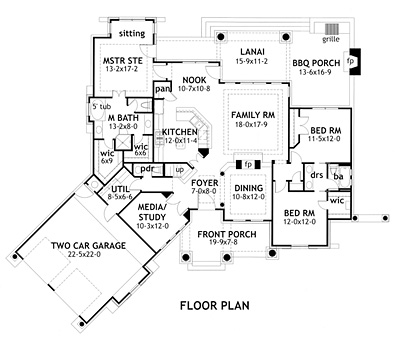 A variety of plan packages are available with the most common being five or eight set packages. Occasionally, five sets will be enough but most people will require an eight set package. The permit office will often require at least two sets of floor plans, one for their files and one to keep on the jobsite. A bank will require a set of house plans, your builder will need several sets to use to build the home, and it's good to keep a set of plans for your own reference. It's easy to see how eight sets, and often more, will be required. Additional sets are also available at the same time as the original purchase and up to for months post plan purchase.
Many plans are now available in PDF and CAD, a popular format these days that allow them to be delivered by email. This enables you to email your plans to builders and sub-trades and avoid printing extra sets and driving all over town distributing the plans for bids which is a huge time-saving and 'green' convenience. The CAD formats are essential for having major changes to your house plan made locally. Even though initially more expensive, this format makes modifying your home plans much easier and will save you money in the end.
These home plans will come in various standard sizes, the most common being 24" x 36". However, 18" x 24", 30" x 42" and 36" x 48" may also be used. These house plans are often referred to as "Builder Plans". They are designed to show any competent builder how to construct that particular design and are suitable for obtaining a building permit in most jurisdictions. They will concentrate on the architecture and the building itself and will typically not specify hardware, appliances and interior finishes. Part of the fun of building a new home is choosing these and we don't want you to miss that enjoyable process!
Stock house plans are designed to meet the current IRC building code but, due to regional differences in local codes, building practices and snow loads, minor adjustments may be needed. Your builder may be able to make those changes for you or will know of a local designer or engineer to handle that.
What Will Your Home Plans Include?
Exterior Elevations — These are the drawings of the exterior of the home and will mostly be drawn at ¼" = 1'-0" scale. Sometimes the sides and rear are at 1/8" = 1'-0" scale. This is where the windows, doors and exterior trim details are illustrated as well as the wall heights, roof pitches and ridge heights are usually dimensioned.
Floor Plans — These drawings, usually one sheet for each floor, unless it's a small home, are really the most important drawings in your set of plans. They are drawn to ¼" = 1'-0" scale and include most of the critical dimensions and specs needed to build the home. Many plans will include the electrical elements -- lights, plugs and often switches but sometimes these will be on a separate sheet. Similarly, structural details (floor joists, etc.) may be included on these floor plans but sometimes will be on separate framing plans. Cabinets, plumbing and appliances will typically be shown here.
Foundation/Basement Plans — This drawing will detail and illustrate the foundation of the home including all the structural beams and footings required to support the floors above. If a basement is purchased, it will also show the stairs and bearing walls and basement windows, if any. Each plan page will indicate which foundation options are available for that particular plan. If a particular foundation you are looking for isn't listed, email or call our house plan search specialists at 877-895-5299 and they will inquire to the availability.
Sections and Details — This is the sheet that illustrates how the different levels and areas of a home relate to each other. A Large scale wall section that details the construction of the home is often located here or on the foundation plan. Included here will be other details necessary for the construction of the home.
Roof Plan — This drawing, usually at ¼" = 1'-0" scale, will be like a bird's eye view of the home from above. It will show the ridges, hips and valleys.
General Notes — Usually a separate sheet is provided with standard notes and details that are required to comply with the IRC building code.
Although your home plans will include an electrical layout, this is primarily used as a reference only, useful for bidding and obtaining quantities. During the rough-in construction process you should consider the cables and outlets you may require for internet use. Some careful planning now will go a long way toward making your home special and convenient for you and your family.
Cabinet elevations are generally provided with your plans and, like the electrical plan, this is mainly a guide for estimating purposes. Cabinets are easy to customize and your builder, or his cabinet maker, will work with you early on in the process to ensure that the correct cabinets are specified. It's best to not rely solely on the cabinet elevations provided in the house plans!
Where do you go from here?
Assuming that you have your building site and you now have your plans in hand, you are now ready to find your builder and begin to assemble the additional elements needed to get your building permit. Your builder should be able to help you with this including your site plan, a drawing that shows your building site and locates your home plan, building setbacks, utilities, etc. When building on acreages, a septic plan and permit will usually be required.
To help you understand the different architectural styles, see our information on
What You Need to Know Before You Buy a House Plan
and
Architectural Floor Plan Styles
. Whether you're looking for a small house plan, modern home plan, craftsman floor plan, one-story house plan or a rambling luxury design, we are here to help you find your perfect home plan!
For any questions or help in your home plan search, please
email
or call our experienced team of home plan search specialists who will be happy to help you at 877-895-5299.