Beautiful and Sensible Front Doors
Your front entry door may be the primary focal point of your home's fasade. So you want it to make a beautiful statement, and give a good first impression to visitors and passersby.
Whether your front door is framed by a lovely porch, embellished with leaded glass, or simply painted a striking color, it clearly directs guests to the main entry point of the home. So you want it to be special. And you want it to complement the architectural style of your home.
This fiberglass front door with a traditional flair is from the Classic-Craft American Style Collection™ by Therma-Tru®.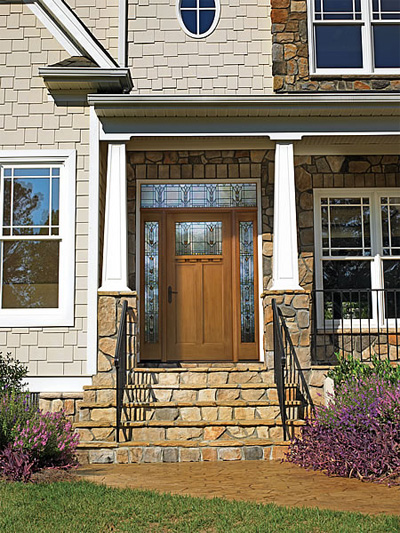 Front doors are typically made of one of three materials: wood, steel or fiberglass.
Front doors made of wood have a traditional look, with a beautiful wood grain. They can give your entry a high-end look. They are warm to the touch. Scratches are easily repaired.
On the other hand, wood front doors can be expensive, and are not insulated. They also require regular maintenance, such as restaining. Wood doors will fade in the sunlight, and can peel or bubble out. They absorb moisture, and can bow, warp or twist.
Steel front doors are less expensive than wood, and have good insulating value, with their polyurethane foam core. They will not crack or bow. They are easier to maintain than wood doors.
On the down side, steel doors can be dented quite easily. They can scratch, possibly leading to rust. The paint on steel doors can chip. Steel doors conduct temperature. In other words, they can be hot or cold to the touch.
Fiberglass front doors offer either a smooth finish or a wood-grain look, with five times the insulation value of wood. They have a polyurethane foam core. They can be painted or stained. Fiberglass doors resist denting and scratching, and won't rot, deteriorate or rust. They won't warp, bow or twist. They need very little maintenance.
Therma-Tru® lists no negative aspects to fiberglass front doors on their website.
The latest trends in styles of front doors include many glass options: oval in the center of the door; sidelights (narrow windows) on one or both sides of the door; and/or transom windows (above the door) in an arch shape, an elliptical shape or a narrow rectangular shape.
This fiberglass entry door gives a look of classic luxury. It is from the Fiber-Classic Collection™ by Therma-Tru®.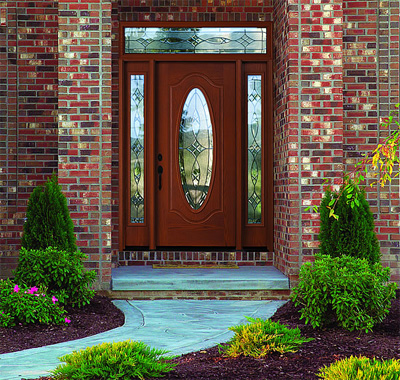 Visit
www.thermatru.com
to browse the latest styles and colors of front doors. You can check out Therma-Tru's® Door Designer feature, to see what different doors look like on different styles of homes.
Energy efficiency is important, and you want your front door to be properly insulated, to keep the outside air out and the inside air in. Therma-Tru's® entry doors are ENERGY STAR® compliant.
Therma-Tru® was a winner in the First Annual Green Awards by Door and Window Manufacturer (DWM) magazine. Readers of the magazine voted for their favorite companies in several categories. The winners were announced in the October 2009 issue, and Therma-Tru won first place in the category of door manufacturer. Therma-Tru® promotes recycling and even uses some recycled materials in their products when possible. Visit
www.dwmmag.com
for more information.
Security is another important factor in choosing a front door. Sure, you want your door to be beautiful. But you also want it to be strong enough to stand up to harsh weather and to discourage intruders.
Therma-Tru® doors guard against air and water infiltration by maximizing the seal between the door and the frame. To stand up to severe weather and flying debris, Therma-Tru doors now have the option of impact-rated glass. For hurricane zones, you might choose an opaque impact-rated door with a steel plate inside.
Therma-Tru® pioneered the fiberglass door industry in 1983. Now they offer high-definition embossing, AccuGrain™ technology and decorative glass.