Dress Up Your Home with Decorative Millwork
By Christine Cooney, Direct from the Designers Staff Writer
Decorative trim and millwork can play an important role in your interior design because of the impact it has on the way a room is perceived. Interior millwork and trim can give a room balance, definition and proportion. It can also set the tone of a room and highlight points of architectural interest. It can take the form of window and door casings, baseboards, wainscoting and paneling, columns and mantels, ceiling treatments and much more. Think of using them to outline and enhance the beauty of any room.
At its most basic, trim adds definition to a room's elements. Crown molding brings attention to ceiling features. Baseboards announce the transition between wall and floor. Casings and trim define the perimeter of doors and windows.
---
Adding columns and ceiling treatments from Fypon® gives your home luxurious appeal and the beauty of real wood trim without the usual high price tag.
---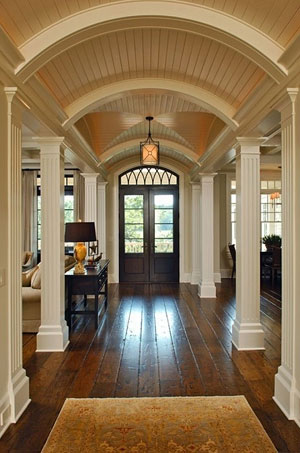 Another effect of using decorative trim and millwork is in its ability to enhance and change the perception of a room's size and shape. You can make a room seem larger by using trim to create strong lines or by breaking up tall walls to achieve a feeling of coziness.
Companies like Fypon® offer thousands of decorative millwork and trim options to complement the architectural style of any home. You simply need to decide how you want your rooms to feel and what sort of decorative statement you'd like to make.
---
Define the look of your main stairway with trim work and balustrades from Fypon®.
---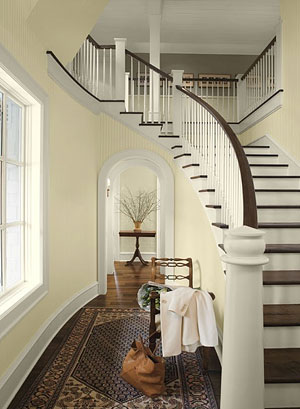 Here are some great design ideas for matching your millwork and trim with your room color. Whether you're looking to create a warm country feel or sleek, modern design it's important to blend trim and millwork with the room color. Painting it the same color as the walls or a slight variation of that color will give your room a fresh, cohesive look. Using the same color palette throughout each room will ensure your interior has a fluid look, and this is especially important with homes that have an open floor plan.
The preferred color by most interior designers remains white or off-white. For walls with darker shadings white trim is perfect for making the wall pop and it brightens the room. Walls with lighter colors appear crisp and clean with white trim. White is also perfect for rooms that get a lot of natural light because of its reflective quality. Also trending is the use of dark contrasting colors or deeper shades of the wall color to give more depth and definition to a room, particular when framing windows.