Exterior Home Trends for 2014
by Lauren Busser Direct from the Designers' Editorial Director
Designing the exterior of your new home is an exciting process. Each home is unique and there are lots of options to consider, from the color of your shingles and exterior paint to your entry door. Regardless of where your new home will be built you'll of course want your home's exterior to be beautiful but also warm and immediately inviting. The colors you select for the exterior of your home will leave an impression with your visitors and there are some simple ways to be sure it will be a good one.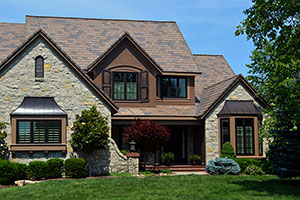 Elegant Roofs
Sometimes overlooked, we recommend taking some time to really consider the colors for your roof as it carries significant visual weight. With today's available quality roofing and its great warranties, your roof can be built to last. For example take DaVinci Roofscapes Bellaforte Slate and Shake Roofing. The 50-year limited warranty means that your home will have the same roof for decades. So you'll want something that not only blends in well but is pleasing to the eye on its own, and Bellaforte does that in spades.
One of the best things about Bellaforte Slate and Shake roofing is its variety of colors, color blends and styles, letting you create a unique and just-right appearance. With Bellaforte's classic slate styles you can achieve a celebrated historical look in durable, lightweight materials that won't flake, chip or splinter over time.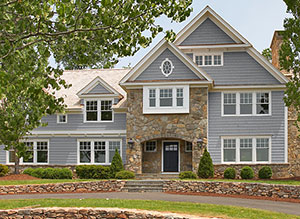 Coastal Colors
Coastal colors are among the most popular choices for exterior colors this year, among them shades of soft blue, cream, and grey. These colors provide an elegant accent for your home, drawing the eye without overwhelming architectural details.
Now, cream and grey have been on our radar for some time but you might be surprised to learn that shades of blue are creeping up the list. 'Home' is created to be a safe haven where people feel relaxed and calm. Blues have become popular with their calming effects and how they reflect freshness and revitalization. And blues are easily married well to various trim accents and especially to natural stone.
So If you are looking at siding, or just a fresh coat of paint you may want to consider a soft shade of blue. Benjamin Moore's® Aura® Exterior Paint has thousands of colors for you to choose from, so you're sure to find a shade that you will absolutely love.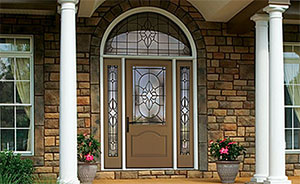 Statement Doors
Door that make a bold statement are a popular exterior trend, with many people constructing beautiful main entrances with paintable fiberglass doors. The paintable door is becoming a trend because it updates easily, making it simple and inexpensive to change the door color to fit a new style or preference.
If you are looking for a great paintable fiberglass entry door look to Therma-Tru's® line of fiberglass entry doors. Their Classic-Craft® Canvas Collection™ is a premium door with a smooth, paintable surface.
Each exterior is unique and shaped by individual preference. DaVinci Roofscapes, Benjamin Moore®, and Therma-Tru® all offer completely customizable options for your home's exterior. By thoughtfully selecting the options that speak to you you'll find yourself with a home with lots of curb appeal.