Ingredients for a Green Kitchen
Your kitchen is still that central gathering spot for family and friends. Sure, it's a place to make meals and snacks, and to practice what you learned at a gourmet cooking class. But it's also a place to chat over coffee — to share your hopes and dreams with the people who care the most. And it's even a place to do homework or cram for a college exam.
This gorgeous kitchen is designed with countertops and cabinets that feature many green attributes like recyclable content.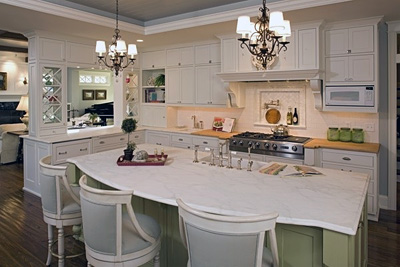 Your kitchen is certainly a comfortable gathering space, where people can enjoy relaxed conversation, warm feelings and savory aromas. How could you possibly improve upon that?
Well, how about keeping the Earth in mind as you plan the space? Earth-friendly kitchen design options are not just a fad anymore. They're becoming mainstream ideas for those who wish to make a statement about the world they're leaving for their children and grandchildren.
Let's take a tour of some of today's kitchen options. Two eco-friendly ideas to keep in mind are: using less energy and incorporating recycled materials. Let's go!
Countertops come in many colors, and can be made of one of several different materials. If you'd rather not use actual granite (for eco reasons), how about a granite substitute, called "solid surface"? It offers a great choice of colors, and it is seamless.
Similarly, man-made stone can be mixed with natural stone (granite or quartz), then ground up and mixed with glue. This makes use of pieces of stone that may be odds and ends. Many color choices are available.
Terrazzo countertops are made from an aggregate of glass or stone chips. You'll feel good that you made use of recycled content, such as beer bottles.
Stainless steel countertops have a great look, and can also incorporate some recycled content. And they are recyclable themselves, years from now, when you decide to make a change.
Poured concrete countertops are unique and will grab the attention of your visitors. They are also recyclable after they have given you years of service.
Dishwasher options these days allow you to use minimal electricity and minimal water. Choose a dishwasher with a good energy rating and low-flow, water-saving cycles. Another exciting idea is to choose a dishwasher with low sound, so you don't have to shout over it to have a conversation!
Even when choosing faucets, remember to think about low-flow options.
This gorgeous kitchen by
Dacor®
features all ENERGY STAR® appliances, including the Epicure 36" Freestanding ENERGY STAR® Bottom Freezer Refrigerator, which uses less energy than a 60-watt light bulb to reduce your carbon footprint.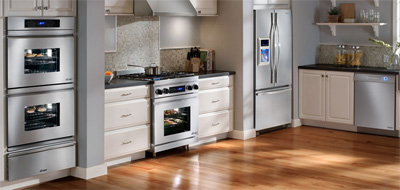 A new refrigerator is a large purchase, which can use a lot of electricity. The energy rating should be important to you, to save you money on utility bills for many years.
How about a convection oven, also called a fan oven or a turbo oven? It can allow you to bake foods more quickly, and at a lower temperature than a conventional oven. The secret is that a fan circulates the warm air during the baking process.
An induction cooktop can save you 50% or more on energy, compared to gas or electric. Temperature control is almost instantaneous. Amazingly, your pan heats up, but the cooktop remains cool to the touch.
A warming drawer is a nice feature in modern kitchens, allowing you to keep food at the right temperature while you wait for delayed guests. It's also great for weekend mornings; keep extra pastries warm as you enjoy coffee and conversation. You may choose a standard unit or an energy-saving convection option.
Cabinets are a big decision in a new kitchen. To be earth-friendly, consider having precious wood veneer applied over quick-growth products, to save natural resources while retaining an elegant look.
Glass in cupboard doors is another option, giving you a nice look, while allowing you to use less wood.
Open shelving with no doors is still another option that is becoming more common. This can save a lot of expense by minimizing the amount of wood needed.
Are you inspired yet? Earth-friendly kitchen options are not boring. They're new and exciting!
Enjoy planning your new or updated kitchen. And keep our planet in mind.