Keeping Your Home Safe on Halloween
by David Jayne Direct from the Designers' Contributing Writer
October 31 is generally a fun day where you can enjoy community with your friends and their children, however Halloween is also a good time to think about home safety. Two of the biggest risks to your home on Halloween are fire and burglary. Taking some time now to prepare for what could happen on Halloween will prevent headaches later. Here are a few tips on how to make your Halloween safe and enjoyable for everyone involved.
Don't Turn Your Yard into an Obstacle Course
It's tempting to fill your yard with lots of decorations for the fall holiday. While a graveyard or a scarecrow might be a fun attraction for trick-or-treaters, keeping a clear path will help your visitors avoid any unfortunate stumbles or falls. You can take steps to illuminate your walkway and entryway with path lights and exterior wall lights.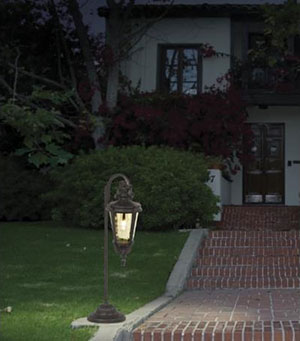 Forego the Use of Candles
One of the biggest hazards, particularly on Halloween is the risk of fire. Since many Halloween decorations are flammable a tipped over candle or luminary can easily turn into a fire. You can prevent this by using flameless candles instead. You get the same effect without the risk of injury. The same thing goes for your Jack-o-Lanterns. If you feel you must use a traditional candle try putting it in a small bowl or something like a tuna can to contain melted wax and flames.
Lock Up Your Pets
Even the friendliness animal can get a little unpredictable when oddly dressed folks keep coming to your door. Try to keep your pets confined to the rear portion of the house. You could use a baby gate to keep your pets in one room, or if you have a dutch door you'd be able to hand out candy over the top while keeping Fido inside. Remember that some kids are afraid of dogs.
Check Your Security Systems and Fire Alarm
Since Halloween is a popular night for pranks, regardless of whether or not you will be home for the evening you should make sure your fire and smoke alarms work and are connected to the authorities. A home security system will help deter burglars, who are less likely to approach a well-lit home. You can also use motion activated lights that will alert you or neighbors to outside activity.
Smoke alarms provide peace-of-mind and a vital safety link. Should a fire start accidentally you can take quick action if you are home and if not, the fire department would be able to respond more quickly.
---
The HomeWorks® system from Lutron® is the ultimate in light control for luxury home owners. The system provides intelligent control of your home's lighting and shades.
---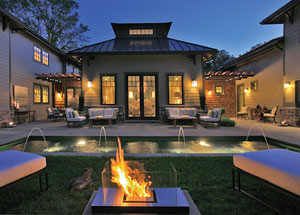 Check Your Homeowner's Insurance
If you are planning something of an event at your house for Halloween, you might want to check with your insurance provider. In the unlikely event of a problem, you don't want to discover that you're not covered after the fact. So take a look at your policy and make sure your liability coverage is adequate. Consider giving your agent a call.
Of course these tips don't just benefit your home on Halloween, but all year-round. Though Halloween is unfortunately a popular night for burglars and vandals, the fact is that things could happen anytime so investing in some functional outdoor lighting and keeping security/fire systems up to snuff is a good idea in any event. In the meantime, following these tips will help ensure that your Halloween is a safe and happy one full of treats instead of tricks.