Kitchens Get a Makeover
by Lauren Busser Direct from the Designers' Contributing Writer
New advances in kitchen technology are being made every day, and this year sees a focus on green, stylish and functional designs, all embracing a new popular color palette. Here are a few new kitchen trends for 2013.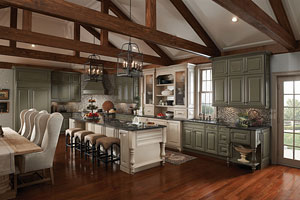 The time has come for kitchens to go gray. White has been popular in kitchens for years and still is, but manufacturers are expecting that gray tones will compete with white for the top slot this year. The color of kitchen cabinets isn't the only thing getting a makeover though. Manufacturers like Blum® are changing the way that cabinets function. Automated hydraulic cabinets like the ones currently on the market fold up and out of the way with the touch of a button and Häfele is doubling storage space with clever multi-tiered drawers and custom cabinetry.
The aspiring chef in your family might be coveting a double-oven range. It is a prime luxury in an upscale kitchen and with the help of General Electric (GE), you can can get a double oven with easy installation. This new oven, coming to the market this month is the GE Slide-In Double Oven and Gas Range. As the first and only slide-in double oven in the industry, this GE appliance is poised to fill a void in the kitchen industry. It features a built-in griddle, seamless grates and a double broiler. Not only is this double-oven amazing to cook with but this slide-in model gives the kitchen a polished and custom look without the custom price tag. At $3,299 MSRP, this range is sure to be the star attraction in your new kitchen.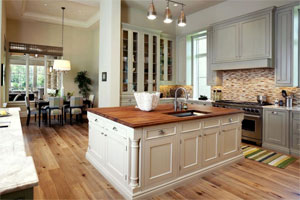 And when it comes to your countertop, you can coordinate it with your cabinetry. In product lines from manufacturers such as DuPont®, you'll find a variety of countertops from quartz to granite and anything in between. One look that has been coming into vogue is the wood countertop. Companies like EnGRAIN have presented the market with their wood countertops combined with Calacatta marble, for the best of both worlds.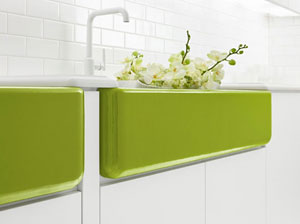 The kitchen is also undergoing a farmhouse revival. The apron-front sink is making a comeback. Like cabinets, sinks are getting away from a basic white too, with bold new color choices available from retailers like Kohler®. Kohler® has partnered with Johnathan Adler to come up with bold new colors like a Greenwich Green apron front sink.
These updated takes on old classics are making for a new norm in kitchens. Technology like Moen's® MotionSense® and other conveniences are staying strong while others are just making their presence known. Overall, kitchens are getting a welcome, fresh new makeover both in decor and technology.