Make Your Kitchen and House Wow with Wood Veneer
By Ezra Drissman, Direct from the Designers Contributing Writer
No two woods are ever the same. Whether you want a modern sophisticated look or a rustic look, the Oakwood Veneer Company can help identify the veneer that will help ensure that your house is stunning. The look of wood veneer is as varied as the trees in the natural woods. With the right one, your house will be a masterpiece.
---
This modern kitchen was crafted with Douglas Fir Veneer from the Oakwood Veneer Company. View Direct from the Designers collection of fabulous kitchen floor plans for a wide range of design options.
---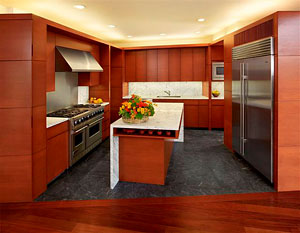 When building a home, one always looks to make each room stand out. From the range hood in your kitchen to the entertainment center, wood veneer can make each piece in your house a one-of-a-kind work of art. Veneer is cut thinly to allow more wood slices, which reduces the cost. This allows customers to achieve the same uniform wood at a fraction of the cost. Because trees comes in thousands of shapes and sizes, homeowners and designers get virtually unlimited possibilities in each room of the house.
With more than 300 different wood species in stock, Oakwood is able to supply any homeowner a unique wood with unmatched expert technical assistance. Custom made cabinets can take months to build from inception to creation. First comes the designers' choice of wood; only then can the cabinets be designed, crafted and than delivered. The warehouse has some of the most rare and high-end veneers from Yew, Pau Ferro and Birdseye Maple to standard woods like walnut and mahogany in stock, saving on building and delivery time.
---
This Birdseye Maple Veneer kitchen was a remodeling job featured in the spring edition of Kansas City Spaces magazine.
---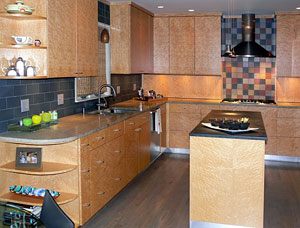 The kitchen and dining area in many homes is the place where families come together to eat and relax after a day at work or school. Dining room tables have been a focal point for hundreds of years and this year is no different. Veneer can ensure that your table will have the superb look that you deserve. Since wood veneer is more stable than regular wood, you can rest easy knowing that it will last. As you start to imagine your new kitchen, consider the fact that custom wood veneered cabinets are the perfect accent to the room. The proper choice of veneer can make every cabinet in your space a gem!
Your bedroom and bathroom are no less important when it comes to drafting your designs. Spending eight hours a day in one room should be an enjoyable part of your day. With wood veneer accents your bedroom can be a warm and inviting space. The vanity can be a fun way to express yourself. The bed frame is one way that homeowners are using great ideas to retreat into an elegant oasis.
Every room in your house should be the perfect reflection of your personality, and every room should use only the finest materials. Wood veneer is this fine choice. Make sure to purchase from a reputable company. Oakwood Veneer Company has over 25 years of experience in the wood veneer industry. As Peter Rodgers, CEO states "Our goal is that every piece of veneer that leaves our warehouse will make the homeowner proud – and that the house being built will be ready for a style article in any magazine."