How to Make the Most of Energy Efficient Windows
by Lauren Busser Direct from the Designers Contributing Writer
When people think about saving energy they think about their HVAC systems and the appliances they use, but windows are just as important. In the last couple of decades, windows have undergone a technological revolution. Newer windows mean lower heat loss, less air leaks, and warmer window surfaces that improve comfort and minimize condensation.
If you live in a region with a significant cold weather season energy efficient windows will help protect you against a lot of unwanted heat loss. And remember that the inverse is also true. When it's hot outside, energy efficient windows prevent unwanted heat gain.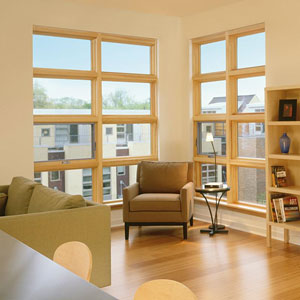 High performance windows not only bring down average annual heating and cooling costs but also reduce peak heating and cooling loads. Peak heating and cooling loads determine the maximum required specs for heating and cooling systems and thus dictate the size and cost of the furnace, heat pump or air conditioner and blowers that will be needed in a home. A reduced peak load allows a home owner or contractor to spec smaller, less elaborate HVAC systems. Smaller systems cost less and can offset some of the inital investment in energy efficient windows.
Natural light, archetectural beauty and the views they provide are compelling resons to install windows. Unfortunately they can be a prime source of unwanted heat gain particularly when it isn't needed or wanted. Previous efforts to combat this heat gain consisted of tinted glazing or shades that restrict the views and the amount of natural light allowed in. New window technologies such as Low-E coatings can provide better solar heat gain reduction than even tinted glass. With Low-E glass, your views will be clear and unobstructed while saving energy.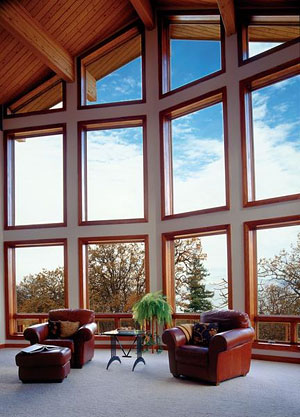 These new window coatings can also reduce your exposure to UV-A radiation, which is responsible for skin aging. UV radiation doesn't just have an effect on your skin but also on the organic materials in your carpet, fabrics, paints, artwork, and even papers. Glass blocks UV-B radiation below 300nm, but also transmits UV rays from 300 to 380nm. Coatings on glass can reduce this UV radiation by up to 75 percent.
UV absorbers are now incorporated into thin plastic films and in multi-layer windows as an interlayer in laminated glass. These coatings can reduce transmitted UV rays to less than 1 percent. Visible sunlight may still cause some fading, but using windows incorporating these UV filters rather than clear uncoated glass will reduce fading on many modern furnishings.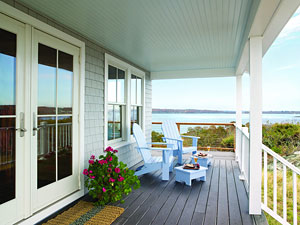 These technologies all help raise the performance of your home but considering where you orient your windows is another item to carefully consider. How your home is oriented in relation to the sun's movements is something worth looking at. A common 'passive solar' technique is to place windows with overhangs on the southern facing side of your building to absorb the sun's heat energy in the winter months when the sun is low. In warm months, the overhangs block the higher summer sun from shining directly in. You can consult your builder for more detailed information based on the positioning and geogaphical location of your house.
Investing in high performance windows is definitely something worth doing. They will save you money on your long-term energy bills. You can find them in a variety of shapes, colors, and sizes but they are also completely customizable. When deciding how to lay out the windows in your new home be sure to consult your builder about choosing windows that will best suit the energy efficiency needs of your home.