Organizing Your Garage
By David Jayne, Direct from the Designers Staff Writer
Garage a mess? Would you like to use it for its intended purpose, or perhaps increase your useable living space? Or create a workshop? Perhaps a little of each?
Having a clutter-free, organized garage or planning for one in your new home is easy these days given the large variety of products meant for the job. In this article, we'll give you a few simple concepts to help you get started.
The first step in any successful garage rehab is to clean it up and get rid of things that don't belong there or that you no longer need or use. Getting a dumpster to help facilitate this is worth the couple of hundred dollars it will cost you. You'll be amazed by how having a dumpster motivates you to get rid of the junk that you'll probably never miss after it's gone.
Next, a coating applied to the garage floor such as paint or an epoxy coating system is a great idea to help keep your garage clean. Water-based coatings are nice because clean up is easier, they don't smell and are considered to be more 'green' than epoxy based systems. But the epoxy ones are sometimes more durable, so you'll have to decide which one is best for your needs.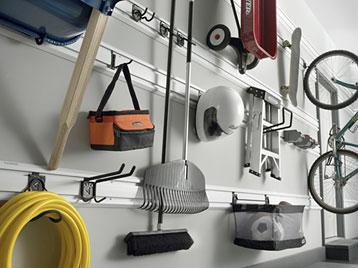 Complete your garage organization plan by getting your gear off the floor with heavy-duty, patented
Gladiator GearTrack Channels
, which cost under $25 for a two-pack. Customize your storage needs with
Gladiator

®

Wall Components
featuring hooks, bins, shelving, sports gear storage centers and innovative bike storage solutions.
Once the floor is done, you'll want to choose a storage solution that will keep your garage items organized. I've had great results with the
Gladiator

®

Wall Components
from the clever folks at
Gladiator Garage Works

®
. It's an affordable solution that can be easily added to or re-configured instantly, to meet changing needs. It's also extremely easy to hang on stud walls. All you need is a screw gun and a level. You can find this product at most hardware and home stores.
If you don't intend to bring vehicles in and out of your garage often, or intend to use it primarily as extra living space or a workshop where the main garage door will be rarely needed, a really neat solution is to install a garage door with a door built-in or add a door in new construction. This allows easy, secure access to the garage without opening the whole door, which saves energy as well as wear-and-tear on your door opener. Even if you DO intend to use it for vehicles, this is a very handy feature to have. My next garage will definitely have one of these.
A new product from Gladiator Garage Works
®
is the stainless steel ENERGY STAR
®
qualified Chillerator
®
Garage Refrigerator that's tough enough to stand up to extreme temperatures in the garage and stylish enough to be used inside your home!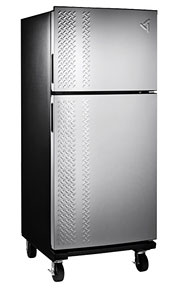 Another important element if you're using your garage for more than just parking cars is insulation to keep it warmer in the winter and cooler in the summer. In certain regions, you should even consider adding a heater and air conditioning unit depending on the amount of time you plan on spending in your garage. Don't forget to insulate the ceiling and consider insulated garage doors like
Wayne-Dalton's

®
"foamed-in place" insulation that provide an insulation R-value of 8-11 — more than twice as much as common polystyrene insulation board the same thickness. This insulation is chemically bonded to each steel section, creating a composite structure with higher strength, greater rigidity, improved dent-resistance and better thermal protection.
Your garage door quality will definitely impact your utility bill since your garage door is typically the largest opening in your home. In the summer, heat is produced outside of your garage so it's naturally hotter outside of the garage than inside and heat will try to "get in" to even out the system. If a garage door has an R-value of 3, 1/3 of the heat will get through the door and into your garage. This does not mean that the internal temperature will be 1/3 of the external temperature, though. It just means that as more heat is produced externally, 1/3 of it will enter your garage. Insulating your garage door can help keep the heat out.
The opposite is true in the winter. Heat is produced inside your garage in the winter, either by heating or by the effects of the sun. As it is cooler on the outside of the door, heat will try to escape to the outside through the door and other parts of your garage to even out the system. Knowing the R-value of your garage doors is important before you make your purchase.
Spending a little time planning and budgeting for an organized, energy-efficient garage is well-worth the time and monetary investment and adds resale value when you decide to sell.