Preparing Your Home for Your Thanksgiving Feast
by Lauren Busser Direct from the Designers Contributing Writer
Did you know that the busiest day of the year for plumbers is the day after Thanksgiving? It's true. When things go wrong on Thanksgiving they can go really wrong and may include garbage disposal jams, clogged sinks or dishwasher meltdowns. Fortunately, with a little advanced planning you really can get through your Thanksgiving dinner without trouble.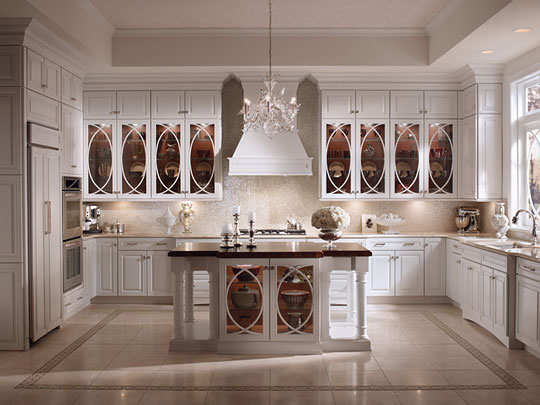 ---
This luxe transitional kitchen by KraftMaid® features maple cabinetry in a pristine white with stunning glass panels that give it a contemporary twist. The result is an exquisite transitional kitchen.
---
Make a Plan
To start, work systematically when you are cleaning your house. Make a list of the rooms that need attention and note anything that needs to be repaired or replaced before Thanksgiving. Now is the time to tackle the chores you have been putting off. Swap out the burned out light bulbs, fix your leaky faucets, and spot-clean the lingering stain on your sofa.
Also while you are making these repairs, try to give attention to the public high-traffic areas first. Your guests are unlikely to be rummaging around closets so focus on de-cluttering bookshelves, entertainment centers, tables and counters before you move to the tucked away spots.
Give Your Kitchen Extra Attention
On Thanksgiving Day, your kitchen will be 'Mission Control' and must be as organized as possible. Take time to make space in the fridge and freezer so that you'll have as much cold storage as you'll need. Make sure the dishwasher and garbage cans are empty since they are sure to fill up fast, and test-drive all your kitchen gadgets new and old to make sure they work properly. This is also a good time to do regular appliance maintenance and cleaning.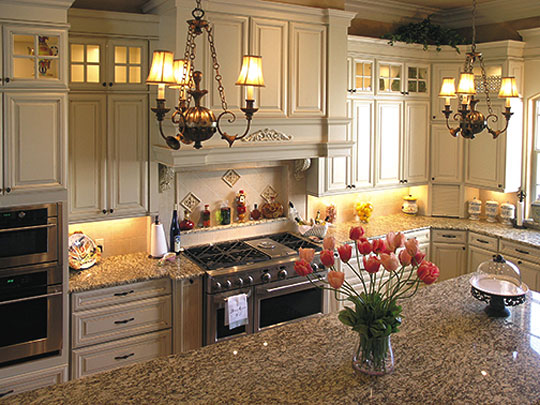 ---
This kitchen features Wellborn® Savannah Maple Kitchen Cabinets in Crème Mocha. With an efficient use of space you are sure to have plenty of room for all your holiday entertainment needs.
---
Have the Essentials on Hand
You might recall the episode of The Cosby Show where Cliff Huxtable had to go out in the rain to get the Thanksgiving groceries. While he remembered almost everything else, he kept forgetting the nutmeg for the pie. That's why it is important to take stock and make sure you have all the needed spices and baking supplies, and also plastic storage bags/bins, garbage bags, toiletries, soap, and anything else you might need to smoothly present and complete a wonderful Thanksgiving dinner.
Carve Out Storage
Storage is king, especially at Thanksgiving. If you are thinking of doing any kitchen upgrades, or you are just starting to plan your new kitchen take a look of some of the unique storage solutions offered by KraftMaid®. You can do things such as put in an island or add pull-out cabinet shelves. Having adequate storage also helps you to inventory your cookware and have a more efficient holiday.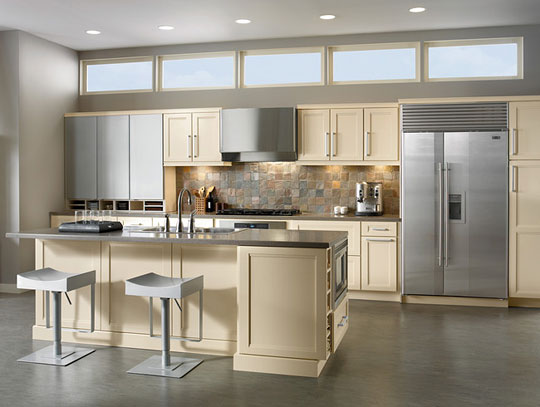 ---
A slightly more minimalist take on the kitchen, this KraftMaid® kitchen features cabinetry hardware that mimics stainless appliances, and the door style has a painted finish that brings in a natural texture.
---
Stock Your Bathroom
Your bathroom should not only be spotless but well-stocked. Make sure extra rolls of toilet paper are on hand and that your soap dispensers are full. It's also a good idea to have a couple of extra hand towels as well.
There are two keys to efficiently executing any holiday meal: planning and storage. What the above steps outline will help with holiday planning in general, and if you are designing a kitchen for your new house it is highly recommended that you pay special attention to the storage in your designs. When done correctly this will pay dividends for years to come.