Revisiting the Farmhouse: Contemporary Takes on an American Icon
by Lauren Busser Direct from the Designers' Editorial Director
The farmhouse has been a growing fixture these last couple of years. To many the American farmhouse represents ingenuity, self-reliance, and architectural heritage. Today, you can find not only historical farmhouses but the essence of the style, sensitively reinterpreted by a number of interior designers.
With a focus on light and airy design and beautiful natural details, you can see everything from painted wood walls to beautiful wood cabinetry in a farmhouse kitchen. The key to a traditional farmhouse kitchen is to keep it simple. And if your tastes run towards the modern, elements of these designs are quickly making their way from traditional designs into more contemporary ones.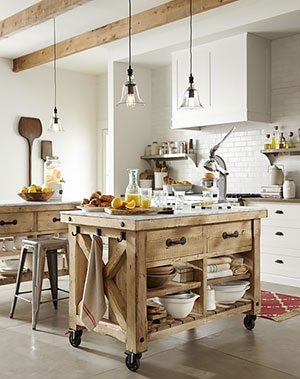 There is something about the farmhouse that brings to mind a simpler era and much is being said about this lately in the architectural press. There are several elements to farmhouse style that you can incorporate into your design and there are lots of ways you can update it, too.
One time-honored staple of the farmhouse kitchen is making the transition seamlessly. Apron-front sinks have long been a favorite of homeowners. They reflect a hard-working history, filling the roles of everything from canning stations to washbasins for dogs and small children. While remaining an iconic element in traditional kitchens they are becoming more popular in contemporary spaces too, thanks to fresh twists on colors, materials and new installation options.
Apron-front sinks appeal because they blend form and function seamlessly. They are large enough to accommodate oversized cookware and cookie sheets and create a stunning focal point. They are also ergonomically friendly since they are often oriented farther forward than typical drop-in or under-mount sinks.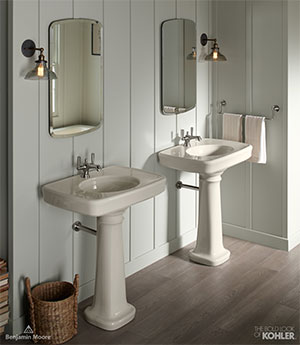 Benjamin Moore® and Kohler® recently collaborated to create the Northern Roots bathroom. Using classic fixtures from Kohler® and a bold new paint color called Gray Mirage from Benjamin Moore® the result was a relaxing master suite with luxurious bathroom products and durable Aura® Bath and Spa paint.
The Northern Roots bathroom is the perfect example of combining elements of farmhouse style into a home. While the wall color may be more contemporary all the fixtures are classic silhouettes, creating a middle ground between traditional and contemporary bathrooms.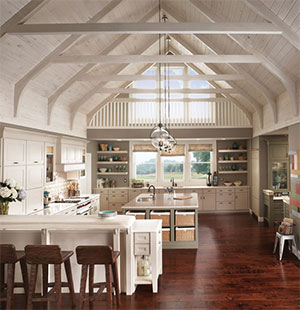 This modern farmhouse from KraftMaid® uses farmhouse design with a contemporary twist. Achieving the same aesthetic as a traditional farm house it incorporates other elements too. Adding design cues like open shelves and a mixture of finishes gives this kitchen an eclectic feel. You can take it further by adding touches such as a wooden countertop or a beautiful classic American table.
One of the key pieces in creating a farmhouse look is to incorporate vintage pieces. Don't be afraid to add personal touches, antiques, and even family heirlooms into your home design in order to give it a storied appearance.