Smart Kitchen Organization Tips
One of the first steps in organizing your kitchen is to evaluate the storage space and design of your kitchen cabinets. The key to staying organized and being able to multi-task (prepping, cooking and cleaning) efficiently is to take stock of all necessary cooking tools, dinnerware, glassware and food staples.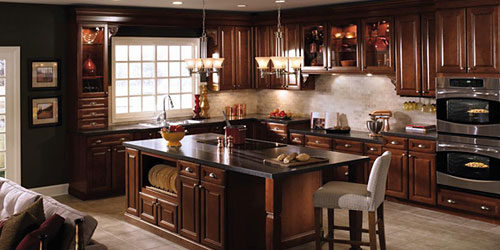 The
Briarcliff Cabinet Collection by Artistokraft

®

Cabinetry
comes with some great storage features, such as a three-drawer base, glass door cabinets, decorative legs and a plate rack on the center island with extra cabinets and drawers. For the main base cabinets you can add a pantry roll out kit, rotating shelves, stem glass holder and much more.
By creating departments for your kitchen cabinets you'll find it easier than you think to stay organized. For example, dinnerware and glassware should be stored close to the sink and dishwasher. Your essential cookware should be close to the stove, as well as your cooking condiments and spices. Once all of your kitchen supplies have a designated place, you can find areas for baking supplies, canned food, snacks and so forth. For the occasional cookware and dinnerware, place them in out of reach cabinets or perhaps in a hutch in the dining room that you use for storage.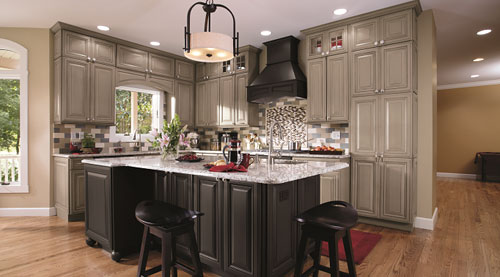 Decora

®
offers a full-line of custom organization accessories for your kitchen cabinets like full extension sliding shelves, three corner drawer base, base pots and pans pull-out with a mixer shelf, pantry units, toekick drawer and much more. Shown is the Lexington
®
Collection.
By assessing what you actually need to create a functional workspace and choosing the right cabinetry, you'll find that you actually have adequate storage space. Keep in mind that deep wide drawers are perfect for storing pots and pans. You can always grab extra storage space by adding a kitchen island.
Incorporating kitchen organizational tools into your kitchen cabinet design is one of the most inexpensive and efficient ways to make use of all drawer and cabinet space, especially hard to reach corner cabinets.
If you are purchasing new cabinets for your kitchen, you'll want to check out all the available storage solutions offered by cabinet manufacturers like
Aristokraft

®
,
Cabinetry by Decora

®
and
Homecrest

®

Cabinetry
. If you are trying to update and organize your existing cabinets then you'll be pleasantly surprised to find a wide range of unique and affordable kitchen storage products to help reduce wasted cupboard and drawer space and improve storage.
Some great storage solutions are cutlery drawer insets, utensil racks (show off your best cooking utensils by hanging them next to your oven), Lazy Susans and under sink organizers for all your cleaning supplies. Also consider making one of the drawers next to your cooktop a spice drawer. Online companies like Kitchen Cabinet Hardware offer spice drawers for around $50 and it's a great way to organize your spices and have them extra handy while cooking.
Don't forget to make use of the cabinet doors, because they are a great place to add racks for hanging pot lids, spices, dish towels and oven mitts.