Tips for Selecting the Right Roof Material
by Lauren Busser Direct from the Designers' Contributing Writer
No part of your home is more important than the roof over your head. I think back to all the movies I used to watch where a roof would spring a leak and then another and another to the point where the characters were surrounded by pots and buckets with water dripping into them. Fortunately today, high-quality roofing abounds so that shouldn't ever be a problem but here are a few tips to help insure that you will be happy with every aspect of your roof for years to come.
Look at some Samples
When you are thinking about the kind of roof you want, consider what is there now. If you are building a new home, the possibilities are endless. Lots of roofing manufacturers have computer design aids that will show you exactly what a roof will look like once it is on your house. If you're considering an eye-catching color you'll want to choose carefully in order to compliment your home and the homes in the neighborhood generally and avoid clashing with your neighbors.
---
The Boral® Barcelona Concrete Tile roofing features rustic Spanish styling that replicates the look of a two-piece clay product. It comes in a variety of sun-drenched colors and blends so you can find just the right tile for you.
---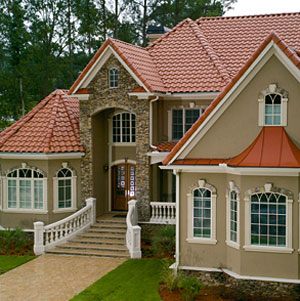 Sustainability and Green Roofing Materials
Going green is extremely popular in today's home construction and this may certainly apply to your roof. Now, energy-efficient roof solutions means a couple of things. One of them is that when factoring in sustainability in home construction, pay attention to the warranty. If a product has a good, solid warranty it is less likely to need replacing and therefore creates less waste. There are also green roofs which involve planting vegetation on your roof, or there are special energy-efficient roof systems.
Energy-efficient roof systems are also known as cool-roof systems and are designed to reflect the sun's heat. Roof systems such as Boral's® energy efficient roof system uses air space between the tiles and the roof deck to provide ventilation to help cool the building and provide better protection against leaks. These homes are often more comfortable to live in while saving energy and in many cases they can last longer than homes constructed without such roofing.
Consider Color
Another big trend home exterior design is the deliberate application of color in previously overlooked areas. As a result homeowners are sometimes at a loss as to how to pick a color for their home's roof. Fortunately, there are now guides to help with that. Recently DaVinci Roofscapes® partnered with Sensational Color to introduce a 36-page downloadable guide called FRESH Color Schemes for Your Home's Exterior. The material covered in this booklet can help you create an inviting and intriguing color scheme for your home's exterior.
Their advice is to start from the top down. So select your roof first and then colors for the rest of your home. Remember, the color of your shingles or roof tiles can't be easily changed. Consider the way they look in conjunction with your pavers or stones and how they will look when you paint your home's exterior. When you are viewing samples, make sure that you look at them in sun and shade so you know what the roof will look like under both conditions.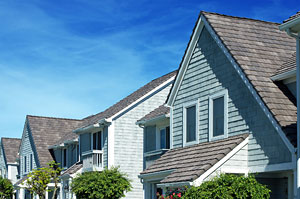 Vet Your Contractor
If shingles are installed incorrectly they may fail so make sure you select a roofing contractor you can trust. Once you've picked out your roofing material you should find a contractor familiar with that type of shingle. This will reduce the risk of problems during installation as well as down the road.
Remember, re-roofing your home will be one of the biggest projects you take on as a homeowner so making sure your roof is installed right the first time will give you peace of mind. A good roof should last at least twenty to thirty years and a reputable contractor should be licensed and insured for your property as the people who will be working on your roof. Find a licensed, insured company that has a good warranty and will stand behind their work.
Your roof is a very important part of your home. Beyond simply providing shelter from the elements, your home's roof can help you pull the entire home design together. Much like people suggest that you begin with a good foundation, a high-quality roof will give your home curb appeal and peace of mind for years to come.